By Teresa Varley
Steelers.com
Casey Hampton climbed on the training table, muscles still aching from a game just two days earlier. With each movement, his expression was a dead giveaway of the pain he felt. Then, he glanced down at his arm, and the smile that creased his face was more about resolve than happiness.  The green rubber wristband he wears does it to him every time.
 
"It reminds me of a fight that's being fought every day," said Hampton. "It's a struggle someone else is going through every day. It keeps me grounded. It reminds me people have to deal with situations they have no control over. I think of her and her struggle and how she fights, but how she keeps a smile on her face. I look at it and think about how she is doing it and how she is always happy."
 
The "her" in Casey Hampton's heart is a bubbly 11-year-old named Heather Miller. She is a tomboy through and through, loving everything about the Steelers. Ask her anything about the team and she can answer it. Mention any player's name and she smiles.
 
Behind that bright smile, though, is a girl who literally is in a fight for her life. A little over a year ago, Heather was diagnosed with Ewing's sarcoma, a rare disease where cancer cells are found in the bones and soft tissue.
 
Her treatment has been aggressive, the kind that has meant several surgeries and regular chemotherapy treatments. She has spent too much of her childhood at Children's Hospital of Pittsburgh, but it was during one of those first visits that a bond was formed, a bond between a football team and a little girl in pigtails who means more to all involved than anyone can imagine.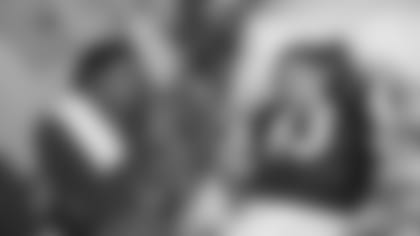 Miller was waiting to be admitted to a room at the hospital when she started to hear the scuttlebutt that Troy Polamalu was on one of the floors visiting kids. Her heart skipped a beat, the heart inside the chest covered by the Polamalu jersey she had worn that day, but with this extended wait for a room she figured her chances of seeing him were slim to none.
 
When she finally got into a room, the door opened. It was Polamalu.
 
"They hit it off. They are so much alike," said Wendy Miller, Heather's mother. "He was so humble and sweet and shy. I'll never forget him telling her how tough she is."
 
Something clicked. It wasn't just one of those drive-by visits, and when Polamalu exchanged phone numbers with them, and the text messages began almost immediately afterward, it was proof that a relationship, a real relationship, was forming.
 
"He would say, I miss you, hope to see you soon," said Heather of the messages. "He would tell me to let him know when I'm in for chemo. We would text him, and he would say, I want to hear your voice. So he would call me."
 
The two continued to keep in touch and even during the busiest of times, when the team was in the playoffs on the way to Super Bowl XLIII, Polamalu had her in his thoughts.
 
She was headed to the hospital for surgery in January and got a message that a surprise was there for her. The 21⁄2-hour ride from her home in Osterburg, Pa., flew by, her focus on what was waiting for her instead of the pain of the impending procedure. When she arrived at Children's Hospital, the jersey Polamalu wore in the AFC Championship game was her surprise.
 
"It was beyond her wildest dreams that he would give her his jersey from that game," said Wendy Miller. "He signed it to Heather. After 11 hours of surgery I called him and thanked him over and over. I don't know how he understood my message because I was crying. I thanked him for giving her something to think about before surgery. His timing has been unreal."
 
This past spring Miller was able to visit the Steelers through a visit set up by the Make-A-Wish Foundation. Her main wish was to meet Hampton, because Polamalu had told her he was a teddy bear.
 
"It was humbling," said Hampton. "She could meet anybody, and to want to meet me meant a lot. I have a place in my heart for her always. I am not really a sentimental guy, but when it comes to kids I have a soft spot. What she is going through makes me be thankful for what I do have. I want her to be out of this situation and feel better."
 
Hampton had to pause for a moment to gather himself before he could continue.
 

"I just see her and it's a situation I have no control over," he continued. "I want her to get better, I want to help with that, but I can't and it's hard. It's real hard."
 
But what Hampton, Polamalu and every other player Heather Miller has met must understand is that they are helping her, in ways that chemo and other treatments can't even touch. They are helping her emotionally.
 
During her Make-A-Wish visit she had the chance to stretch with the team, help lead defensive line drills, and at the end of practice Coach Mike Tomlin invited her into the middle of the huddle to break it down.
 
"From the time we walked into the training facility it was like we had a whole other family," said Wendy Miller. "Everyone was so warm and welcoming. It's so selfless what they do. I am so glad Heather has them as role models.
 
"Heather has changed so much for the better. Her attitude and spirits are so much better and more positive thanks to the people at the Steelers."
 
It's been a two-way street. The pigtails she had when she first met Polamalu are gone; now it's a bandanna because the chemo long ago claimed her hair. But the cancer hasn't touched her spirit.
 
"She inspires everyone who knows her," said Polamalu. "She is battling something and fighting with a true warrior spirit. God brings different situations into people's lives. Had she not been sick, this friendship may have never happened. The lesson for us and experience for both of us has been brought on by this illness. In that way it has been a blessing for both of us."
 
And it looked like the blessings would continue this summer. The Millers went into celebratory mode in early August when Heather had her last chemo treatment. But not long after, a scan revealed that the cancer was back.
 
They were heartbroken, but not deterred. Heather made a return trip to Pittsburgh to watch the Steelers defeat the Titans in the opener at Heinz Field, and a few days later she had surgery again. She had plenty of family and friends visit her in the hospital, but a special visit from Hampton and defensive line coach John Mitchell was just what the doctor ordered.
 
"Every time I see her she has a smile on her face. She brightens me up," said Mitchell. "The things she is going through, and yet she never complains and always smiles. It's amazing. She is so infectious to be around because of the smile she has. She inspires me. I don't care how tough things are, you can make it with the right attitude and she has it."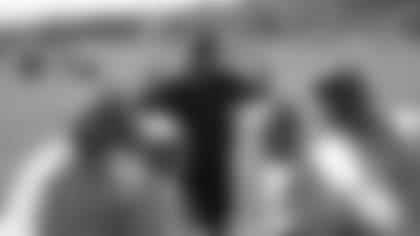 Miller cannot live the same life as other kids her age. She misses out on going to school every day, gets chemo at home and at the hospital, and often tires with normal daily activity. But on Sunday afternoons, her life changes dramatically when she watches the Steelers — now her friends — take the field.
 
"More than any chemo, any shots, any treatment, the time she spends laughing and talking about positive things and the Steelers, it's so instrumental to her," said Wendy Miller. "The smile they see, they don't realize how responsible they are for it. It's because of everyone at the Steelers. Football has been the center of her fun time. It's been a hard year, but you mention the Steelers and there is no such thing as cancer. It wipes the slate clean for her."
Just hearing that blows Hampton's mind. He honestly can't believe that what he and his teammates do can bring such joy to a sweet girl.

"It's hard to believe somebody who is going through what she is can be happy and is enjoying every day of life," said Hampton. "It puts everything in my life in perspective. Seeing a little girl who is fighting cancer, fighting for her life every day, and she is always smiling and happy, it makes you wonder what you can ever be mad or sad about."
 
Hampton fiddled with the green wristband for a moment. He stared at a television, glanced at the floor. Only then did he finish his thoughts.

"To see her fight makes me see the small things as nothing and not worry about them," said Hampton. "Those things don't matter. There are bigger things out there.

"I just want her to get through it. I want her to live life and be able to experience life as a grownup and have kids and all that. I just want the cancer and pain to go away."
* **
If you would like to purchase one of the wristbands Casey Hampton wears, with all profits going to helping the family with medical costs, email heatherbracelet@yahoo.com.