Steelers fans always find a way to bond with one another, but there might not be a stronger bond that exists than the one between Charles Matherson and Collegedale Police Officer Sammy Previlus in Tennessee.
Officer Previlus recently answered a call for help at Matherson's home because he was experiencing a mental health crisis. Officer Previlus arrived with backup and sat down and talked with Matherson when they arrived at his home.
But what they talked about wasn't the issue Matherson was currently dealing with. They talked about football. Steelers football to be specific.
Matherson is a huge Steelers fan and Officer Previlus noticed a Ben Roethlisberger jersey hanging in a closet. He immediately knew the best way to calm Matherson, was to talk about something he loved.
"I have had crisis intervention training. They teach us techniques to deal with people in mental crisis," said Officer Previlus. "One of the things they teach us is to try to divert their mind from the crisis at the moment and talk about something else.
"I saw the Roethlisberger jersey hanging in his closet. Growing up some of my favorite players were Steelers, like Hines Ward, Jerome Bettis and Troy Polamalu. I used that because I was well versed with the Steelers. I used that to divert his mind away from his crisis to something he could relate to and we could talk about and he wouldn't have to worry about what was going on at that moment.
"Once I started talking about football and sports in general, his focus switched from what was happening in his life to football and being a Steelers fan and his jersey. His demeanor drastically changed because he wasn't thinking about what was going on at the time."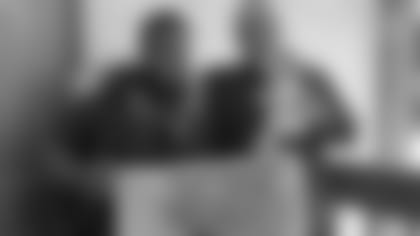 Officer Previlus was able to earn Matherson's trust and convince him to seek additional help. He also went one step further. When he learned that Matherson didn't own a Terrible Towel, something he wasn't able to get for himself, he took matters into his own hands.
"I knew he would be in the hospital a few days, so I thought it would be a nice gesture and I could get one for him when he got out," said Officer Previlus, who also delivered a football signed by all of the officers at their station. "It was great to see his reaction. A lot of people who deal with mental health need someone to care, a small gesture. I just wanted to do my part.
"I never would have thought a love of football would help something like this happen. You can't imagine it. The training I got enabled me to be in a position to do that. It could have been something else, but I love football and I used something I knew I would be well-versed in."
Officer Previlus hopes one lesson is learned by everyone by the gesture he made. That kindness and lending a hand is something everyone should take to heart.
"I think it's important for everyone to be lending a hand if they can," said Officer Previlus. "It's what community is about. It's what being an American is about. We are supposed to help anyone we see who is in need. We are supposed to love one another.
"Hopefully it's an example for others. If you see someone who needs help, do your part."