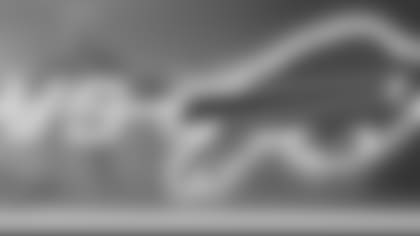 ](http://www.steelers.com/adPromo/clickThrough/processClick.io?adPromoID=95922)
STEELERS vs. BILLS SATURDAY, AUGUST 29, 2009 KICKOFF IS AT 7:30 P.M. HEINZ FIELD
Coach Dick Jauron:There wasn't a whole lot good to say about that. I guess I can say I thought we punted it well and recovered it well other than that you know, our defense plays hard, very good on third down. We could not get off the field. That's a credit to them. It was a 17-0 game because we really didn't do anything on offense except for Marshawn's (Lynch) run. Thought Marshawn ran the ball well. And late in the fourth quarter we went down the field and had the field goal blocked. So it was not a good night. Like I said, I give our defense credit for hanging in there and battling. We got a lot of issues that we've got to solve. We've got to solve them very quickly.
*
*Are you starting to worry about your offense after the first two games?
Yeah, definitely. I don't think you ever stop worrying. We definitely worry. We've got to make a lot of improvements and we don't have a lot of time to do it.
* 
*What are your thoughts about the no-huddle approach?
I don't have any issues with the no-huddle. If you're calling plays, I've never really been able to tell what the difference is for calling plays. There's no time of possession issue if you get the first down no matter what you run the clock keeps running when you have the ball. If you can't keep the ball no matter what you do.
* 
*Do you feel it's sound against a super strong defense like Pittsburgh or a high-powered offense to run the no-huddle exclusively?
Yeah, I do. It doesn't have to be a hurry. We don't snap the ball every time there's 20 seconds left on the play clock, or 30 seconds. A lot of times we snap it with four or five. We try to vary it and change it up, so I don't believe that's not the issue. The issue is that we just got to execute better. We've got to do a better job. We've got to prepare better or something because we're not giving ourselves a chance. In consecutive games we've put up points for the opponent. That's not a good thing. We know going in that this was the best defense in football by a long shot. We knew it would be a challenge. We certainly didn't step up to that challenge.

Re: Trent Edwards' struggles
Yeah, it wasn't good. It just wasn't a good night. Not certain who it was good for. I'll have to look at the tape. We just didn't get anything done.
* 
*What do you think happened with the first interception?
I'll have to look at the tape. Obviously he didn't see the defender. I mean, you never throw the ball to the defender. Like I said, they're good. I'll have to see it on video.

Did you get a chance to see any of the downfield coverage while the offense was out there?
I was mostly focused on protection. I wanted to see protection because you know they have a very good scheme and they can bring a lot of pressure and they can get to you. I felt okay watching it in terms of our pick-up, our assignments, but we got beat and that's our game. You can't think on the defensive side that you're going to scheme to get free all the time. When you get that one-on-one you've got to win it. You've got to beat somebody to get home and that's what it looked like was happening to me. So we were where we were supposed to be, we just didn't do much out there I guess.

* 
*Re: Maybin's first game
I did watch him when he was in there. He looked quick. I thought he looked fast off the ball. Quite frankly, I was more pleased than I thought I'd be. I didn't expect much from him tonight. I thought his legs would be very heavy and be way behind. But he came off the ball. I thought he got the edge on the guys a couple times. I thought he cornered well. In other words, he got back to the quarterback to attack around the edge. So I was very pleased. I thought he stunted inside, he stunted hard. That was probably a plus.

What are the short term goals for him (Maybin) over the next few weeks?
Probably all the things we just said. Get his legs under him, get more used to the pads, get in football condition, and keep coming off the edge. Keep coming off that ball. As long as the offensive tackles fear the speed off the edge, then we'll be okay with it because that's his gift. That's what he's got. And he plays hard, he plays hard and we like that.
* 
*Any injuries reported to you?
Not that I can think of right now. I know that Marshawn took a blow in the thigh but I think he's okay. He looked like Marshawn Lynch out there for the little he played. Marshawn got hit late in the game but he came back and played after with everyone else. He got a bugsy cramp but came right back in.

Re: Spencer Johnson's efforts
Only to say that I'm a big Spencer Johnson fan. You know, he's very easy to be around. He's a great teammate and he plays hard all the time. Spencer's a great addition to any football team.


Do you think you've made improvements in the offensive performance from last week? What happened this week?
First and foremost, they have a great defense. You have to give a lot of credit to their depth and the way they play. They are obviously well coached, very talented. Our side, we didn't get the job done. We didn't get the ball past the line on third downs, we had turnovers, and I thought we left our defense on the field too long. But I thought our defense played very well. I feel like they stopped them, and I feel like holding them to 17 points was pretty impressive. It is frustrating, but the thing is that we do have a lot to learn. I feel like we have players on this team that are coachable, that are willing to learn, and that are still fighting. And it's still really early. There is area for concern, there are plenty of things that we need to fix here pretty quickly. But I feel like we have a great group of guys, guys that are willing to go in the right direction and that are willing to be coached. And that's the bottom line.

*Are there things that need to be fixed? Can they be fixed without being thrust into a live game setting? This is kind of the last dress rehearsal. What you have to fix, can that be fixed without taking the field in a preseason setting?
I definitely think so. I feel like we made plenty of mistakes, you guys can point those out. I'll be the first to admit that, I've made my fair share. But I feel like those can be changed. I feel like we have the guys, we have the coaches here and this group of people are willing to change. It is coming up here pretty quickly on our first game, but I feel we can make those changes pretty quickly.

The interception. What happened there?
Well, that was a shallow route that was supposed to go to Josh [Reed] that obviously didn't get to Josh. James Farrior wasn't where I thought he was going to be, and unfortunately, he caught the ball and Josh didn't. That's obviously one of the mistakes I can't make. I'll look at it on tape tomorrow and I'll try to fix it, and I think that's what happened.
* 
*You couldn't get the ball much to Lee [Evans]. Sometimes you were hurried. Was it a combination of a lot of things?
I feel like it was just one of those games. When there was the time to throw, I was either inaccurate, or I was throwing the ball where it wasn't supposed to go, or I wasn't expecting guys to be where they were, or we would get a penalty or turn the ball over. It was just kind of one of those games where they're going to take away Lee, they're going to do that, but we have to find a way to get the ball to our tight ends, get the ball to Josh and Roscoe [Parrish].

Are you worried a little?
Not at all. Like I said before, we're very confident. We have a long way to go but that's part of football. That's part of growing as a team. I feel like we're going to go through these games, we're going to have to go through these interviews where we're going to face a lot of hard questions, but I feel like we're ultimately going to be, and you guys might disagree, but I think we have a lot of the keys in place.

It was an execution issue, at least a lot of the guys in the locker room are saying, so where does that switch get flipped where execution goes from maybe not all the time to most of the time?
That's a really good question. I feel like the really good teams do that on a consistent basis. I fee like the Pittsburgh Steelers, the Green Bay Packers over the past two weeks have done everything they needed to do to win a football game. I feel like the teams who win the super bowl each year do the little things very well. Right now I'm not too sure we're doing the little things too well, and we need to do them on a consistent basis. I feel like that's what separates the Petyon Mannings, the Tom Bradys, the Ben Roethlisbergers, those are guys that are great with their footwork, getting the ball out on time getting the ball where it needs to be, and that's just the quarterback position. But if you look at the group of the guys as whole, those guys as a whole, we're not doing it consistently, we're not doing the little things that we need to do.
Kawika Mitchell

Re: Getting off to a good start tonight.
We were doing a great job on first and second downs. We had a couple of third-down stops, but really, we had guys competing for the ball and they just made a good catch. Hines caught a couple catches in there on third down, and guys were right on top of him. It's just a matter of who's going to make the play.

Re: Defense on the field for 20 minutes in the first half.
As long as we don't turn the ball over, I think it's fine. We'll go out there and we'll battle. If we have a sudden change after a turnover, if we have to go out there, then we just have to do what we have to do. As long as we get some rest, we can stand up against any offense I think.

Re: Roethlisberger's elusiveness
We had a couple guys get to him. I don't think he's ever looking to run the ball. He's always looking to pass the ball down the field and make big plays. I think we did a pretty good job of getting some pressure on him, but obviously we have to finish the plays.


Josh Reed

Re: Assessing the offensive performance
Frustrating. We feel like we're a much better offense than we showed tonight. There are a lot of things that we need to improve on. Coach said after the game that it's still the preseason, but we still want to come out and give a better effort than we felt like we gave tonight. We have to get back in here and watch the film and correct a lot of the things that need to be corrected.

Is there a sense of concern knowing that the season is near?
We still have a few guys that are out right now, like Terrell Owens. We still feel like we still have a week to go before we get things going, and we still have practice to do that. I'd say it's more of a sense of urgency. We just have to make sure that guys are still on the same page, that nobody's down, and we just have to keep everybody up and just keep pushing.

How do you look at fixing execution issues?
You just keep working. We have really good coaches and we trust them, but we know that it's something that is fixable, and everybody is going to come in and make sure we figure it out before Monday night.

* 
**Ryan Fitzpatrick

Re: Trent Edwards' confidence
I think he's fine. He's a very confident guy, he's a good quarterback. We've had our share of problems on the offense as a whole – it's not one guy, obviously. He's a confident guy, he's a great player. I don't know how much he'll play next week, but we're going to come out firing. Getting Terrell back, I'm sure that's going to give us some confidence and help in coming out firing Monday night.

How concerned are you about this offense?
It was very frustrating for us offensively. They're a great defense, we knew that coming in, but at the same time we didn't really execute very well today. We have a little bit of time to clean it up, but this was a game that we wanted to come out and play well, so obviously we're frustrated.