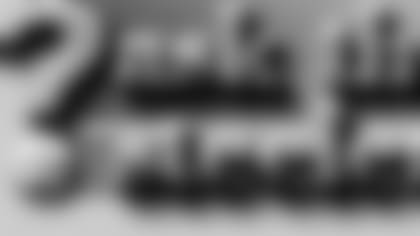 ASK THE STEELERS - SECOND-ROUND DRAFT PICK LIMAS SWEEDSteelers.com is now accepting questions for Ask The Steelers, a feature where fans get to email in questions for selected Steelers players and we take them to the players for their answers. The player(s) listed below are the only ones we are currently accepting questions for.
Only one question per person - please do not ask multiple questions in your email.
We will select the questions from all of those submitted. More players will featured throughout the next month.
To submit your question please please click on this link and send an email to:
Your name - First and Last
City and State
You must be at least 18 years of age to submit a question.
Please send in questions only for the player(s) listed above.
BIRTHDATE – December 25, 1984
BIRTHPLACE – Brenham, Texas
HOW ACQUIRED – D2-'08 (53rd)
PRO: Drafted by the Steelers in the second round (53rd overall) of the 2008 NFL Draft out of Texas…is the first Longhorn drafted by the Steelers since Casey Hampton was selected in the first round by the Steelers in the 2001 NFL Draft.
COLLEGE:Ranks sixth in school history with 124 receptions…finished fifth on the school's career-record list with 1,915 yards receiving…his 20 touchdown catches are surpassed only by Roy Williams (36) in Texas annals…his 12 touchdown catches in 2006 tied the school season-record that was first set by Roy Williams in 2002. 2007: A preseason All-American and All-Big Twelve Conference first-team selection, he was limited by a nagging wrist injury in the team's first six games of the season before missing the second half of the campaign to undergo surgery on October 16…earned a Frank Medina Rehabilitation Award and was named one of UT's Outstanding Wide Receivers…started the team's first six games at split end, extending his starting streak to 39 consecutive games…finished with 19 catches for 306 yards (16.1 avg) and three touchdowns…12 of his receptions were good for first downs…10 of his grabs were longer than 10 yards each, including five for 20 yards or more. 2006: All-Big Twelve Conference first-team selection…All-American honorable mention by The NFL Draft Report…started all 13 games, tying a school season-record with 12 touchdowns among his 46 receptions, good for 801 yards (17.4 avg.)…12 scores matched the Longhorn record set by Roy Williams in 2002… gained five yards on a rushing attempt and scored 72 points…gained over 100 yards receiving in the North Texas, Iowa State and Nebraska contests…had a string of seven consecutive games with at least one touchdown catch, a school record. 2005: Associated Press All-Big Twelve Conference honorable mention…started all 13 games at split end, finishing second on the team with 36 receptions for 545 yards (15.5 avg) and five touchdowns…scored 30 points for the season and also recorded a pair of solo tackles. 2004: Played in 11 games, starting the final seven at split end…made 22 catches for 263 yards (11.4 avg), but did not find the end zone…recorded one solo tackle. 2003: Redshirted as a freshman…graduated in December, 2007 with a degree in Youth and Community Studies and a minor in Business…active in UT's community service program, as he was part of a group of Longhorns that regularly visited patients at the Austin Children's Hospital.
PERSONAL: Attended Brenham (Tex.) High School, playing football for head coach Glen West…lettered three times as a wide receiver and free safety…Class 4A second-team All-State and first-team All-Greater Houston selection on offense and an All-District honoree on both sides of the ball as a senior…played in the 2003 U.S. Army All-American game…earned 4A honorable mention All-State and All-District honors as a junior…while primarily playing defense, tabbed the District's Sophomore of the Year in 2000…nearly half of his 72 catches (31) in his final three seasons went for touchdowns…averaged 23.4 yards per reception (72 for 1,684 yards), as he helped lead the team to a 14-2 record and a berth in the Texas 4A Division II Championship game in 2002…caught 38 passes for 796 yards and 12 touchdowns, adding 44 tackles and five interceptions on defense that year…had 22 receptions for 656 yards and 13 scores and added a pair of interceptions as the team posted an 11-2 record during his junior season…as a sophomore, he recorded 89 tackles, and three interceptions, adding 12 catches for 232 yards and six touchdowns that season…lettered four times in track, performing mostly in the hurdles…lettered four times in basketball as a forward, earning All-District honors as a junior after averaging 12 points and eight rebounds per game…honor roll student and served as a student mentor…Full Name: Limas Lee Sweed, Jr.