The past few months have been filled with 'moments' for Alan Faneca.
It began when he got the 'knock on the door' at his Virginia home from Pro Football Hall of Fame President David Baker, sharing the amazing news that he was a member of the Hall's Class of 2021.
The excitement continued when he joined other members of the Class of 2021 in Tampa, Florida at Super Bowl LV, relishing the brotherhood of what was becoming another new family for him.
And it went to another level when Faneca and his wife Julie recently visited the Pro Football Hall of Fame in Canton for a visit in preparation for his enshrinement in August.
"Along the way there have been moments where it's real now, where it gets elevated a little bit more," said Faneca. "We found out when David came and knocked on the door and the excitement and we're in. Then you have to keep quiet about it for two weeks, so this uber excitement that we can't even talk about. Then we got to go to Tampa to the Super Bowl and meet the rest of the class. That was big. As nice as it was to have the family here when they did the knock on the door, missing the opportunity to be around those guys and share it afterwards was missing. That became another step up, being around the other Hall of Famers.
"Going to Canton to the Hall was another one. Especially walking into the room where the busts are. It was emotional, it was a surreal moment. It brought it to a whole other level."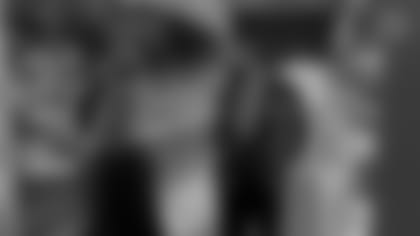 The Fanecas had already done a virtual meeting with the Hall of Fame staff but wanted to do an in person visit to make enshrinement weekend seamless for them.
"The virtual meeting was about scheduling, talking about the ring sizing, jacket, doing things on our own instead of going there and getting it done," said Faneca. "We couldn't have pulled it off or attempted to do it all virtually. To get the lay of the land, meet the people and talk about it with them. You get a sense of what the Hall of Fame means to the local community when you go there and how it's intertwined with everybody. We'll be more prepared and successful by going.
"When we were having the virtual zoom meeting, it didn't feel like we were missing a ton. But after going there you realize that we needed to go and enjoy and see everything up close and personal."
And what they were greeted with, let's just say it was special. They arrived the day before the visit, and to get to their hotel they had to pass the Hall of Fame. What they first saw was a massive display with photos of the Class of 2021, with Faneca the first of the eight new members.
"Diving on the highway there, I was like are you excited, are you excited," said Julie Faneca. "We drove by it several times while we were there. I was like there you are again. I was always trying to snap another picture."
Faneca laughed but admitted it didn't get old seeing it.
"It is very cool and amazing to see it in person," said Faneca. "It's better than the pictures I have seen."
The visit began with a warm welcome by Baker and the staff from the Hall of Fame, and even a few Steelers fans got in on the act.
"It was very unexpected. I wasn't even thinking about that," said Faneca. "I thought we were just showing up for a meeting and we got this big greeting and welcome. It was so nice for them to do that. We got to meet everybody, learn what they do in the Hall. Getting to meet them made it even more enjoyable. There were some Steelers fans there. They just happened to be there. They let them get in line and say hi and meet us."
It was then off for a tour, which included seeing artifacts from his career, as well as some amazing artifacts that represent the history of the game.
"They pulled out my draft card that got handed in when the Steelers drafted me," shared Faneca. "That was very cool. I had never even seen a picture of that. That was a cool piece of my history. They had the program from my very first game. They also pulled out some old artifacts for us to look at. We saw the first contract signed by a player. The history behind it was amazing. We were in there for a while and they finally had to nudge us out of there."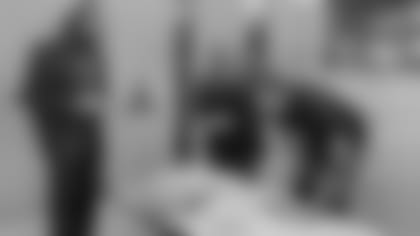 For anyone who has been to the Hall of Fame, you know the feeling of walking into the bust room, where the greatest of the greats are represented. Now imagine what it's like to walk into that room knowing you will soon have your own bust in there.
Overwhelming was the word of the day.
"Seeing it and you see how the classes line up, and it's organized, and you get to the end and that's where I will be," said Faneca. "I think Julie took a picture of me standing by the blank wall where I will be."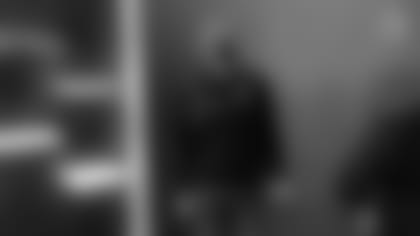 That is, after she wiped away all of the tears.
"I was overcome with emotion and in awe that Alan would be in there," said Julie. "I told Alan when we were leaving the Hall, it's a lot for me to think of my spouse going into the Hall of Fame, I don't know how he is handling it. We walked into the bust room, and I immediately got overwhelmed with a lot of emotion. Usually when I get overemotional, I hide behind Alan and he blocks for me. My mask was soaking wet. It was like walking through there like wow…and then seeing Kevin Greene's bust, it was all over.
"We are just completely amazed still. We are just over the moon excited and emotional."
Faneca was measured for his Hall of Fame ring during the visit and admitted he didn't want to even peek at it. But the moment that really hit home was when he went out to the stadium to the spot where he will be delivering his Hall of Fame speech.
"They showed us where I am going to stand on stage," said Faneca. "David was kind of setting the scene, and the emotions and the vibe of the evening. There might have been some dust flying around in the air, I don't know. It was emotional."