There likely isn't an NFL statistic for this, but my guess is it would be a pretty rare occurrence.
Yes, there are players who have taken snaps on offense, defense and special teams in the same game.
But how many players have taken snaps in all three phases in their first NFL game?
But Henry Mondeaux is one of them.
Mondeaux saw his first game action in 2020, promoted from the practice squad to the 53-man roster on Oct. 23, and playing in his first career game two days later against the Tennessee Titans.
"The first game feels, there were definitely some nerves that I had," said Mondeaux. "It was really not much different than any other game I played in before. What was weird was playing in front of no fans. I was really thankful for the opportunity. When you are out there, at least for me, I feel like there is so much preparation and focus that goes into it after the first few snaps, the nerves went away, and it felt like regular football."
He played 17 snaps on special teams, six on defense, and one on offense, when he lined up at fullback with Derek Watt out because of an injury. And he made his presence known on that one offensive play. Mondeaux had a key block on a one-yard touchdown run by Benny Snell, taking out two Titans defenders.
"It was definitely a fun way to kick it off, especially the play on offense I went in for," said Mondeaux. "I thought it was a cool way for me to break the ice and do something positive for the team. It was nice because I felt like there was a lot thrown at me in the first game and I didn't have time to overthink things. It gave me the chance to go out there and cut loose."
Mondeaux had an inkling that he might see action at fullback, but until it happened, he wasn't counting on it.
"I had gone over a few plays that I knew if we got down close to the goal line it might be an option, so I was ready," said Mondeaux. "I didn't know if it was going to happen. When they called my number, I was like all right, they are doing it, I can't think about it, just go do it."
The game was a culmination of what Mondeaux has been working for since he first entered the NFL in 2018. Mondeaux, who played at the University of Oregon, originally signed with the New Orleans Saints following the 2018 NFL Draft. He was with the Saints during training camp, released before the start of the season, and was signed to the Saints practice squad before the last game of the 2018 season. He was released after the season, signing with the Kansas City Chiefs a few days after his release, but only remaining with the Chiefs for a little over three months in the 2019 offseason. A week after his release from the Chiefs, the Steelers signed him, and he spent the 2019 season on the practice squad.
It's not an easy route to take, but in the NFL it's one that isn't uncommon.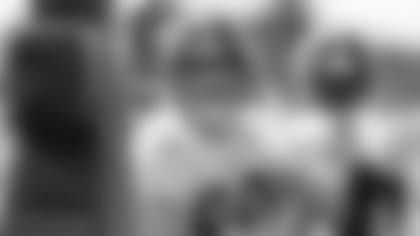 "For me, going in my first year I spent a lot of time at home during the season after being cut," said Mondeaux. "I kept working, set goals for myself, and didn't stop ever trying to make it happen. I had a lot of support from family and friends, especially after the first few times I got released. Just talking with friends and other guys I knew who played and had been in similar situations. I always had a good support system.
"It can have a tough mental impact on you. It's important to realize that a lot of times you have to be in the right system. It might not be what you are doing. You have to fit into the scheme. It definitely is a league that comes with its ups and downs. I am glad I landed at a spot that feels like they can use some of the things I do well."
The feeling Mondeaux had last year versus two years ago, let's just say it's night and day.
"It was awesome for me," said Mondeaux of the 2020 season. "It was the first year that I got to play in an actual NFL game. It was like a dream come true for me. To be a part of our season in 2020 was very special, to be able to contribute to some of the wins and the run we had early in the season."
Getting the call up from the practice squad to play was something that was commonplace for players in 2020. Because of the COVID-19 pandemic, teams were given more freedom to call up players for games, and then they would revert back to the practice squad without having to clear waivers.
But in Mondeaux's case, this was just a straight activation to the 53-man roster. No going back to the practice squad following the game.
"With the new rules they put in during 2020, I felt it was like more on practice squad guys to be ready to play because you can swing up at any point," said Mondeaux. "I talked to my agent that week. He had a good idea about me being signed. I talked to the general manager (Kevin Colbert) and he said this is what we are going to do, we know you are ready, be ready. It feels pretty great to be called up, especially when you are coming from the practice squad to the active roster because that is what everybody is working towards.
"There is an added pressure that everyone on the roster feels because nothing is guaranteed. You are excited, but you want to do your best. There is a difference between we are bringing you up for one game and we have a new contract for you to sign. I was lucky I was able to sign a contract and then it was up to me to do what I needed to do to keep my job."
What he needed to do, more than anything, was fill a hole on special teams where injuries were mounting, while at the same time provide depth on the defensive line. He did both and had fun in the process.
"I love special teams, mainly because it was a big reason I got the opportunity to play last year," said Mondeaux. "It's a part of the game that may be overlooked by some people who watch. I think that it's a very important piece of the game that is necessary to be successful as a team, especially in the NFL. Special teams are also really fun. You get to go one-on-one, full speed, you run a lot and fly around the field. They're a great opportunity for guys that may be in situations coming off practice squads or are young, undrafted, or drafted in later rounds."
You might not pinpoint Mondeaux as a guy who would run down and cover kicks, after all, most 6-4, 280- pound defensive linemen aren't built to fill that role. But he enjoyed it.
"It takes a unique mindset to play any position professionally in football, but special teams is very different than offense and defense," said Mondeaux. "You do have to be ready for that open field, one-on-one, I have to beat this one guy every time we kick the ball off or receive it.
"I think a lot of it was trust in me and being in the program they have seen me run. They felt that I could run down there and keep up with smaller guys for the most part. I think that it was a lot of them trusting that my abilities would allow for me to do it at a high level."