After playing the first five seasons of his NFL career on the other side of two of the Steelers AFC North rivalries, defensive lineman Larry Ogunjobi made the jump in 2022 to the black and gold.
And he jumped in feet first, excited for the new opportunity.
Ogunjobi signed with the Steelers last June after spending his first four seasons with the Cleveland Browns and the 2021 season with the Cincinnati Bengals. And he fit in instantly with his fellow defensive linemen, a group he played against for years and was now playing alongside.
"It's definitely a special group with Cam (Heyward), T.J. (Watt), Tyson (Alualu), (Chris) Wormley, Alex (Highsmith)," said Ogunjobi. "It's a really good group of men. When you've got Cam and Tyson, who have 25 years of NFL experience between the two of them, you have someone there who has seen it and done it for a long time at a high level. The questions you can ask them, the leadership they provide, the understanding of it and just the energy.
"Sometimes it's hard to find organic people, but those guys are truly organic and real. They want the best for everybody around them. All of the guys in the locker room are like that and when guys are like that, they play for each other. That's how you can turn around 2-6 to 9-8. It was a testament to the men in the room."
There is someone else Ogunjobi praised with the Steelers turnaround from the 2-6 start to a 9-8 finished, and that was Coach Mike Tomlin. Ogunjobi said playing for Tomlin was one of the things he enjoyed most last season, taking in his overall approach and his day-to-day personality.
"It's his level of detail and understanding, his leadership," said Ogunjobi. "He played a pivotal role not only in my own personal development, but the development of the entire team, along with the coaches, support staff and ownership. It's a first-class organization that's been run the right way for a really long time.
"When we started off 2-6, Coach T said something in the meetings that he is not going to be a moving target. Any time you want to be great at anything, consistency is the key. He was always consistent, always coming into the morning meetings with the energy, sending a message that we're still in this thing regardless of where we are right now. He always said we're not going to blink. He told us to smile in the face of adversity. Stand tall, find a way to get it done because the only people that can fix it was us. And that was one of the important messages. That is just the type of person he has been for everybody to just watch and emulate.
"You know he's not going to play around with you. He's going to keep it completely honest, but I think that's what you need to do. You need clarity, cohesion, honesty, because when you go through relationships, real conversations, it leaves room for real growth. I think that's really important."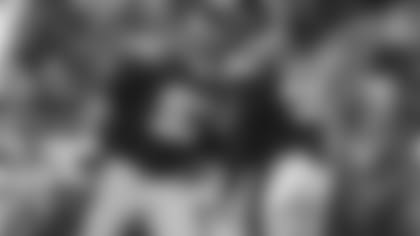 And growth is something Ogunjobi saw in 2022. He started 16 games, finishing the year with 48 tackles, 25 of them solo stops, 11 quarterback hurries, seven tackles for a loss and one and a half sacks.
He also dealt with a variety of injuries throughout the season but played through it all.
"Sometimes you just have to be resilient and trust your process," said Ogunjobi. "There's obviously ups and downs. Seasons can play out a whole bunch of different ways. You take it one day at a time, stay focused, trust your process and just find ways to get better each and every day. For me personally, I continue to trust my process to find ways to get better. Regardless of the ups and downs of the season, when you're resilient and trust your own process, things find a way of working out."
For Ogunjobi, football is something that has worked out. His parents moved to the United States from Nigeria in 1993, a year before he was born. He started playing football in high school and over time developed a love for the game that he is passionate about now.
"I enjoy the sport," said Ogunjobi. "I should say, I love the sport. I love everything about it. Football has opened so many doors for me, allowed me to do so many things, helped so many people. I owe this game a lot, so I don't take it for granted."