In Part I of 2010: The season in review, the Steelers had gone through a three-plus-month span in which Mike Tomlin had re-made his staff of assistants, in which Ben Roethlisberger had been handed a six-game suspension for what had happened in a bar in Milledgeville, Ga., in which the team had brought back veterans Antwaan Randle El and Larry Foote during free agency.
Part II looks at the NFL Draft, minicamp, and the return of Roethlisberger to the team for the final batch of OTAs.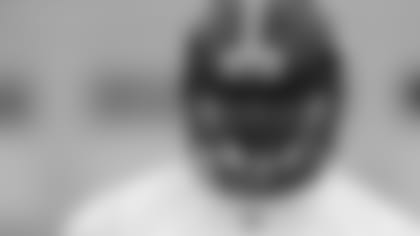 Maurkice Pouncey selected in the first-round.
April 22: In its first incarnation as a three-day, made-for-TV event, the NFL Draft holds its opening round in primetime. The format calls for Round 1 on Thursday, Rounds 2-3 on Friday, and Rounds 4-7 on Saturday. With their only pick of the first round, the Steelers select center Maurkice Pouncey. So that's why Coach Mike Tomlin was so attentive during the University of Florida's Pro Day. He wasn't paying attention to Tim Tebow after all. Pouncey is the first center picked No. 1 by the Steelers since 1941 when they chose Chet Gladchuk from Boston College.
April 23: Maybe Steelers fans were disappointed that neither of the team's next two draft picks played cornerback, as was suggested by at least one report, but as Mick Jagger sang, "You can't always get what you want; and if you try sometime you find you get what you need." What the Steelers believe they got in OLB Jason Worilds is a more athletic Jason Gildon, and in Emmanuel Sanders they got a receiver exposed to a complex passing attack after playing for June Jones in college at SMU.
April 24: The move that gets the most attention on this final day of the draft is the trade of a fifth-round pick to the Arizona Cardinals for cornerback Bryant McFadden. It was assumed it would be impossible for the Steelers to add a starting-caliber cornerback during this draft once the team bypassed the position on the first two days, but Director of Football Operations Kevin Colbert pulled it off.
April 26: The Baltimore Sun labels the Ravens the favorites to win the AFC North. Writes Mike Preston, "The Steelers have imploded, the Browns are rebuilding and the defending (division) champion Bengals have had problems putting together two good halves of a season much less two consecutive good years."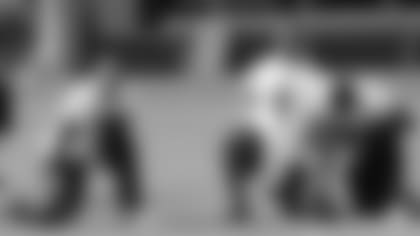 Quarterbacks Charlie Batch, Byron Leftwich and Dennis Dixon
April 30: The Steelers begin their only offseason minicamp, and with Ben Roethlisberger absent as per the terms of his suspension, newly reacquired Byron Leftwich is the quarterback with the first-team offense. The three-man quarterback rotation had Dennis Dixon and then Charlie Batch following Leftwich.
May 1: Hines Ward: "Whoever they decide is to be the starter (at quarterback), we'll move forward from there." Ward has no idea how prescient those comments will turn out to be.
May 2: Limas Sweed leaves the final practice of this minicamp with an injury to his left foot that will turn out to be a torn Achilles tendon.
May 12: Mike Tomlin says there will be no open competition at training camp for the starting job at quarterback during the length of Ben Roethlisberger's suspension. "It's too many people. And really, it's not a three-man quarterback competition at this point. We know what all three men (Byron Leftwich, Charlie Batch and Dennis Dixon) are capable of doing. All three men, at different points in time, have benefited us and helped us win football games, or played winning football. We know what we're working with. We're going to spend the rest of this offseason teaching, re-acclimating in some cases – as with Byron Leftwich – and then we're going to make decisions and move forward."
May 18: The Steelers resume OTAs, but without Roethlisberger, who still has not been cleared by Commissioner Roger Goodell to return to the team.
May 20: Through the eight offseason workouts to this point, Charlie Batch has been the No. 3 quarterback for the Steelers, and when Ben Roethlisberger returns he will be No. 4. "Right now, you have to see how it plays out," says Batch. "Either way, there's not a lot of reps to go around for everybody. Now the question's going to be, as we continue to move forward, how are the reps going to be split?"
June 1: Finally cleared by Roger Goodell, Ben Roethlisberger is back working with the team for the final two rounds of OTAs. "What we really want to do is give Ben quality reps so he can get re-acclimated and improve and work on his game," said Mike Tomlin. "And we want to continue to give Dennis his reps because he is a young guy. When you're talking about working with four quarterbacks, reps are going to be scarce at some instances. For the purpose of this week, if there's a reduction it is going to be at the expense of Byron Leftwich and Charlie Batch."
June 10: OTAs are over. Tomlin's assessment: "We just brought to a close what we consider a productive session of OTAs (organized team activities). I stopped short of characterizing it as a success because I think ultimately you measure offseason programs by the production they provide in the fall and winter."
June 28: For NFL teams, any news at this time of the year typically is bad, and so it is for the Steelers. Willie Colon tears an Achilles while working out. It's a 12-month injury, and so the Steelers find themselves looking for a starting-caliber offensive tackle with the opening of training camps a month away. That means it's a good thing the team picked Chris Scott in the fifth round of the 2010 draft, if for no other reason than competition and depth.
June 29: So much for Chris Scott providing competition and depth at tackle. It's announced that he will undergo surgery to repair a broken foot, an injury he sustained working out at his alma mater, the University of Tennessee, to get himself prepared to provide competition and depth at his first NFL training camp. Scott is expected to miss all of camp, which for a rookie means any realistic chance he has to contribute this season is gone.
July 12: Without fanfare, the Steelers sign Mike Tomlin to what is reported as a three-year contract extension. The youngest coach to win a Super Bowl, Tomlin was going into the final year of the deal he signed in 2007 when he was hired to replace Bill Cowher. For the third straight time – dating to Chuck Noll's hiring in 1969 – the Steelers have gone through the process of hiring a coach, and the man they picked has won a Super Bowl. Plus, Tomlin has the look of a coach on the path to winning more than one.
July 28: With even less fanfare, the Steelers sign Kevin Colbert to a contract extension reported to be for five years. Considering that Colbert built the roster the Steelers would be taking to Saint Vincent College, and considering what that roster was going to withstand and accomplish over the six months of the 2010 season after leaving training camp, well, it's fair to look back on this announcement as a win-win.