---
You have a few games coming up against traditional Steelers rivals, starting this week with the Browns. Are those the type of games you really get pumped for?
It's going to be really intense. Those guys don't like us, we don't like them. We play them twice a year. It's going to be loud. We have to go out there, play hard and have fun.*You have to bring your 'A' game. Any game that is considered a rivalry, you have to get pumped up for it. I am already pumped up for every game because it's a new team I am going against in most cases, playing against new players all of the time.At this point of your rookie season, what has been the biggest adjustment to the NFL?*
It's the overall speed of the game. The more I have been playing, the more I have adjusted to the game speed. My play continues to elevate as I adjust to it and I just want that to continue to happen.
What's the mental challenge like, even just dealing with being an NFL player and everything being so scrutinized? Is that tough to adjust to?
It can be. At the same time there is nothing you can do about it. You have to look past it. At the end of the day you can only do the best you can do. As long as you give your best you should be fine.Who has helped you with the adjustments to the NFL?
All of the rookies are going through the same thing so we all talk to each other. We don't look to each other for advice, but we help each other along. That is what we do. I lean on the other rookies a lot.How far behind did your foot injury set you and do you still feel like you are catching up?
I feel like if I didn't get injured I would be, not more advanced, but I would know more than I do now. The way I am developing now, the more I am playing, I have been getting better.
Do you try to take every game as a learning experience?
Every game shows me something new. I am fortunate to play against so many different good players and I am getting adjusted to playing against them. I am getting better at watching film, my preparation is getting better in practice, and I am taking all of that and putting it into the game. I am always trying to evaluate myself and continue to get better.**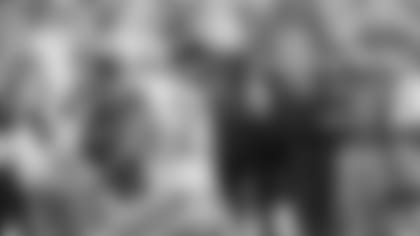 Did you expect to be a starter your rookie year?**
That was always my goal, something I wanted to do. When it became reality it was crazy that I was a starter for the Steelers. My dream was to play in the NFL. My family, my parents grew up hard-core Steelers fans. I never was. I grew up watching the Steelers all of the time because my family loved them. It's ironic I got drafted by the Steelers and am now starting for them.Does being a rookie starter come with pressure?
I don't look at it as pressure. I don't feel any pressure. As long as I do the best that I can do with what I am presented, I feel like that will be enough. The coaches are putting me in position where I can succeed and make plays. As long as they continue to do that, and I give the best I've got, I will continue to grow. How anxious are you to have that breakout, statement game?
I know it will come eventually. It's not something I am worried about. As long as we win I don't care about how my stats look. I just want to win games. I want to do whatever it takes to win games. That is what is important to me, wins.
Against the Lions you pulled out a little move with the hurdle over a defender. Is that a move that you've done before?
I did that a lot in college and in high school. I love doing it. It's dangerous, risky, but I do it when the opportunity presents itself to get more yards. I know one of those runs will pop open and I will be able to break a long one. I just have to keep grinding and do what I can.