It didn't end as intended but it was still a season to remember.
Following are 13 plays that shaped the Steelers' 2013 campaign:
Sept. 8 vs. TEN; 1st quarter; 2-0 Steelers; 2nd-and-6 from the Titans' 21
RB Isaac Redman lost 2 yards and G David DeCastro's attempted cut-block inadvertently took out C Maurkice Pouncey (knee). After spending the offseason installing and practicing their new outside-zone blocking scheme, the Steelers had to resort to Plan B after eight offensive snaps on the way to a 16-9 setback.
Sept. 16 at CIN; 1st quarter; 3-0 Steelers; 2nd-and-8 from the 50
QB Ben Roethlisberger hit TE David Paulson for 34 yards but Paulson fumbled while being tackled, the Bengals recovered at the Cincinnati 13 and the chance to take a two-score lead on the road evaporated. The Bengals scored five plays later on the way to a 20-10 win that provided a glaring example of how early-season turnovers hurt the Steelers.
Sept. 29 at MIN (London); 4th quarter, 34-27 Vikings; 3rd-and-goal from the Vikings' 6
Six yards from overtime after having trailed 34-17 in the third quarter, but the Steelers' inability to protect Roethlisberger cost them again, this final time in a sack/fumble that ended the game.
Oct. 13 at NYJ; 3rd quarter; 9-6 Steelers; 3rd-and-1 from the Steelers' 45**
After consecutive runs by RB Le'Veon Bell, the Steelers went up top on third-and-short. Roethlisberger's 55-yard TD pass to WR Emmanuel Sanders reintroduced into the Steelers' repertoire the ability to seize control of a game via the big play and highlighted a 19-6 victory.
Oct. 20 vs. BAL; 4th quarter, 16-16; 2nd-and-10 from the Ravens' 24
Moments after surrendering the game-tying touchdown, the Steelers put the Ravens away on Shaun Suisham's last-play, 42-yard field goal. Suisham's sixth career game-winning kick with the Steelers exemplified the consistency and reliability he'd bring almost all season.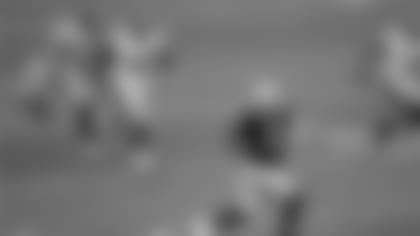 Oct. 27 at OAK; 1st quarter; 0-0; 1st-and-10 from the Oakland 7
A basic read-option turned into a 93-yard TD run by QB Terrelle Pryor. Of all the big plays the Steelers' defense surrendered, this one was the most maddening. The 21-18 loss in Oakland was perhaps the Steelers' most frustrating.
Nov. 17 vs. DET; 1st quarter; 7-0 Steelers; 1st-and-10 from the Detroit 47
Roethlisberger hooked up with WR Antonio Brown on the pair's second catch-and-run TD of the afternoon, this time from 47 yards out that followed a 34-yarder on the first possession. Brown finished with seven catches, 147 receiving yards and a 21.0 average per catch in the 37-27 win, and continued to establish himself as a Megatron-esque presence.
Nov. 24 at CLE; 4th quarter, 20-3 Steelers; 1st-and-10 from the Cleveland 20**
CB William Gay intercepted Brandon Weeden and sprinted 21 yards for the first pick-six of his career. The exclamation point in a 27-11 triumph shed light on Gay's solid, consistent play and on a defense that produced more pressure and turnovers as the season's second half progressed.
Nov. 28 at BAL; 4th quarter; 22-20 Ravens; two-point conversion attempt
Sanders dropped a Roethlisberger pass and the Steelers' comeback from a 19-7 fourth-quarter deficit was thwarted. Another near miss.
Dec. 8 vs. MIA; 4th quarter; 34-28 Dolphins; 4th-and-4 from the Steelers' 26**
The Steelers' version of the Stanford Band play almost worked. But the Roethlisberger-to-Sanders-to-Jerricho Cotchery-to-Bell-to-Marcus Gilbert-to-Roethlisberger-to-Brown last-play improvisation came up 12 yards short when Brown stepped a couple of inches out of bounds on the way to the Dolphins' end zone. A one-snap microcosm of 2013.
Dec. 15 vs. CIN; 1st quarter; 14-0 Steelers; 4th-and-14 from the Cincinnati 29
Brown returned a punt 67 yards for a TD, thanks in part to a devastating block by LB Terence Garvin that landed Bengals P Kevin Huber on IR. The special teams got better as the season progressed, too, as the Steelers' 30-20 victory revealed.
Dec. 22 at GB; 4th quarter; 31-31; 3rd-and-8 from the Green Bay 10**
SS Troy Polamalu chased down QB Matt Flynn and forced a fumble that DE Brett Keisel recovered at the Green Bay 17, which set up what became the winning TD in a 38-31 thriller. The old pros on defense still had a finishing kick in December.
Dec. 29 vs. CLE; 3rd quarter; 14-0 Steelers; 1st-and-10 from the Pittsburgh 45
Running out of the no-huddle that defined the offense in the season's second half, Bell rumbled for 9 yards and surpassed Franco Harris' rookie record of 1,235 yards from scrimmage. More confirmation that the Steelers had their identity on offense and their three-down back in a season-ending 20-7 victory.