Steelers FanDuel Fantasy Weekend | Pittsburgh Steelers - Steelers.com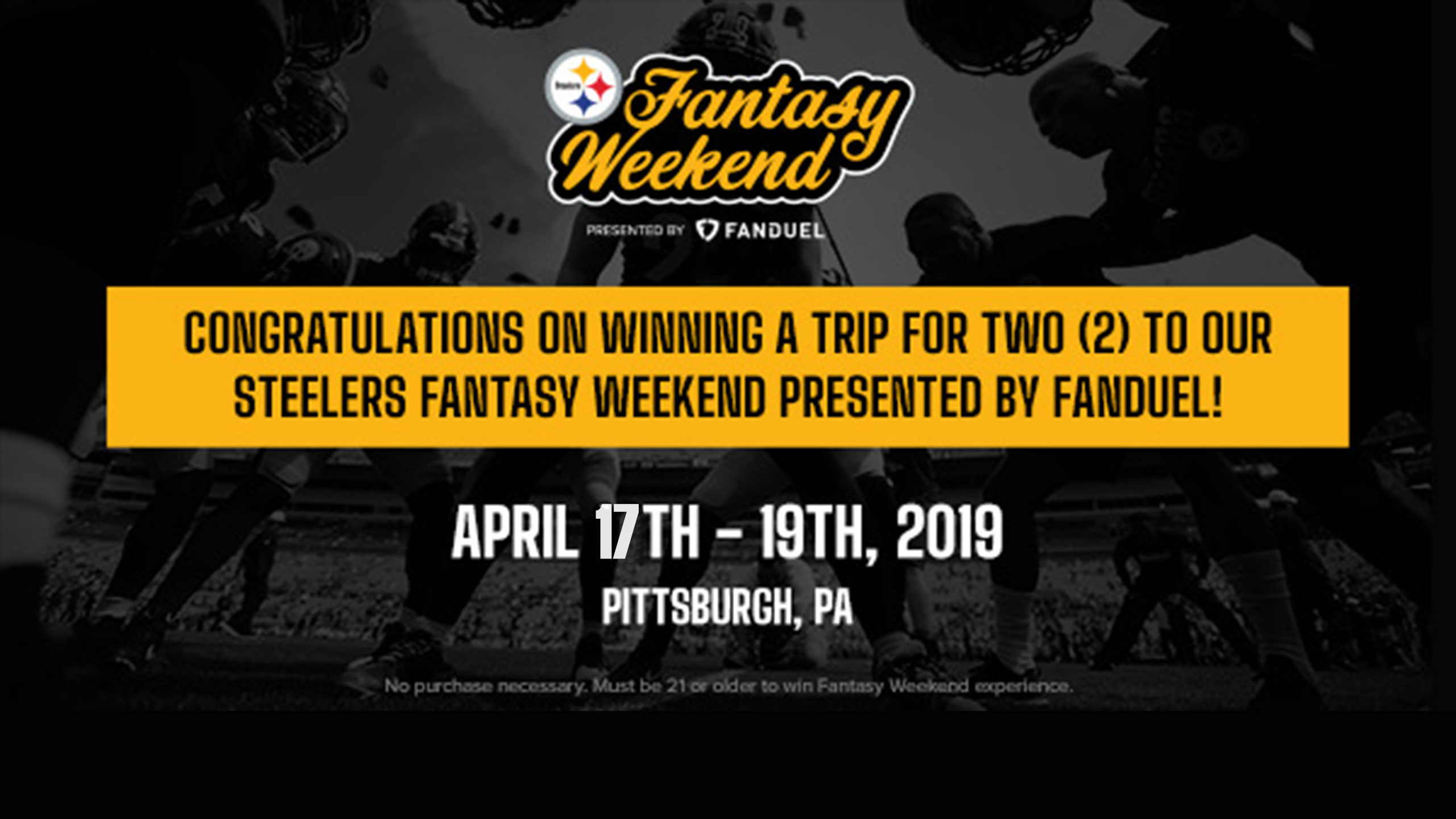 OVERVIEW
FRIDAY, APRIL 17TH
Hotel Check-in - 3:00pm ET
A two-night hotel stay in downtown Pittsburgh will be provided for your experience. Hotel check-in information to be provided in mid-March.
Kickoff Event - 7:30pm - 9:30pm ET
Heavy h'ordrves & open bar will be provided
SATURDAY, APRIL 18TH *schedule subject to change
Breakfast at Heinz Field
Stadium Tour
Player Tunnel Experience
On-field Skills & Drills
Lunch Break
Afternoon Skills Competition
Dinner with Steelers Legends
FanDuel Fantasy 101
Competition Awards
SUNDAY, APRIL 19TH
Breakfast provided at Hotel
Hotel Check-out - 12:00pm ET
Please be reminded that airfare will not be provided nor will transportation to and from the airport for this experience. The team will provide transportation to and from the hotel to Heinz Field for the experience.
FREQUENTLY ASKED QUESTIONS
What is the average age of an attendee?
The minimum age to attend camp is 21 years old. Regardless of age, each camper has the same opportunity to play.
Are family and friends allowed at camp?
This event is exclusive for the winner and one (1) guest. Both must be 21 years of age or older.
What kind of physical shape should I be in for camp?
We recommend that every camper try to be in the best shape possible to ensure their Fantasy Camp Weekend experience is enjoyed to its fullest. That said, we realize that nobody attending is a professional athlete, so professional training ahead of time is in no way required. We also have the Steelers professional training staff on site to help with any injuries or sore muscles that may result from the camp.
What equipment do I need for camp?
We will provide an exclusive gift for your attendance; however, we do recommend you bring an athletic outfit for the skill session part of the day. Each camper should bring their own gloves, athletic shoes/cleats and any accessories they may want for the weekend (sunglasses, hats, etc). We advise you prepare for rain or shine. Drinking water will be provided during each skill session. No metal cleats can be worn on the field.
Do I need a rental car?
Transportation will not be provided from or to the Airport. However, transportation is provided to the Hotel to Heinz Field the day of the event and back to the Hotel. It is not necessary to rent a car and is entirely up to you if you decide to do so. Parking is available at the hotel.
What should I wear for the Friday and Saturday evening events?
The Friday night event at the hotel is to celebrate the kickoff to our weekend. This will be casual. Steelers gear is always encouraged!
The Saturday dinner event will be business casual. However, you will have the opportunity to meet Steelers players. We highly recommend you wear your favorite Steelers jersey!
Autographs/Meet & Greet with players – We highly encourage photos with the players. Autographs are not guaranteed.
Are there photographers available to capture the weekend's events?
Yes. We have professional photographers on site throughout the weekend to capture the events. Photos will be available afterward.
For any questions or concerns, contact PetersenS@steelers.nfl.com.