There are many ways to define it, so many words that describe it, and so many ways to manipulate those simple six letters by those who claim to be a leader, but really aren't.
But there is one definition that seems to fit when you are talking about one of the leaders in the Steelers locker room.
Leader: 'A person who has commanding authority or influence.'
That, in a nutshell, is Maurkice Pouncey.
To know Pouncey is to know he doesn't like it when cameras and microphones are in his face. That isn't his style. He is content to just go out and play football, and leave the talking to others.
"Don't ask me about me," laughed Pouncey when I approached him in the locker room.
When he realized I wasn't going to give up, I was able to pry a little bit out of him. But read what he said carefully. He doesn't really talk about himself, even though I asked him to.
"I look at myself as just loving my job," said Pouncey. "Being upbeat and positive all of the time, that makes football easy for me. Building a relationship with these guys is so special. It's bigger than football. These guys are brothers to me. When I am coming in to work, it's like hanging with my family all day. That is how I look at it."
But, when something needs to be said, when a message needs delivered, you can be sure Pouncey is the one who will do so. And that is when he won't shy away from the cameras and microphones.
"When you hear him speak, you take heed to what he says," said Chris Hubbard. "His voice is heard. He is genuine. He has been there, done it. You look up to a guy like that who is vocal but has been down that path. He knows when someone needs to speak out. When you hear that, that command that he has, you want to listen to him. I listen to him every time he talks. He says what is on his mind and it's from the heart."
When the Steelers were being criticized for standing in the tunnel during the National Anthem in Chicago, Pouncey responded the following week.
"I promise you one thing, this week we'll all be standing out there for the National Anthem, trust me," said Pouncey at the time.
And like the case has always been, every player has and continues to stand on the sidelines for the anthem.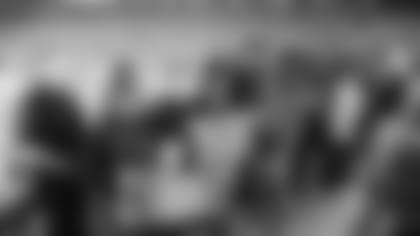 And Pouncey didn't stop there. He used it as an opportunity to work with the Pittsburgh Bureau of Police, teaming with them on his annual Thanksgiving food distribution as well as a ticket giveaway. Pouncey provided tickets to Steelers home games this season to the police department, 25 per game for a total of six games, with each of the city's police zones all getting tickets. The tickets were used by the police to take local youth to the games, and enjoy a tailgate buffet he provided, in an effort to build a relationship with them.
"At the end of the day something good came out of the anthem issue because we are giving back to the community," said Pouncey. "Seeing the lives we are changing, even if it is just coming to a football game and hanging out with each other for three hours. One day that might help guys out and change things. I just look at it as it's a blessing. As long as they are having a good time and enjoying it, I am happy. The police are in it with us, getting everyone to the game. It's unique. For it to happen, to work with the community and the police, it's special."
When Martavis Bryant trade rumors surfaced, Pouncey again was a voice to be heard, brushing it off as nothing more than that, rumors that they ignore.
And most recently, when James Harrison was released and the Steelers were taking heat for cutting the fan favorite, Pouncey went to bat for the team.
"He wanted that," said Pouncey. "It wasn't like the team said, 'We're going to let go of James Harrison.' James Harrison wanted that. Trust me, if I wanted out I wouldn't have let the team take the blame for it. I'm glad the team is being respectful, but we're going to speak the truth."
Pouncey isn't trying to earn brownie points with management with his comments. He isn't trying to earn brownie points with his teammates.
"I don't like to be the guy that is the company guy, the guy that is out there saying stuff," said Pouncey. "But when things happen, I am going to speak the truth about it. I am going to tell you exactly how I feel about it."
That is exactly why Pouncey is so respected by the others in the Steelers' locker room. Because what he does, is speak the truth.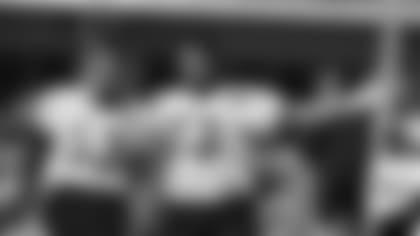 "He is a guy I listen to," said Mike Mitchell. "The way he plays, he is a great player. When someone works hard and is a great player, then that gets your attention. Just the way he carries himself, he is a no B.S. guy. There are multiple leaders in our locker room, but he is a guy the guys listen to."
He is just being himself when he speaks, and being himself, well, that means being a dang good guy. Pouncey is loved not just by those in the locker room, but by the entire Steelers staff. And not just for a recent gesture that he made, instead he made that gesture because he is so loved. He purchased No. 53 Pouncey jerseys for all of the Steelers' staff at the UPMC Rooney Sports Complex, something that touched the hearts of people, myself included, like you can't even imagine. "It's something small just to put a smile on their face to let them know this organization is the tops," said Pouncey.
It was another example of him being a leader, being someone who loves what he does, and loves he people he does it with.
"He is an incredible leader," said Le'Veon Bell. "He is not necessarily vocal and loud, but his presence is felt in the huddle. Guys watch him. He is a guy who leads by example. That is the type of guy you want. You don't want a guy trying to point a finger, demanding attention. You want a guy doing the right thing.
"That is the crazy part, he doesn't have to say a lot. You have a lot of guys that say a lot of little things that mean a whole lot of nothing. You have guys that say very little, but when they say something, it means a lot. Pouncey is one of those guys."
Yes, he is 'one of those guys.'
And in this case, one of those guys is plain and simple, a leader.