By Teresa Varley
Steelers.com
Hines Ward thought he was on a mission to introduce Steelers football to the people of Mexico City, Mexico. What he quickly learned, was that there was no introduction needed.
Ward was part of a Steelers contingent, which included Director of Marketing Tony Quatrini and Business & Football Administration Coordinator Omar Khan, who traveled to Mexico City for a press conference to announce a partnership with Grupo Radio Acir (88.9 FM) to broadcast the Steelers games in Spanish in Mexico City.

Ward is used to being in front of the media. He has done countless interviews, some of them in the Steelers media room at the team's UPMC Sports Performance Complex, others standing in front of his locker. And all of those times there have been plenty of media on hand.

But nothing, not even some of the Super Bowl press conferences filled with reporters from all over the world, could have compared to what Ward experienced in Mexico City.

Ward expected the media to be on hand, a few television cameras, some reporters. He never imagined, though, that the media would pack the room and then it would overflow with Steelers fans decked out in black and gold.

"It was very overwhelming," said Ward. "You talk about the Steelers Nation being everywhere. American football is loved everywhere. Going to Mexico City showed me that up close and personal. It was a warm and welcoming visit. Soccer is the predominant sport there, but there were Steelers fans everywhere.""
That is an understatement. About 100 fans made their way into the press conference, while others packed the lobby of the JW Marriott where Ward was staying and even more flowing out onto the street, with a total of close to 500 fans on hand.

"I didn't even realize there would be fans there," said Ward. "I didn't know they knew I was coming. The fans found me. But I loved everything about it, we had a blast. They just wanted to show their support and excitement about having the Steelers game broadcast live there.

"It was crazy. It was overwhelming. It was great to be a part of that. Going to Mexico City and getting the love from the Steelers fans there was a real treat."
Ward knew that Mexico City had some Steelers fans, having seen it when the Steelers played there in the preseason in 2000, but never realized how big it actually was.

"There were Terrible Towels everywhere," said Ward "It was great to see fans waving them during the press conference. They were everywhere. And so many jerseys, my jersey, Ben's (Roethlisberger), Troy's (Polamalu). It was just a great feeling. That is what it is all about. The game is growing and our organization is the best in the NFL and that showed when we were down in Mexico City. It really got me excited to go back to training camp."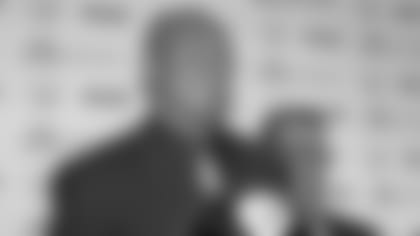 Ward and Tony Quatrini at press conference.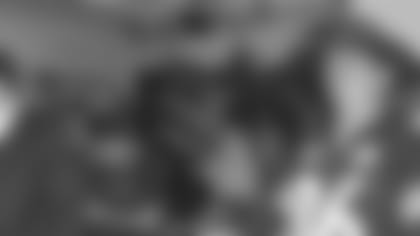 Fans joined the media at the press conference.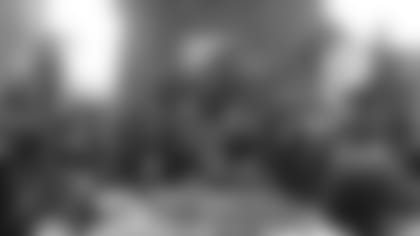 Steelers fans show their support in Mexico City.