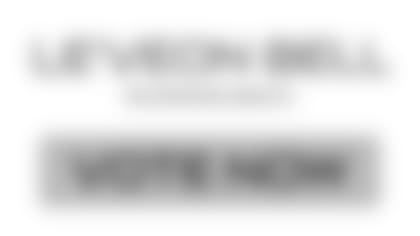 ](http://www.steelers.com/fan-zone/official-2015-pro-bowl.html)
Pro Bowl Prospect: Le'Veon BellRunning Back6-1, 2442nd SeasonMichigan StateStats: Rushing: 195 carries, 951 yards, 4.9 yard average, two touchdownsReceiving: 57 recpetions, 484 yards, 8.5 yard average, two touchdowns
It should come as no surprise that running back Le'Veon Bell is among the leading vote getters for the Pro Bowl, ranked sixth overall in the fan voting and second among running backs.
Bell is no doubt having a Pro Bowl season, not just with his rushing yards which rank him third in the NFL, but also his yards from scrimmage which ranks second in the NFL.
Bell opened the season with 109 yards rushing and then rushed for a career-high 147 yards on 21 carries against Carolina in Week Three of the season.
Against the Tennessee Titans Bell ran for a career-high 204 yards, also the highest rushing performance in the NFL this season.
Coach Mike Tomlin on Le'Veon Bell "He's been a smart runner since I've been associated with him. I think some of the things he does, he does innately. He's got good football intellect. I don't think he's been lacking in that area since the day we drafted him. He's an impact player in the running game and the passing game, competitively catching the ball, getting open out of the backfield and running the football."
The top photos of running back Le'Veon Bell.