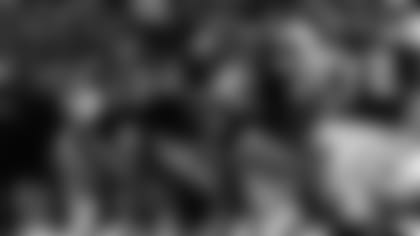 Another in a series of stories chronicling the 52 playoff games in Steelers history.**
Even a generation ago, long before free agency and salary caps and eight-figure signing bonuses attached to nine-figure contracts, it was more difficult in a lot of ways to defend a championship than it was to win the first one. The National Football League in 1975 was a place without any real free agency or player agents, but it was still a place where athletes wanted to be paid more than they were making before they delivered the championship, a place where unchecked satisfaction often festered into complacency. And if there was no free agency, there was something called the World Football League, and the WFL was pilfering star players from NFL rosters even as it was fighting desperately to stave off bankruptcy.
Starting on January 13, 1975, Pittsburgh Steelers were NFL champions for the first time in franchise history, and if there were some minor growing pains, there were other, more pressing concerns having to do with holding the roster together for a run at a repeat.
Caught up in the euphoria of winning the Super Bowl, the receptionist at the team's offices at Three Rivers Stadium took to answering the telephone with the greeting, "World Champion Pittsburgh Steelers." She was told gently by Art Rooney Sr. to dispense with the self-promotion, and this one command let the rest of the organization know that there would be no "putting on airs," that in the way in which they perceived themselves they were still the Same old Steelers. As for the newly-crowned champions themselves, it was a more innocent time. Players might have been fattened up by a steady diet of rubber chicken and stuffed pork chops at all those sports banquets, but this wasn't the era of professional athletes as rock stars. Some guys still had offseason jobs, but that didn't mean there weren't a whole bunch of them lining up for the pay raises they believed they had earned.
Dan Rooney would be dealing with the business aspects as usual, but this offseason he was doing it in his new role as team president. "Dad walked into my office and said, 'You're the president,'" said Dan Rooney. "There wasn't a whole lot of fanfare involved. It's a title without a raise."
At that specific time, part of the business of the NFL was eagerly awaiting the final breaths of the World Football League, and the Steelers' interest hung on the Birmingham Americans, who happened to have L.C. Greenwood's name on a contract. Besides that, there was talk of Terry Hanratty lobbying for a trade, and Joe Gilliam was described by a teammate as "looking for big change. Big change." Big change came to be listed as $1.5 million over five years. Oh, and starting offensive linemen Jim Clack, Gordon Gravelle and Gerry Mullins supposedly were thinking about negotiating with the Steelers as a unified trio.
Over on the football side, Art Rooney Jr. and his scouts along with Chuck Noll and his staff were preparing for the draft, and the Steelers were not going to change the philosophy that allowed them to win the Lombardi Trophy in the first place. In a span of six drafts, from 1969-1974, the Steelers had used the "best athlete available" method, and those six drafts had brought them nine players who would end up enshrined in the Pro Football Hall of Fame, a total of 18 who would go on to win four Super Bowl rings.
"We don't draft on the basis of our existing personnel," said Noll. "This is where you can wind up hitting the panic button. We can't say, 'We're going to grab all the defensive ends.' That's panicking, and you can screw up your whole draft that way. Say you're going to lose L.C. Greenwood. Then you may be able to help your football team more by being better offensively. You don't make decisions based upon positions. The defensive end that's available may really be a fifth-round choice. So you end up bypassing a lot of good people who could help you in other areas to get that defensive end. That's why we don't draft that way."
By the time the Fourth of July rolled around, everything was settled. The Birmingham Americans folded, and so Greenwood signed a new contract with the Steelers; Hanratty, Gilliam, Mullins, Gravelle and Clack remained with the team as well. Noll, not surprisingly, was itching to get back at it, and get back at the dissenters in the Bay Area who believed the Raiders' loss in the 1974 AFC Championship Game was a fluke.
"This offseason has been pretty much the same as all the others," said Noll. "I'm not a big savorer. It was doing what we did that was the enjoyable part, not looking back on it afterward. We had the best team in the playoffs last year. Now we want to have the best team in the regular season … to take care of the detractors."
By the time the team was to report to St. Vincent College, the players seemed to be girding themselves for the challenge of repeating as champions.
"I don't know why it is, but I think a lot of people look at our win last January as a fluke," said Dwight White. "I think the general public across the country think that the first time you win a Super Bowl it's a fluke. Win it a second time, and they call you a dynasty, but the second one is the key to the proper form of recognition."
Said Hanratty, sounding like Noll, "If we have the same single-mindedness, the same dedication on the field as well as off the field and the same high quality of leadership we had last year, I see no reason why we can't win the Super Bowl again. Certainly, the talent is there, but if anybody thinks winning the Super Bowl a second time will be easy, they're crazy. Damn crazy."
Training camp began with a stretch so smooth that on July 29 Noll was moved to say: "It's scary. It's hard to find someone who's not doing well." But then on the heels of a 3-4 preseason, he was dour. "Intensity is the thing that set us apart from everybody else last year. We haven't had it yet. We've been working on it, but it still hasn't come. The problem is it has to come from everyone … from all 43 players at once. A lot of guys have been playing great … obviously what we're talking about doesn't apply to everybody. But everybody has to be of one single mind. We're not. It's just that simple."
It turned out that Noll's opinion on July 29 was correct. The Steelers opened with a 37-0 win over the Chargers, and then after a Week 2 loss to Buffalo only because O.J. Simpson was spectacular, they ran off 11 wins in a row before dropping a meaningless finale in a Los Angeles quagmire to the Rams. They beat the 11-3 Cincinnati Bengals twice and the 10-4 Houston Oilers twice. They had earned their way to the best record in an AFC that also had powerhouse teams in Oakland, where the Raiders were 11-3, and in Baltimore and Miami, where the Colts and Dolphins both were 10-4, and the Steelers had done it by overcoming injuries all season.
For their playoff opener against the Baltimore Colts at Three Rivers Stadium they would have to do that again: Joe Greene, Jack Ham, Andy Russell, Mike Wagner, Loren Toews and Hanratty all were nursing injuries.
"Our front four – ends Fred Cook and John Dutton plus tackles Joe Ehrmann and Mike Barnes – is just as good, but theirs has gotten more publicity," said Colts linebacker Stan White. "I think we match up with them. In the secondary they have more experience, but that's because two of ours didn't become regulars until the middle of the season. We've learned to work together."
Added Baltimore safety Bruce Laird, "We've been able to become a big-play defense because of the great pressure our front four puts on passers. We just play our defense back there, and the quarterback has to get rid of the ball quicker than he'd like to."
Greene wouldn't play, and Bradshaw injured a knee in the game, but Franco Harris made up for a season spoiled by groin and toe injuries by rushing for 153 yards on 27 carries, and Jack Ham was magnificent.
Ham finished with two sacks and an interception, and then he forced a fumble and threw the key block that allowed Andy Russell to return the fumble he had forced 93 yards for the clinching touchdown in a 28-10 win. It was a workmanlike performance, like so many of the Steelers' other wins during their 12-2 regular season, and as they had done so many times during 1975 they had made a very good Colts team look very ordinary.
"I ran the first 50 yards in 9.4 seconds, and I slowed down some after that," joked Russell in the winner's locker room. "I thought about running straight into the dressing room because there was no way I was going to be ready for the next defensive series. What a great play that was (by Ham). First, he knocked the ball loose and then in the same motion he blocked Bert Jones so I could get started."
When the rest of the opening round of the 1975 NFL Playoffs had concluded, a headline in the Beaver County Times got right to the heart of the matter: "It's Oakland vs. Pittsburgh again."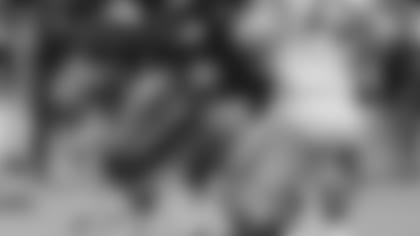 This article has been reproduced in a new format and may be missing content or contain faulty links. Please use the Contact Us link in our site footer to report an issue.