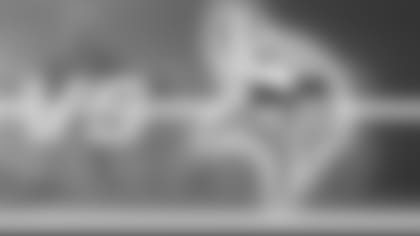 ](http://www.steelers.com/adPromo/clickThrough/processClick.io?adPromoID=95922)
 STEELERS vs. VIKINGSSUNDAY, OCTOBER 25 2009KICKOFF 1:00 P.M.HEINZ FIELDSTEELERS QUOTES - BelowVIKINGS QUOTES - Click on Link
Coach Mike Tomlin: *Good afternoon. We're pretty fortunate to win that football game to say the least. When you look at the stat sheet and you look at some of the things that happened in that game, usually you don't win those. They dominated time of possession. We're not very good in the situational football, I think we were 0-for-3 in red zone football. When you kick field goals versus a good team like that, usually it comes back to bite you, I think we were 0-for-2 in goal-to-go situations. They pounded a couple in on us but we stayed in the fight, guys didn't blink and to their credit, we were able to win the game. When you put a couple of splash plays defensively; you put 14 points on the board defensively you can overcome a lot of errors. We were far from a perfect team, but we won today. We'll accept that, we're very complimentary of that football team that we played today, they're good. It's good to get into a bye winning a few in a row and we'll continue to improve in our areas of deficiency, kickoff coverage being one of them.
 
*Is there an injury report?
Nothing at this point. Travis Kirschke went off with a calf strain, don't know the extent of that. Lawrence Timmons went off with an ankle, don't know the extent of that. Thankfully we've got a little time to get those things addressed here not having to play a game next week.
 
You ran the ball well today, is it because the Minnesota Vikings defense dropped back in coverage?
I thought our guys did a nice job blocking them. I want to give credit to our front, I thought they were game for the challenge. They respect the heck out of the Minnesota Vikings run defense. I think they're reputation preceded them, but we were able to find a few creases and get some rhythm in the run game, we just didn't possess the ball enough today to do what we desire to do from that element of it. Part of it is due to the fact that Minnesota's pretty good with the football. Converting first downs, Brett [Favre] moving the chains and keeping us on the sidelines.
 
What is it about the defense when they step up and make plays?
More than anything, they trust how what they do fits in the big picture or the big scheme of things. We very rarely have people out of place, they're usually where they're supposed to be, seeing things they're supposed to see and when you do that and combine that with energy and enthusiasm big plays happen and thankfully they happened for us today.
 
What was it like on the sideline watching the two touchdowns?
It's one of those slow motion moments that's a joy in this business depending on what end of it you're on. You do it enough, you end up on both ends of it. I think we've had a few balls run back on us this year, it's good to be on the good side of it.
 
Do you sense the team has a chip on their shoulder?
I hope so. Whatever allows us to prepare with an edge. I'm not concerned about their play, I know they're going to play with an edge, it's more importantly that we prepare with an edge. I think we've been doing that, no minor criticisms. If that motivates us, great.
 
Did subbing Mewelde Moore have to do with Rashard Mendenhall's fumble?
It did and it didn't. The young fellow [Rashard Mendenhall] fumbled and every time he puts a helmet on, it's a learning experience for him. Just a little careless in that instance, we were getting ready to go in for a score and we lost the ball, but also it just speaks to a level of trust we have in Mewelde [Moore]. He's closed games for us in the past, we feel comfortable with the ball in his hands and the things he's capable of doing not only as a runner, but with some of the blitz pickup things that you might see under those circumstances and of course getting him out in pass routes, so it's multiple reasons for that.
 
Can you talk about the play of Keyaron Fox?
Keyaron [Fox] is a guy that like a lot of guys is really on the come. He's in his second year on our football team so he has a clean understanding of defensive schemes and how he fits into the big picture of the 11th man. He's a quality football player, he's a low-maintenance guy. He's always willing to ante up and kick in given the opportunity, he's done so at the beginning of the year and he did again today. I imagine when we continue to call on him as needed, he'll do the same.
 
Do Rashard's fumbles make you reconsider him starting?
Not at this point no. Not at all.
 
Why didn't Willie Parker play more?
I think we had the ball 23 minutes. We had a couple of three-and-outs and things of that nature. You're not going to find rhythm within games like that. We're not going to be able to run it as much as we'd like. I think we were sub-50 in terms of snaps. So you could ask about anybody and their level of participation, it'll be below the line under those circumstances. We didn't get Hines [Ward] the ball enough. Etcetera, etcetera, etcetera. We didn't have enough snaps.
 
As you head into the bye week, where do you stand in the AFC?
I'm not a big picture guy. We're going to enjoy the bye, some much needed rest for us and then we're going to prepare for Denver. We understand as much as we continue to win our position can't be any worse. I tend not to watch the standings when we win, only when we lose.
 
Can you point out the deficiencies of the kickoff coverage?
I don't know, but we better fix it and fix it in a hurry. I accept the responsibility for that, I'm going to get it fixed, whether it's schematics, people or both.
 
Talk about the Minnesota Vikings pass coverage and them batting the balls today.
That's what they do, they've got some big people, some aware people inside. Kevin Williams is a unique guy, very aware, a lot like Brett Keisel for us in terms of, "hands up." We knew they were capable of that. They've done it before, they did a nice job of that. Thought we a nice job from a protection stand point in the big scheme of things. This team is very good at sacking the quarterback. Of course [Jared] Allen's at the tops of the league from a end position, Kevin Williams' at the top of the league from the defensive tackle position. We didn't expect it to be smooth sailing if you will and it wasn't, but all in all, I think I'd give us a passing grade just on a knee jerk, gut reaction to the question
 
Can you talk about James Farrior's play?
He played inspired ball today but that's consistent with what we expect from him. He's our defensive captain and leader. He's a heck of a one to boot, he's always ready to play. The stage is never too big for James [Farrior].

WR Mike Wallace
 
Were those the same two plays back-to-back – on the completion and then on the long touchdown?
Yeah. It was all Ben [Roethlisberger]. We were in the no-huddle and Ben was calling all the plays. He was calling all the shots, so it was a good call by him.
 
On the touchdown, as Hines [Ward] slid to the right, you slipped in behind him. Is that the play?
That's the call. I have to read the defense. I have to give credit to Hines [Ward] and Tone [Santonio Holmes] for helping me out all the time on reading coverages. It just so happened, I got both of those coverages right.
 
WR Hines Ward
 
Re: the Vikings defensive coverage, where they seemed to be taking away deep passes
Teams are going to start doing that. We took advantage of it. Mike [Wallace] came up huge with a huge play. I can't get frustrated. We're winning. I'm still out there helping the team win. The one pass, I caught the ball down the seam [and] I think if Mike is a little wider, [then] that corner doesn't come off of Mike and make the play. I really wasn't expecting to get hit. But he put a good hit on my tail bone.
 
Did that affect you the rest of the game?
No, it was a little stiff. I don't really think it affected me, but their defense was taking me away on certain things. And there was nothing I could really do about it. Other guys stepped up and made some plays. The play that Santonio [Holmes] got, he took advantage of it. He had a good run after the catch. All-in-all, it's not perfect on offense, but we found a way to win this game.
 
Re: Vikings coverage scheme
They were taking all of the deep stuff away. And, at the same time, every time I would come underneath, the linebackers were right there covering me. We tried to exploit that with Mike [Wallace] down the middle. Every time the Mike linebacker jumped me, we ran a route right behind the Mike linebacker. And that's how Mike Wallace got open.
 
Was this a statement game?
I don't know. It was a great atmosphere – a playoff atmosphere [with] the most fans ever at Heinz Field. [They were] 6-0, but we still have a lot of games left. It's great to go into the bye week at 5-2. We're stacking wins. In the month of November, we're heading in the right direction.
 
DE Brett Keisel
 
Re: defensive performance
We feel like we have a really good defense. Today was a great test for us to go against a good offensive line, a great quarterback, a great running back. It was a big test for us and we answered the call.
 
Brett Favre is the all-time active leader in fourth-quarter comebacks. Does it make it any more special to do it against a guy like that?
Yeah, any time you are on the field against this guy, it's awesome. What he brings to the table still is amazing to me - how he's still one of the best in the league. He makes great plays for his team. He's a winner. He's always been a winner. And it was a lot of fun to compete against him today.
 
S Ryan Clark
 
Did your eyes light up on the hit on [Percy] Harvin?
Oh no. I have big eyes already, so I'm sure they're always pretty lit up. It's just part of football. Sometimes you play back there and you can't always get there [to] get the pick. Coach talks about reputation a lot. He always says [that] reputation means nothing. So you have to keep showing guys that if you throw the ball deep on the Steelers secondary, it's possible that you'll get knocked out.
 
This game was billed as a shootout.
We don't do shootouts, though. It's been awesome how fast that you [the media] forgot that this defense can actually play. It didn't take you long at all either. We have pride. It's not ego, it's pride. And guys have character. We don't like coming into a game [when] you say it's going to be a shootout. Because as much as you are saying something good about our offense, you are saying something negative about this defense if we allow it to be a shootout. I think if it was a scrimmage, we would have won. Defense would have beaten their offense. I think we scored twice. We scored more touchdowns than their offense. So we would have won the scrimmage today.
 
But they are great team. If you think about it, if [Brett] Keisel doesn't make that play and [Keyaron] Fox doesn't make that play, they are in our red zone going in to score. It could be a totally different ball game. That's just big plays by guys who really work hard.
 
LB LaMarr Woodley
 
Did you feel a little bit like James Harrison in the Super Bowl on your touchdown?
He ran 100 [yards]. I ran, maybe 73. I'm probably 10 pounds heavier. I'm like a defensive lineman. I was tired. I was real tired. It was late in the game. I was exhausted.
 
Talk a little bit about that play.
I saw the ball come out and I saw it laying on the ground. My thought process [was to] fall on it, or pick it up. I decided to pick it up. I was taking a chance. But then, when you pick it up, you might as well get what you can get and make [something] out of it. I made a touchdown out of it.
 
When your defense makes two big plays like that in the fourth quarter, does that say something?
You know what? On our defense we always try to go out there and not just get turnovers, but try to put points on the board. I was able to get to the ball and [Keyaron] Fox made a big play when the other team was driving, in field goal range, [where] they might be able to get a touchdown. And Fox got the interception. I thought maybe he was going to fall down. Once he took off running, I didn't really have any speed to block for him. Some other guys stepped up, he took it to the house and really put the game away.