"It's as wide as your imagination."
That was the description Steelers conditioning coordinator Garrett Giemont had for a new system the team adopted this season, one that is allowing them to test players in ways they haven't done before.
The Steelers partnered with ActivBody, a fitness and health product innovator, to measure muscle function through isometrics. Giemont was searching for an isometric testing system, but didn't initially find what he wanted through some of the traditional companies. Through research he found ActivBody, and it was a perfect match.
"We wanted to know if we could get to where we could test, train, and then save all of the information on a cloud in a dashboard," said Giemont. "They couldn't then, but said they could do it in the future. We became a training partner with them and working with their software people and us, we got to where we are right now where it's an independent right-left testing system for strength.
"Working in our industry, right and left is a big difference. A left tackle has a stronger inside hand than outside hand, things like that. We wanted a testing system where they had to independently work that brain to stack those helmets and then follow whatever course they had set up. We can customize contractions, times, whatever is needed. It's fully customizable. We are now working to put the data in a system where it's all available."
As Giemont talked about the system, one of the players was in the weight room testing the strength in his legs. Using what is referred to a 'pod,' the idea is to use muscle strength to squeeze the pod while controlling what is almost a video game on an iPad. Two helmets, one testing the right side, the other the left side, are controlled by the muscles and have to follow a track to help measure all aspects.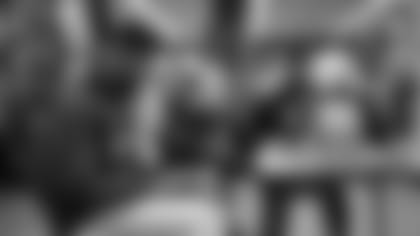 "You are controlling everything that is going on," said Giemont. "It's like a video game with exercise. You do it through squeezing.
"An isometric contraction is a force against a stabilized force with no joint movement. Any time you are in a strength and conditioning area or rehabilitative area, you are trying to stack different contractions. You are continually trying to challenge the brain, the nervous system, and the muscle system. What this does is give us a testing device. Once it's all ready, you can categorize every player and they can have pretest before you even get into training. If they have an injury it's something you can go back into."
And just like they are with video games, the players competitive juices flow while doing ActivBody. It tests the different areas, from strength to accuracy, with the score visible. Getting the highest score is without a doubt a goal.
"Any time you have competitive people and you have a 'video game' others can view, you are going to have those competitors come to the forefront. You are competing for numbers, accuracy, workload, best test. You are always competing. Any time you have that type of environment, these types of guys, that gives you that visual component, whether it be 315 pounds on a bar bench pressing or two little helmets stacked trying to chew up footballs, you are going to have that type of competition and the competitors are going to come out."