The following is an informal diary following the action through the playoffs. Regular updates will be posted.
AFC Championship Week EntrySunday, January 23Heinz Field was truly rocking and swaying throughout the game. You could feel it in the press box, and while we joked about it, we loved it too because we know that the more it rocks, the louder the fans are.
The press box was packed to the rafters. Media was in every nook and cranny. Between all of the Pittsburgh media, New York media and national media that cover an AFC Championship game, it was crazy.
The game, you know what it was all about. I don't think I need to say much more.
Now post-game, that was one great feeling. From the moment we got on the elevator, the coaches, Art and Dan Rooney, and some of our staff, it was the first chance to really get excited. But that went to a whole other level on the field. The atmosphere there was insane. Players were running around hugging each other, hugging all of us staff, probably hugging people they didn't even know. You could just see the joy on the players and coaches faces.
The music was blaring all of the favorites, but there was nothing like hearing players singing, "Pittsburgh's going to the Super Bowl," while they were out on the field. Amazing.
And the fans, thank you. What more can you say. You guys have been there all season and came through like champions for this one.
After the players left the field – with AFC Champion shirts and hats on – it was in to the locker room where Coach Mike Tomlin greeted each player and congratulated them. That is something that never, ever gets old.
Players families were going crazy too, celebrating with each other and as soon as the players and their families met up – the moments were magical.
It was a perfect night, but everyone knows there is still more to accomplish.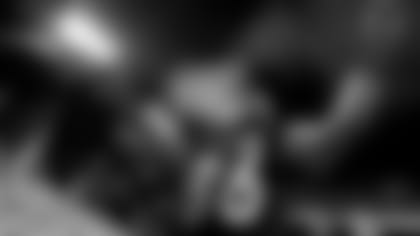 Ryan Clark and Troy Polamalu are just a little happy.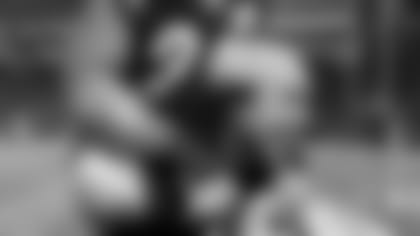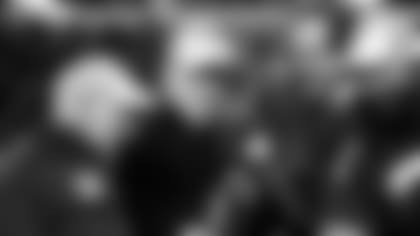 Mike Tomlin holds the AFC Champions Trophy.
Art Rooney II and Rashard Mendenhall.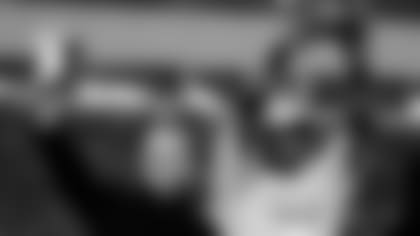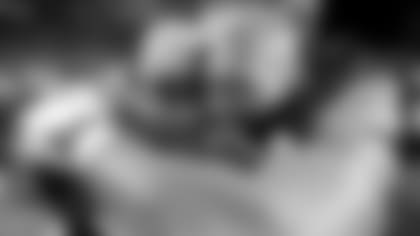 The excitement in Heinz Field pregame is completely electric. Wiz Khalifa got the crowd hyped-up performing his hit song "Black and Yellow" on the stage in the South Plaza.
Martina McBride did an amazing job singing the National Anthem, with Steelers fans singing along the whole time.
Khalifa joined Billy Gardell, comedian and star of the CBS hit "Mike and Molly" for the Terrible Towel Twirl. For Gardell, a lifelong Steelers fan who hails from the Swissvale area of Pittsburgh, it was an amazing moment and you could tell by watching him how much he loved it.
"In my life it goes in this order, my wife, my child and this moment now," said Gardell. "It's amazing. I might pass out.
"Somebody asked me if I was practicing my Terrible Towel Twirl, I said yeah for 41 years. I think the towel is going to be in full power today."
Former Steelers running backs Franco Harris and Rocky Bleier served as honorary co-captains for the game.
"What a great honor," said Bleier. "To be here at the game and asked to be co-captain with Franco and be part of the Championship game, it's terrific. Walking into the stadium reminds me when we played all of those games. It's a great experience."
Harris, who believes Jerome Bettis should be a first-ballot Hall of Famer, was looking forward to game.
"This is what it's all about," said Harris. "Everybody knows how tough this is going to be. We have our hands full. We just have to play Steelers football."
Pennsylvania Governor Tom Corbett was on the sidelines pre-game sporting his black and gold and is happy to have the spotlight on Western Pennsylvania tonight.
"For Pittsburgh and Western Pennsylvania we all love our Steelers," said Governor Corbett. "It's a great deal for the Steelers to continue in this long tradition of excellence in football. It means great pride for the State of Pennsylvania."
Corbett also shared that in the State dining room at the Governor's Mansion in Harrisburg he shows his Steelers pride with a sign hanging that reads, "You're In Steelers Country."
Also on the sidelines before the game was Mel Blount - who did say a week ago that this is where we would be tonight.
And by the way, yes, at kickoff, the building is rocking. Literally.
Early EntryPittsburgh rapper Wiz Khalifa will be singing his hit song "Black and Yellow" prior to kickoff and taking part in the Terrible Towel wave. Khalifa sounded awesome during his sound check and he is pumped to be at Heinz Field.
"It's going to be crazy," said Khalifa. "It's going to be monumental for me. Being from here and being able to rock in the same place the Steelers play is huge. It's the closest thing to being a Steelers player that I am going to get.
"It's an honor. Being from Pittsburgh and knowing everything we have been through to this point it means a lot. When I made the song it was in support of the teams. It's great to get that same support and love back."
Country music star Martina McBride returns to Pittsburgh to sing the National Anthem.
"I am just thrilled to be here," said McBride as she headed off the field for her sound check. "I love singing the National Anthem and in this environment here with the Steelers and all of the fans it's so exciting.
"I am going to do my best and have all good thoughts and positive energy and will send any luck I can their way."
You can tell this is a big game as the press box is packed, every seat, every inch is being used – even the lounge has media in it.
A special "Happy Birthday" goes out today to the late Myron Cope. To all of you who had signs for him outside of Heinz Field today – nicely done.
Billy Gardell (left) getting ready before the game.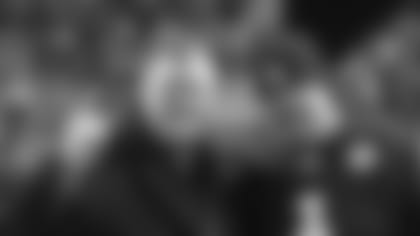 Governor Tom Corbett on hand to watch the game.
Mel and Tianda Blount and family and friends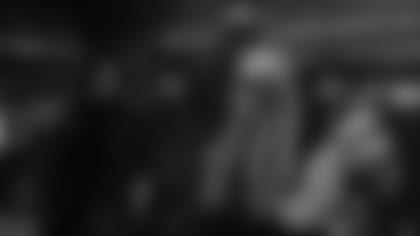 The locker room is ready
**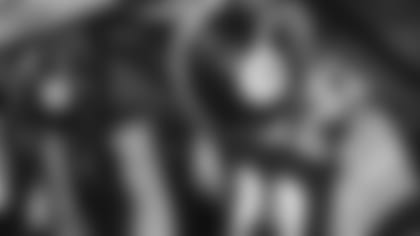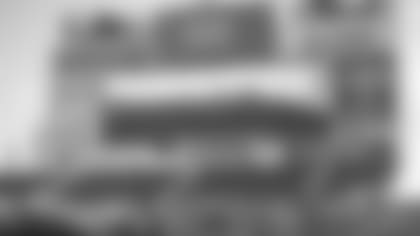 **Headed to the Press Box.
Sign outside of Heinz Field.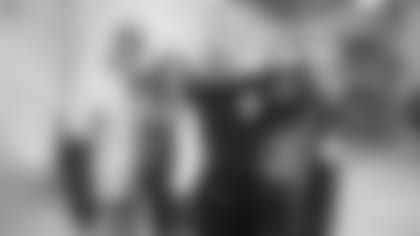 Plenty of Terrible Towels in the house.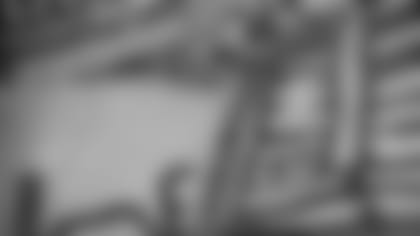 Saturday, January 22
Need we say more ... Thanks Pittsburgh Penguins and Marc Andre Fleury.....
Photo by Greg Shamus/Pittsburgh Steelers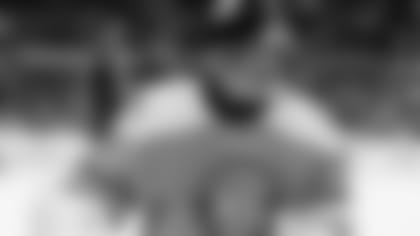 Friday, January 21Friday morning arrived with plenty of snow, and even more media. The CBS crew calling the game is in today, doing production meetings with the players and coaches. Plus it's the last chance for the media to get any interviews before the game, so it was a packed house.
Coach Mike Tomlin did one last round in the media room, even joking about how the media must be sick of hearing him.
If anyone was expecting breaking news from it, they weren't getting anything like that. Just a simple re-cap of the day.
"A situational football day for us, which is normal for a Friday, we worked on some elements, third down, red zone, short yardage, goal line, continuing to march forward towards Sunday," said Tomlin. "A good day's work, though, for the most part."|
Among the national media who were in town this week was John Lynch doing a feature on the Steelers for the FOX pre-game show on Sunday.
Lynch played for Tomlin while he was in Tampa, and told me that he has utmost respect for him and isn't surprised by the success Tomlin has had so far.
"I have to admit of the coaches I have played for he is the most natural born leader I have been around," said Lynch. "He has a mix of intelligence, experience because he was a player and has a way to communicate and reach different personalities that is unparalleled. I remember we lost Herm Edwards who was a pretty legendary DB coach in Tampa. They went through an exhaustive interview process, Tony Dungy and Monte Kiffin, to try and find the next Herm Edwards. I remember getting a call from Monte Kiffin when I was at the Pro Bowl. He said I have good news and bad news. I said what's the good news? He said we got you a heck of a coach. I said, well then what could be the bad news and he said you are two years older than him.
"That's how it started, but players in this league don't care about age. I wanted someone to help me get better and achieve what I wanted to achieve and that's what Mike provided in a hurry. I have the ultimate respect for him."
Lynch added Tomlin is one of the coaches when he says something, players really do listen.
"He doesn't speak just to speak. He only speaks when it's important," said Lynch. "He has a talent for saying the right thing at the right time. He has a great instinct for that. That is where his intelligence comes in. He always has something for the right moment."
The competitive side of the Steelers doesn't just come out on the field, it comes out in the locker room too – at the pool table that is.
"It's a different competitive nature for us," said Hines Ward. "There is something about billiards. It's a sophisticated version of competition. We get a kick out of it."
The players have a tournament during the regular season, which Tuff Harris won, but some of the best battles come between Ward and Charlie Batch.
"Charlie and I are about 50-50. Some days I will sweep him, some he sweeps me," said Ward. "He is one of the better pool players because we both have pool tables at home. Unfortunately for me mine is in Atlanta and his is here. I think he has the edge because he goes home every day and works on his shots. He is right up there as one of the better pool players."
Batch however claims he doesn't get in any practice shots at home.
"I don't play at home," said Batch. "He probably doesn't believe that. That is mental. That's what I have over him right now. Let them think that and the pressure is on them when they step over to the pool table."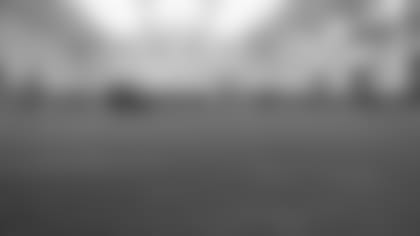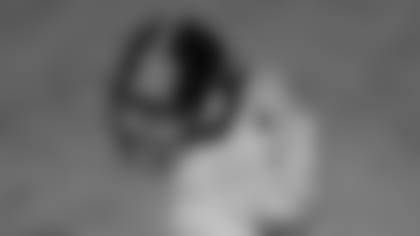 Al Everest and Ryan Mundy.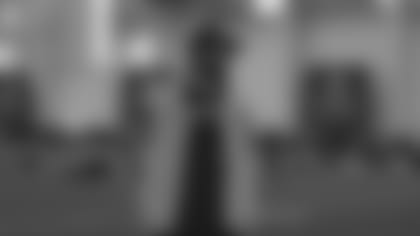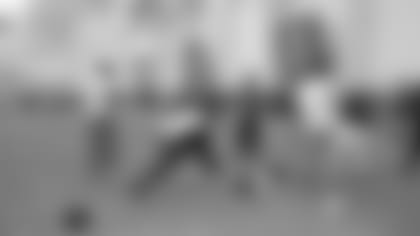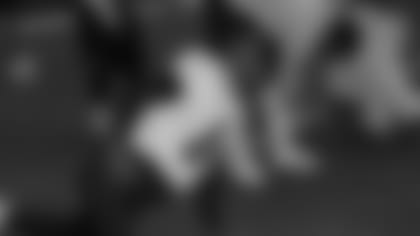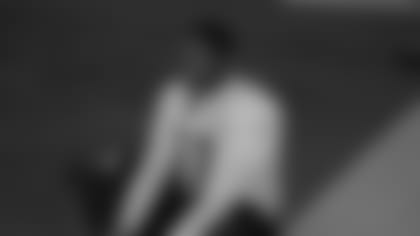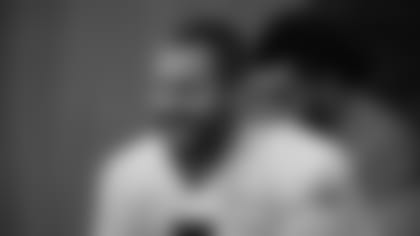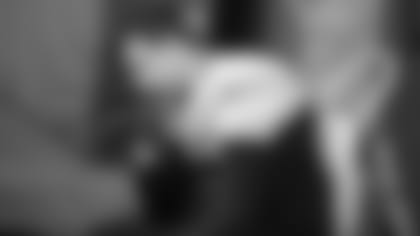 Aaron Smith - thanks to "guest photographer" Nick Eason.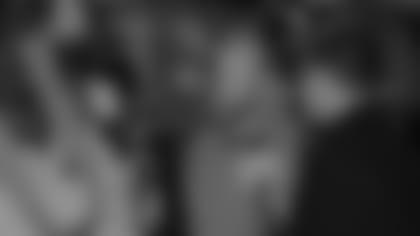 *Chris Hoke talks to the media. *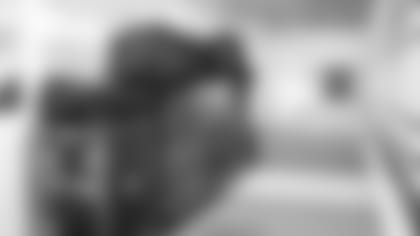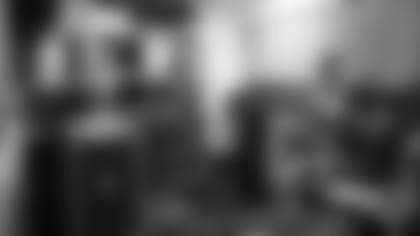 *Packing equipment to go to Heinz Field. *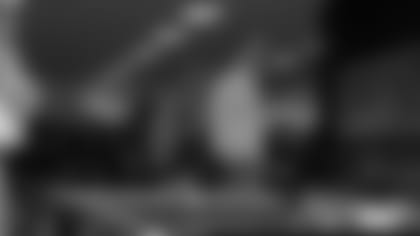 *Antwaan Randle El is focused.
*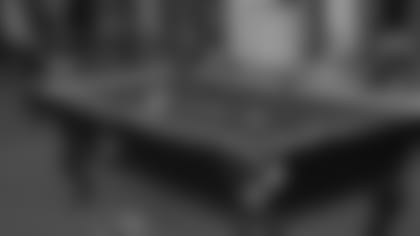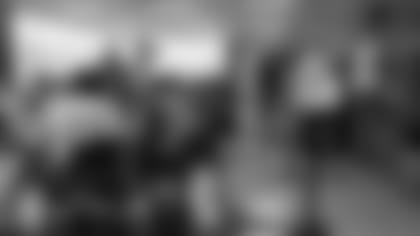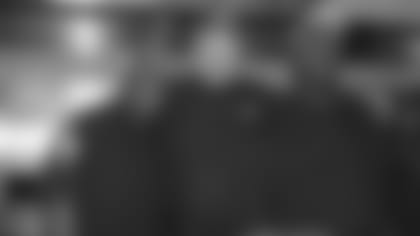 *Rocking the playoff beards in the cafe - Andre, Corey and Mo! *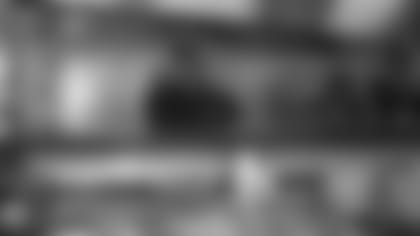 Bev working hard as always. Noreen hid from the camera.
**Thursday, January 20
Things were hopping at the Steelers practice facility again today with the team practicing and the media contingent almost as big as the one that was there for the AFC Championship press conferences on Wednesday. We did an "unofficial" count of the media headed in to the locker room at lunch time. Normally there are about 12-15 media in the locker room at lunch time. But the last two days it was right around 50 media members each day. With many of the players working out, eating or in the training room at lunch time the media definitely outnumbered the players.
Mike Wallace and Brett Keisel both spoke in the media room at lunch time before open locker room. Keisel, who is also featured in this week's Steelers Speak, joked about his playoff beard that actually has it's own Facebook page.
"Yes, someone is doing that. I am just going to lay that out there, that it is not me," said Keisel. "There is a Twitter page too. That's not me either. Someone is having some fun with it, which I don't really mind."
Troy Polamalu talked during open locker room, but you will never hear him singing his own praises. When asked if he thought the Jets would adjust their game plan this week because he will play (Polamalu was inactive the last time the two played), he had a simple answer.
"I don't imagine their game plan changing over one player," said Polamalu.
In the middle of Polamalu talking, safety Ryan Clark interrupted and brought laughter to the locker room.
"How do you feel being the second most attractive safety on this team but yet they give you the commercials," joked Clark.
After practice it was the coaches who spoke, including Coach Mike Tomlin, offensive coordinator Bruce Arians and defensive coordinator Dick LeBeau.
"I thought we had a good practice today," Tomlin told those gathered. "I really liked the energy and enthusiasm. It's an arrow up on the execution, of course, which is needed as we push forward towards Sunday. But we're not a finished product yet. It's why we have tomorrow, of course, and the day after. So I like where we are, we'll just continue to push forward."
While the team is still working on things for Sunday, the game plan for entertainment for the game has come together.
Country music superstar Martina McBride will sing the National Anthem and country music legend Hank Williams, Jr. will perform at halftime.
Rapper and Pittsburgh native Wiz Khalifa will perform the song, "Black and Yellow," prior to the game and participate in the Terrible Towel Twirl with fellow Pittsburgh native Billy Gardell, star of the CBS series, "Mike and Molly".
Khalifa wrote the song to pay homage to the city and the sports teams.
"I always have Pittsburgh pride and I wanted to let people know where I am from and represent Pittsburgh any way I could," said the 23-year old Khalifa. "The best way is through our colors. All of our sports teams are black and yellow, well black and gold. I just took that hometown pride and turned it in to a song.
"Pittsburgh is everything I am as far as my music and my personality. It's about how loyal we are and how we support each other. People don't get that from a lot of big cities. But Pittsburgh is a huge city but it's hometown."
The video features shots from around the city and plenty of Terrible Towels waving.
"It was important to make the hometown vibe and show our city in a different way and give it that look," said Khalifa. "It got accepted and people caught on to it. It was amazing."
Linebacker LaMarr Woodley had a cameo in the video and is looking forward to kicking the game off with the song.
"That song speaks to us and the city of Pittsburgh," said Woodley. "It's going to be great having him sing it before the game. It's a song we like to hear and the fans like to hear so it's going to get us pumped up for the game."
The song is getting plenty of play in Pittsburgh, and could even be heard in the Steelers weight room and training room this week.
"That means everything to me," said Khalifa. "I have always been a Steelers fan. I started watching when I was a kid growing up in the 90s. I watched them all the way from then until now."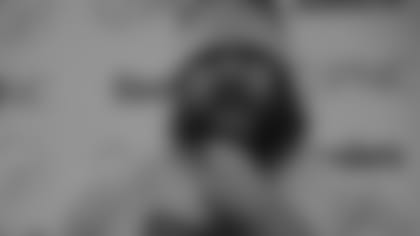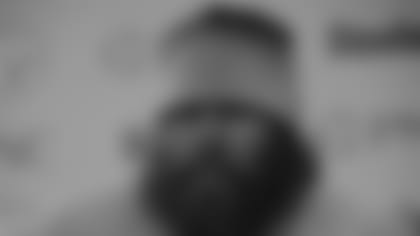 Brett Keisel talks to the media.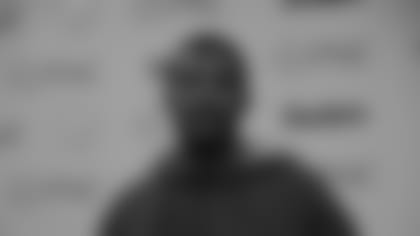 Mike Wallace talks to the media.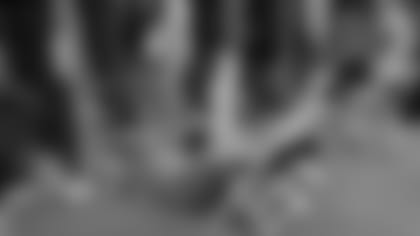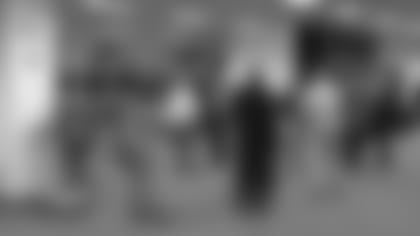 The media in the locker room.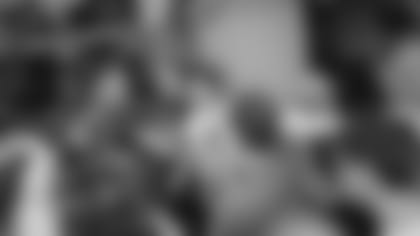 Troy Polamalu talks to the media.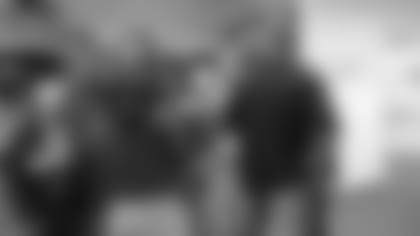 Ike Taylor talks to the media.
James Harrison in the weight room.
Keisel relaxes in weight room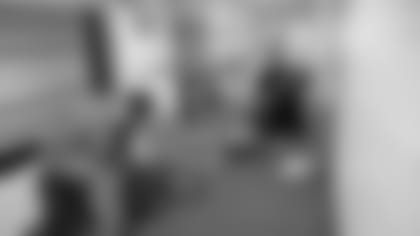 Polamalu and Flozell Adams
Offensive coordinator Bruce Arians.
Today was the team's first day of practice preparing for the AFC Championship game on Sunday and was also the day for the Championship Game week press conferences. So that meant one thing, the media room was packed. There weren't many empty seats and cameras were jockeying for space.
Hines Ward took to the podium first, followed by James Farrior, Ben Roethlisberger and Coach Mike Tomlin.
And because so many of the media were in the interview room for the press conferences, the locker room was a little emptier early on during the open media session. But by the end of practice, that wasn't the case. The tally heading in the locker room post-practice was right around 50, with other interviews happening around the practice facility, including Michael Irvin talking to James Harrison.
This is the day that players sign up for tickets for the game, and let's just say that supply definitely was not up there with demand.
"I am getting text messages and calls from people you don't hear from in a long time," said Antwaan Randle El. "You just don't reply. That's the way you have to do it because you have people you need to reply to. It's not disrespecting anybody, but you gotta reach out to those who have been in your life."
For Randle El picking and choosing who gets the tickets is easy.
"It starts with family," said Randle El. "Then it's friends who are close to you, but most of the time it doesn't get beyond family. Maybe a couple of friends but mostly it's right in house."
Those sentiments were echoed by his teammates.
"It's a big week," said Mike Wallace. "I am getting a lot of calls. I ignore them. A lot of them are numbers I never saw before. The other day someone said my grandmother gave them my number. It's crazy. My mom and dad automatically get a ticket and my sisters if they want to come. It's my immediate family only. Anyone after that I weed them out to see if I want them to come."
Will Allen stood in front of the sign-up sheet, checked his messages, wrote something on the list, checked the messages again and wrote something else.
"I am trying to stay on top of it," said Allen. "Everyone is coming out of the woodwork. It's a good problem to have though being in the AFC Championship game."
For hometown guy Ryan Mundy, the ticket requests have been increasing as the playoffs continue.
"It keeps going up," said Mundy. "The regular season wasn't too bad. But this game I need a lot more. I try to keep it at a reasonable number and prioritize and keep family first."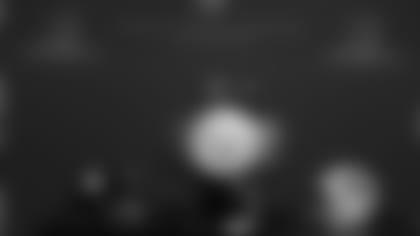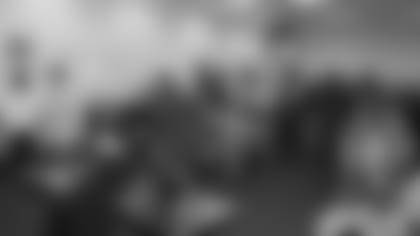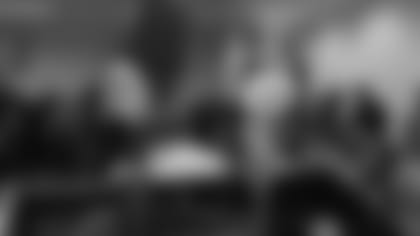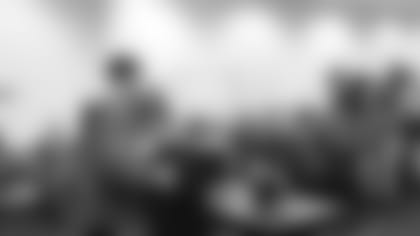 Hines Ward at the press conference.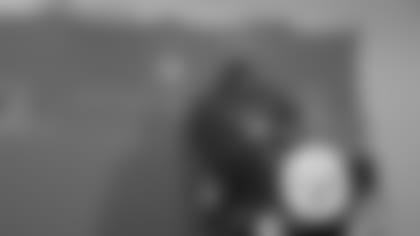 Ben Roethlisberger at the press conference.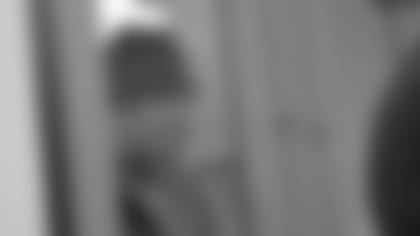 James Farrior looks in the door as he waits his turn.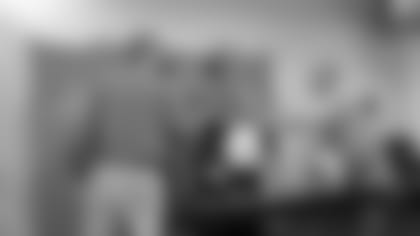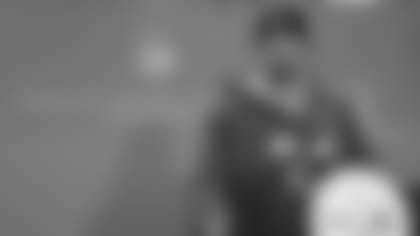 Farrior at the press conference.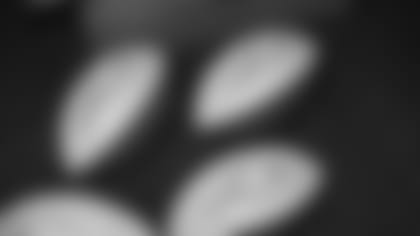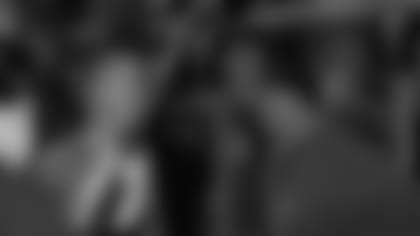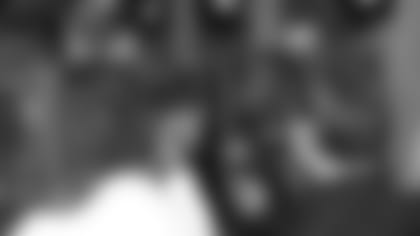 Antonio Brown talks to the media.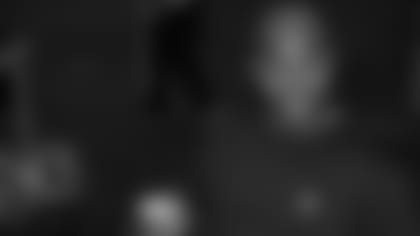 Antwaan Randle El with a snack.
Ward and Farrior head in to practice.
Ryan Clark with a new look at practice.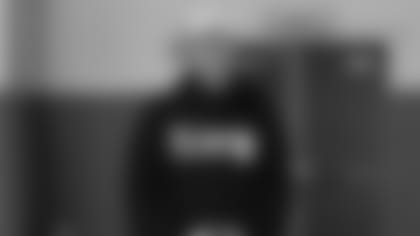 Defensive coordinator Dick LeBeau.
It's Tuesday and that means it's Mike Tomlin press conference day. There was definitely a larger than normal crowd there, the largest crowd of the year, and it included some of the New York media.
Tomlin had plenty of praise for the Jets, going down the laundry list of weapons they have on offense, defense and special teams. He is impressed with what they have been able to do in the playoffs, especially on the road.
"If you look at the Jets, it's really nothing short of remarkable what they have done to get to this point," said Tomlin. "They went to Indianapolis and beat those guys; they went to New England and beat those guys. They deserve to be here as do we. We are familiar with them. They have been in Heinz Field recently and whacked us, and beat us at our place. We are going to have to play better than how we did last time."
And speaking of special teams, that is one area that he knows the team has to play better in this time around. In the game against the Jets in December Brad Smith returned the opening kickoff 97 yards for a touchdown. So when Tomlin was asked about what the team needs to do better on special teams this time around,
"We need to stop Brad Smith from going 97 yards. That would be a good start," said Tomlin. "They are a very good group. It doesn't matter whether Brad Smith is back there or (Antonio) Cromartie is back there. You saw what he did to Indianapolis at a critical time. He is a very capable and dangerous return man. But they have a team of potentially capable return men. Whether you are talking about Smith, (Antonio) Cromartie, (Jericho) Cotchery or Joe McKnight, that's kind of been the signature of Coach (Mike) Westhoff's units since I have been in the league, this guy is going to have several options from a return-game standpoint. They are a good group. We have to play better than we did last time."
Today was the players off day, but there is no time to take a break now. There was a constant flow of players in the weight room, from young guys on the practice squad to veterans like Casey Hampton.
Rookie Antonio Brown, who made an amazing catch that set up the Steelers game-winning touchdown, told me he heard from a lot of family and friends after the game, congratulating him on the big play.
"Everybody was excited," said Brown. "They are thankful I came through with the opportunity. I was blessed. They know how hard I work and respect my game and they were happy for me. They told me what a great catch it was. They were happy for me."
Brown said he was happy because he was able to contribute to the team and they had trust in him, something that is very important to him.
"It's always exciting to know my teammates believe and trust in me," said Brown. "For Ben (Roethlisberger) to throw me that ball late with everything on the line, it shows they respect me as a player."
Brown is among the Steelers players who are looking forward to another home game this week. He was impressed with the atmosphere at Heinz Field for the Divisional Playoff game against the Ravens and expects the same thing this week.
"It was a great environment," said Brown. "There is no other place like being at Heinz Field. This week is another great opportunity to be at home and go at it again. I have never seen the crowd get as hyped as they did last week."
It's always nice to see the other side of the players, and that is visible when James Harrison brings his son James to the office every Tuesday. This week, though, he had both of his sons, James and Henry. While James doesn't mind wandering the halls, Henry definitely likes to hang close to dad.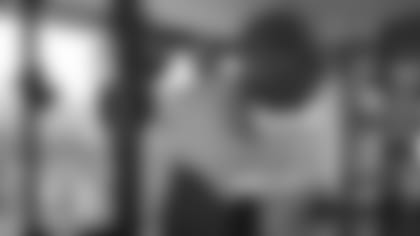 Ziggy Hood makes it look easy.
Steve McLendon lifting some serious weights.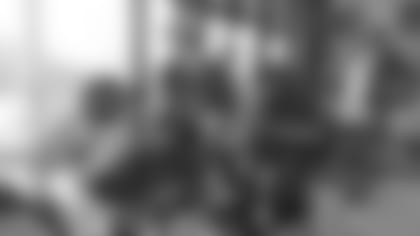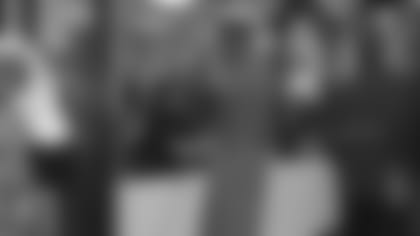 Crezdon Butler in the weight room.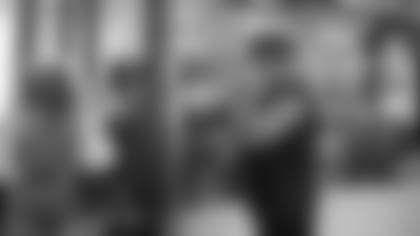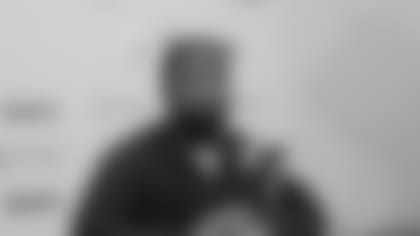 Coach Mike Tomlin addresses the media.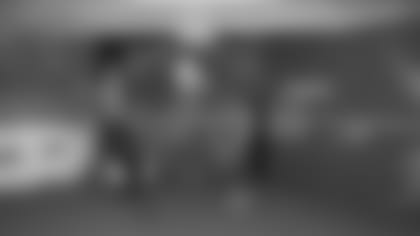 After his press conference, it was on to film the Mike Tomlin Show.
Monday, January 17It's AFC Championship week and you can definitely feel the excitement throughout the City of Pittsburgh. Black and gold banners have replaced Christmas decorations on homes, what was once a Christmas tree in downtown is now a Terrible Tree and you can't go anywhere without seeing people in their Steelers gear and hearing them talk about the game.
At the Steelers practice facility, though, the focus is solely on the game, and Ziggy Hood said it best when he told me what the focus would be.
"We are going to approach this week like last week, concentrate, go out there and practice and have a good week and then go out there and play on Sunday," said Hood.
Players were in Monday, with a mandatory 2 p.m. meeting. Players were in well before that with James Harrison being the earliest arrival around 7:30 a.m. That should come as no surprise to anyone. He wasn't alone in the weight room today, with many players lifting or doing cardio up until the time of their meeting.
Some of the younger players, particularly those who didn't see any playing time on Saturday against the Ravens, headed over to the indoor practice facility to run and get a workout in.
The morning started off quiet in the media room, but by the time the players were finished with their meetings things were buzzing in there. Ryan Clark and Maurkice Pouncey both came in and spoke to the media.
Pouncey, who continues to impress me every time he speaks, gave some love to the fans.
"I am so happy about the home situation. That's awesome," said Pouncey. "I didn't want to travel in this situation, but we are here with our great fans and another exciting game on Sunday.
"Our fans are great. They cause a lot of confusion out there and make every team that comes in here do the silent count. That's not the situation when we travel to different places. But when a team travels in here they are always on the silent count."
Having the Steelers back in the playoffs hasn't just energized the fan base and the city, but it also has former players pumped up.
"I think it's great," said former defensive end Edmund Nelson. "The best thing that happens to this town this time of year is when the Steelers are doing well and doing their thing. I always love it because the whole town perks up. It's a great happening."
Former wide receiver Louis Lipps said that the Steelers in the playoffs makes you forget about the cold, snowy weather.
"This is what makes winter so good," said Lipps. "This is the best time of year. When you have this type of atmosphere you don't think about the cold. The city deserves it, they know how to handle it and welcome it. There is no better place to play a playoff game than here in Pittsburgh."
The calm media room ... didn't last long.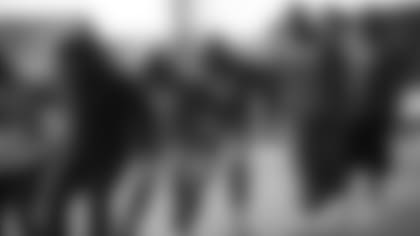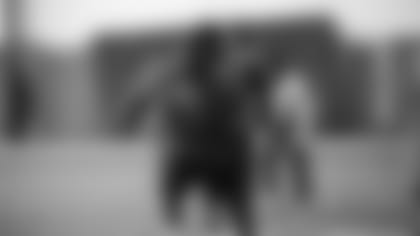 Players get a workout in.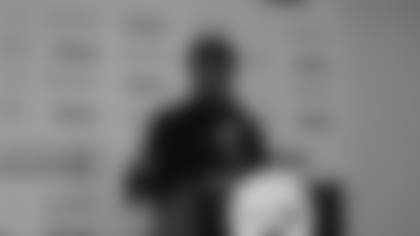 Ryan Clark talks to the media.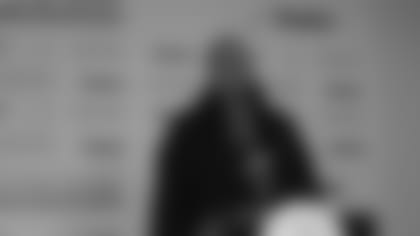 Maurkice Pouncey also spoke to the media.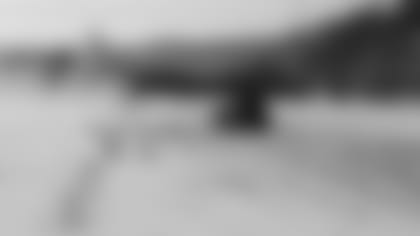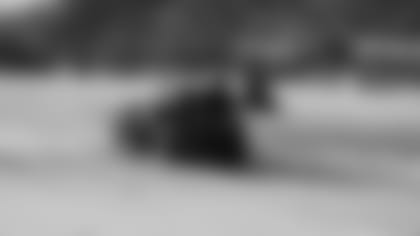 Grass finally is showing from underneath the snow!
Setting up for Chalk Talk.
Divisional Playoff Week Entry
Saturday, January 15
Wow…honestly is there anything more you can say. The team showed their resiliency coming back from a 21-7 half-time deficit to win 31-24.
The defense was spectacular and three second half touchdowns by Heath Miller, Hines Ward and Rashard Mendenhall, and a field goal by Shaun Suisham, led the team to victory.
Some players who have been solid all season, but don't always get credit, really stood out today, including Ryan Clark, Ziggy Hood and Ike Taylor.
The game was definitely the physical battle everyone expected it to be.
"Those two teams are (Marvin) Hagler and (Thomas) Hearns right there," said Coach Mike Tomlin. "It was great for the game of football."
Hines Ward, who was looking stylish after the game, also talked about the physical play and the personal foul penalty he was called for on the Steelers first possession.
"I got a roughness call and I had four guys beating me up," said Ward. "I love it. That's what it is all about. Ed Reed and I have our battles. No disrespect to Ed. He probably thinks it's a little personal. But it's playoffs. Loser goes home. So why sit there and save it? I am going to go out there and fight, scratch and claw to win a ballgame. If Ed takes it personal, so be it. It's the playoffs. Like I said the loser goes home. So I am going out there and fighting my tail off to help my guys get open or open up a huge run. Some guys don't particularly like the way I go after guys, so the first personal foul call was just funny because I had four guys beating me up under the pile. And I come out with the personal foul. It wasn't even offsetting. I just chuckled about it."
You can be sure the players will be keeping an eye on the Patriots-Jets games tomorrow, but for now they are going to just enjoy the win over the Ravens.
"We will sit back tomorrow, get to watch the Jets and Patriots play and we'll figure out do we go on the road or do they come here," said Ward. "Come Monday after their game, we will figure out who we are playing."
If you have ever been to Heinz Field and seen the Renegade video, well you know how that pumps players and crowd up. Now, imagine it comes on today and all of the hits…are against the Ravens. The place went insane when it was played. A shortened version of it was played later in the game, once again getting the crowd to a fever pitch.
And speaking of the crowd, they definitely were the 12th man today. They were quiet when they needed to be, signaled first down loudly when it happened, and they answered the call from the players with deafening noise. And believe me, when I tell you the place was rocking, it really was. You could feel the movement in the press box after the touchdowns.
Thanks to all of the fans for being so incredible today. Also thanks to the Pittsburgh Penguins for their support – we appreciate the Terrible Towel on the bench during your game.
Happy 9th Birthday to Mason Tomlin…dad's team definitely came through with a great birthday gift.
Good day overall in Pittsburgh sports … Steelers, Penguins, Pitt, Duquesne and Robert Morris basketball teams all winner. Congrats to all.
And while we're saying congrats, if you missed it Brett Keisel is headed to the Pro Bowl. Awesome news…he is so deserving.
It's game day and I can tell you the atmosphere here at Heinz Field is electric. Fans are pumped and definitely ready for the game.
There was a very poignant pregame ceremony with two local military members receiving the Purple Heart they earned for their actions in combat.
Private First Class Ben Long was injured when his armored vehicle was hit by an IED. Four soldiers in his squad were killed, but after a long hospital stay he rejoined his unit and returned to combat.
Corporal Joseph Tarkett of the USMC was hit by shrapnel when his unit was struck by a remote controlled IED.
Country music star Trace Adkins sang the National Anthem. Adkins, who also appeared on the reality show Celebrity Apprentice, did an amazing rendition.
"This is a thrill for me to be here today," said Adkins. "I grew up a Steelers fan. Where I was from in North Louisiana growing up everyone was a Steelers fan because of (Terry) Bradshaw. I have been a Steelers fan from way back."
Bret Michaels got the crowd fired up, okay they were fired up at 10 a.m., when he did the Terrible Towel Twirl before the game with his daughter Raine on the field with him.
"This is such an amazing feeling to be here in town to start the Terrible Towel," said Michaels, who performed at the Steelers Playoff Party on Friday night. "The stadium was rocking. I flew back just to do this.
"When I looked around and saw we got the insanity of the Terrible Towel coming down on you, it gave me chills."
And that flyover with four F-15s…seriously that was awesome. The 391st Fighter Squadron stationed in Idaho, led by Pittsburgh natives including formation leader Captain Ray "Banzai" Rounds, flew 1,690 miles to get to Pittsburgh to do it.
There were plenty of notables on the field before the game, including former Steelers Jerome Bettis, Rocky Bleier and John Stallworth. Also on hand was Taylor Lautner, who filmed a movie in Pittsburgh over the summer and came to a few games early in the season, and well as Omar Benson Miller, who is on CSI: Miami.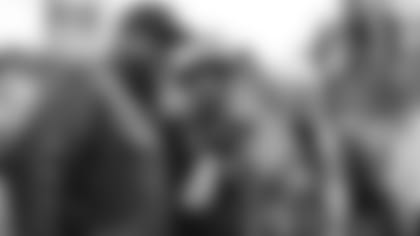 Jerome Bettis, Bret and Raine Michaels and Rocky Bleier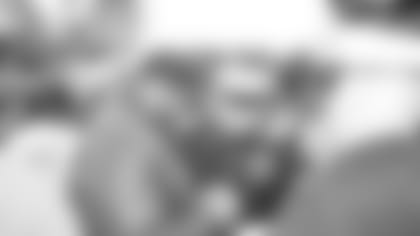 Jerome Bettis with Marines.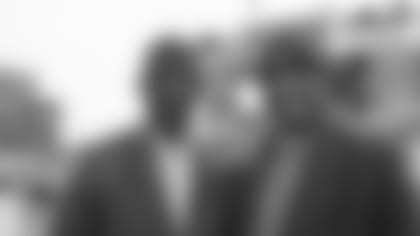 John Stallworth enjoys pre-game with his son.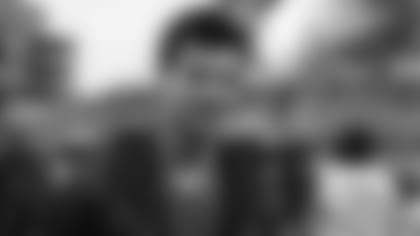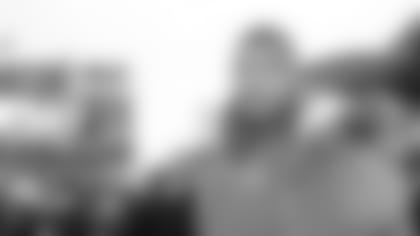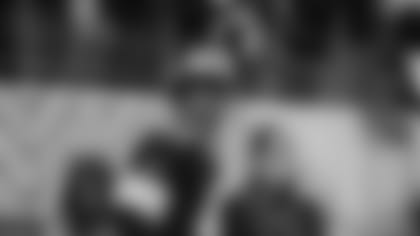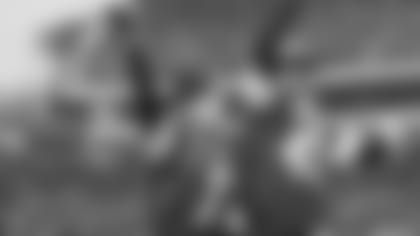 Bret and Raine Michaels do Towel Twirl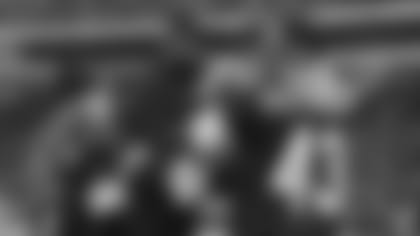 Saying hello to Coach Mike Tomlin.
Pilots from the flyover meet Art Rooney II.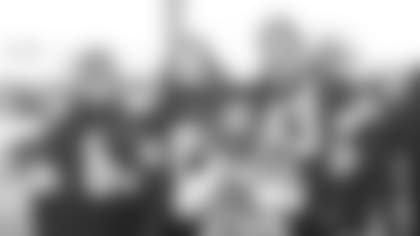 Fans are fired up pre-game.
For A Previous Entry From the Divisional Playoff Week ... Click Below.