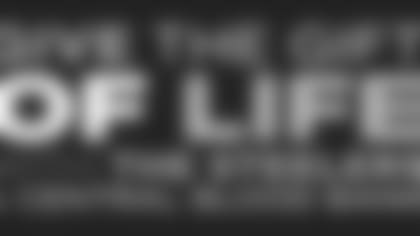 ](http://www.centralbloodbank.org/events/steelers-december-2013)
Steelers' fans can give the gift of life today (Thursday, Dec. 5) by donating blood at the annual winter blood drive at Heinz Field from 10 am-8 pm in the visitors' locker room.
Those interested in donating can schedule an appointment by calling the Central Blood Bank at 1-866-366-6771 or visiting centralbloodbank.org and searching for the drive with group code M022.  Donors can also just walk in and donate blood without an appointment.
Steelers' alumni will be on hand from 3-8 pm and Heinz Field tours will be conducted from 10 am until 4 pm.
All donors will be entered into a drawing with the grand prize a trip for two on the Steelers Cruse. The cruise departs from Tampa, Fla., on March 10, 2014 and sails to the Bahamas and Coco Cay and returns on March 15.
"Our partnership with the Steelers will bring in blood donors during the holiday season, a time of traditionally heightened need," said Michele Tysarczyk, Executive Director of Central Blood Bank.  "Moving the drive earlier in December than years past will help start off the month with strong collections because we know that Steelers Nation will support the team and its partners."
DONOR CRITERIABlood donors must be at least 17 years old (16 years old with signed parental consent), weigh at least 110 pounds and be in generally good health.  Most medications are accepted.  Proper ID is required to donate blood.  A Central Blood Bank or military ID, driver's license, passport or employee or student ID with picture and full name are all approved forms of ID. A birth certificate along with a picture ID that includes the donor's full name will also be accepted.
CENTRAL BLOOD BANKEstablished in 1951, Central Blood Bank is a not-for-profit organization.  Central Blood Bank distributes 400,000 blood products annually to approximately 40 hospitals in western Pennsylvania, northern West Virginia and eastern Ohio in meeting the need for patient transfusion therapy.  The need for blood is constant, yet fewer than 5 percent of eligible donors regularly donate.