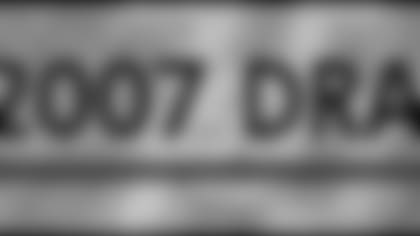 Director of Football Operations Kevin Colbert and Head Coach Mike TomlinPost-Draft Press ConferenceApril 29, 2007
Kevin Colbert:  With our seventh pick, we took Dallas Baker, wide receiver from the University of Florida.  One thing we really liked about Dallas was his touchdown productivity and his size.  We have a pretty good receiving group, but it's not the biggest group.  Sometimes you'd just like to have another big receiver to go along with the other guys – maybe as a red zone guy.  He has good productivity, and we thought he was a good addition at that point. 
To review the first day – we talked about Lawrence yesterday, and adding LaMarr Woodley, another linebacker who can help out as a rusher.  Strong and physical I think are the two things that really stand out about Lawrence.  Maturity is another.  He's a man.  He's a very serious player, and he intrigued us throughout the whole process.  Matt Spaeth – Matt's a big guy.  He's got very good hands, and when you watch him run routes he reminds you of a Heath Miller.  Good route savvy.  Last year, he had a shoulder injury.  He injured it in training camp.  He fought his way through, re-injured it later in the season and couldn't finish the year, and had to have surgery in the off-season – much like Heath did in Heath's last year at Virginia.  He was unable to work out until the first week of April.  He went to the combine, he wasn't healthy to work out there.  We really think that Matt can come in and give us another dimension at tight end. 
Daniel Sepulveda, the punter – very intriguing to us.  With Chris (Gardocki) getting up there in age a little bit, we had to start looking for another young guy.  He certainly has the credentials that we were looking for.  He's been one of the leading punters in the nation, a big, strong, physical guy.  He went there as a linebacker, and turned into a punter.  He turned into a good one.  We're happy to have him.
Continuing on with the second day – we got two guys, in Ryan McBean and Cameron Stephenson who certainly aren't finished products.  Ryan has that body type that we look for in our defensive ends.  He played more of a defensive tackle in a 4-3 defense, but this kid – he's 6-4-and-a-half, and I think he was 286 the day he visited.  He runs a 4.9, so there's something there.  That's the body type that we look for all the time at that position.  He's certainly not a finished product, but the upside exists.
Cameron Stephenson – he's really a one-year starter at the guard position, after having switched over from defense after having switched over from offense.  Again, big – 305 pounds.  He's raw, but we like his potential as well. 
William Gay, the corner out of Louisville, had a nice, productive season.  He had six interceptions, 13 PBU's.  Maybe his hands aren't as good as we think, because we counted maybe six dropped interceptions.    This kid has a lot of Deshea Townsend qualities.  He's a very smart guy, a very savvy guy.  He runs a 4.5.  He was a real productive player for them, and he had a big year for them this year.
And of course we just talked about Dallas Baker.
That puts us at 79 players, we want to be at 84, on that side of the limit at training camp with the Europe exemptions.  As soon as the draft is over, we'll continue on and talk with some free agents.  We'll be talking to 10 as a maximum number.  If we're able to get some guys that we think will upgrade our current roster, then we may make some changes as we get some guys and look at them in the minicamp.
Coach Tomlin:  I'm excited about some of the things that these guys are capable of.  Specifically, talking about some of today's guys – Daniel Sepulveda, the punter, is a guy that we're very excited about.  Two-time Ray Guy winner, does some great things.  He was very productive over his four-year career down there as a punter.  Solid character, guy loves football, has a linebacker's mentality.  He originally went there as a linebacker.
As Kevin mentioned about Ryan, his best football is ahead of him.  He's a Jamaican kid who came to the States at age 14.  Tremendous upside, has a desire to be great.  We enjoyed the visit with him.  We felt real comfortable with him after having visited with him, in terms of what he wants to be. 
Cameron Stephenson, like Kevin said, is a big, powerful man.  There was well-documented success that Rutgers had this year running the football, with both backs.  He was a linchpin of that up front, and really made it go.  He's a road-grader as a run blocker, and we're fired up about that.
William Gay is a production guy.  He had a big year, again, as Kevin mentioned, he left some out there.  So we've got some upside with him. 
Baker has been a really productive guy at the University of Florida, and he played big in big games. 
Will Woodley have to lose weight, or can he play at 266?
Kevin Colbert:  We were out there for Woodley's workout back in March and he is a naturally thick guy.  When you see him he has thick legs.  Last year they did more with him, when he was younger he actually did play linebacker then he's been down and his last year in certain packages, he stood up before he broke his arm.  So he has played on his feet.  It is not like it is going to be totally flooring for him.  It is not unusual, unlike any of the other linebackers except for Lawrence.  But during his workout he moved well enough that we think he will be able to make that transition.  He has played with his hand on the ground, I think it was twelve sacks last year.  You just really like LaMarr's demeanor.  He reminds you of a veteran guy.  He is very mature, serious football guy.  He seems like he has already been out for a while when you talk to him.  You don't get a vision of a young kid coming out of college, you get a vision of a young man.
What does it do for linebackers when you pick two at the top of a draft?
Coach Tomlin:  Similar positions, but different gains.  What I mean is when you get into sub package football, we view LaMarr as a guy that could put his hand on the ground and play a defensive end position.  It is something he has done and had a great deal of success with. He can take the edge off of people.  He has a defensive end background.  If you look at Lawrence Timmons, he is a guy that is capable of playing on his feet.  He has put his hand on the ground some.  He is capable of playing on his feet.  He is capable of covering people.  He is capable of being the underneath rover in some of the pressure packages.  The same position, different skill set.  They are capable of doing a lot of things.  Not only that, we feel like we really took a step forward in making sure that special teams is a legitimate phase of our football team.  Any time you get a 235 pound guy, a 265 pound guy, both of them can run and can play on their feet, I feel they will provide immediate help for us in that area as well.
What will you do for a running back?
Coach Tomlin:  We are on the phone with some guys right now that are some candidates for free agents to bring in.  We have talked quite a bit about Verron (Haynes) and his situation and hopefully he can come back healthy.  That is how we are approaching it right now.
Did you come close to picking a running back?
Coach Tomlin:There were guys that we looked at, but we stayed true to the board and looked at the value of the pick that we had on the board and how we aligned them on the board and we approached it that way.
What about trading up in the fourth round for a punter?
Coach Tomlin:That is a legitimate phase of football. We are going to put our money where our mouth is, in regards to that. It is a position that is very important. We are talking about field position and special teams. He is a left-footed punter and he punts it a great distance, with great flight time. He is a very talented guy and we supported that all the way.
Did Jacksonville picking a punter in the fourth round force your hand?
Kevin Colbert:Well, really we had two punters that we were actually considering drafting, Adam Podlesh and Daniel Sepulveda. We were targeting the fourth round, because that was the round that we knew we wanted to get a punter. We felt there were some other teams that were going to have some interest. Quite frankly, we felt like we were trading up to get a starting position. This kid is going to potentially be our starting punter. We were willing to give up that sixth pick because we had the multiple picks in the fourth and fifth, we just decided to eliminate the margin for error. He was really the one guy left that we would have considered drafting, so we went ahead and made the move.
When the other guy got picked, it got your attention?
Kevin Colbert:It cut our chances in half. To Mike's point, I had an experience in Detroit where we traded up in the second round for Jason Hanson and I'm not saying that this kid can have the same career that Jason has had. If you like those guys, there are not many of them and it is a situation where Chris (Gardocki) has been great for us, but Chris is also getting up there.
Will you hang on to Chris (Gardocki)?
Coach Tomlin:Certainly. We're going to take multiple kickers into training camp and let those guys compete. That is what this weekend was all about for us. We feel like we have rocks out there on the football team. We are looking to add some men that can enhance that and part of that is creating some competition at positions.
Will you go into training camp with three punters?
Coach Tomlin:Probably not. No. We are thinking just two punters.
Are you a three tight end guy?
Coach Tomlin:Yes, I am a three tight end guy. Anytime you can get a big man that can change the line of scrimmage the way that Matt (Spaeth) can, is also capable of getting down the field vertically, has route savviness and probably placed fast in his 40 (yard dash) time. He creates problems for the defense. If you can get in a two-tight end set or multiple tight-end sets, it creates problems because of the number of gaps along the line of scrimmage that you have to defend. He is a talented guy. I am probably more familiar with him than most because of my stay up there in Minnesota, during his senior year. He is just a talented and very impressive football player.
Are we seeing a shift in offensive philosophy?
Coach Tomlin:Yeah, we value the tight end without a doubt. When it came time to pick Matt (Spaeth) specifically, he was clearly the highest rated guy on our board. We valued him and thought he was a valuable pick. We thought he was a guy that would be capable of being a good football player regardless of position and that is why we picked him.
How do you grade yourself in addressing your needs?
Tomlin: I'll let you [Colbert] address grading ourselves. I like football in the trenches. We got better in the trenches this weekend.
Colbert: Yeah, we talked about, the other day, maybe adding to every level of defense. We got a defensive lineman, we got two linebackers and we got a cornerback. We felt that the safety position we were pretty good at. Offensively, you add another lineman because we have uncertainty there next year once free agency hits. Everybody knows that situation. [We also add] another tight end and a big receiver. I mean, now we've got a tight end that's bigger than Heath to go along in that whole mix. And a big receiver is something that we didn't really have on the active roster, so we feel good about it. Heck, I wish we had more picks, but we didn't. There are other guys [free agents] left out there, and we're going try like heck to sign as many of them as we can and hope that we get lucky and come up with somebody. But we feel good about it; everybody always does.
When does roster limit kick in?
Colbert: The draft picks won't count [against the roster] until they're signed. The NFL limit is 80, and we can go up to 84 and stretch it really because the draft picks wouldn't be signed. So, you can have extra guys. But, as I've stated once before, Mr. [Dan] Rooney and Art [Rooney] have their own roster limit. We'll always be in compliance; we're not going to be above 84. I mean, if we have an extra guy out of the mini-camps, maybe, but come training camp, we'll be at 84.
Did you have more needs than you had a chance to fill?
Colbert: Yeah, again, I think that, with Joey leaving, we were thin at outside linebacker, and quite honestly, we have to be better than we were last year as a pressure team, especially on third down. Everybody knows that we weren't good enough on third down. Quite honestly, I look at that as a personnel issue because we didn't get to the quarterback good enough, and that leaves your secondary exposed because you're not getting enough pressure. So, hopefully, we've added two guys that can help there right away. [Matt] Spaeth—we'll see. That just gives us another tight end, and as Coach [Tomlin] talked about it, maybe it is a change of offensive philosophy. The punter—he's going to come in and challenge. Of course, from there on down, you're dealing with some guys that need development, that need time. So, they are for the future really.
s* it a change of offensive philosophy?**
Tomlin: I think that we have to have multiple [philosophies]. We have a fullback in Dan [Kreider] that we feel very good about. We need to have the potential to put multiple tight ends on the field. We need to have the potential to put multiple wide receiver sets on the field to open up some running lanes for Willie [Parker]. We just want to have the ability to do what the weekend—regardless of who we're playing—gives us an opportunity to win. Part of that is having the personnel to do it. So, Matt was an interesting guy for us in terms of that—multiple tight end sets. Dallas Baker is a big wide receiver who's got a nice résumé—multiple wide receiver sets and so forth.
How comfortable are you with your how well you know your personnel?
Coach Tomlin:  I feel good about where I am, but at the same time I am not going to get comfortable with that.  Mini-camps can be overrated at times because they are in shorts.  You are not playing football.  You have to take into account the physical nature of this game and what people are willing to do in pads and what they aren't willing to do.  It is a good weekend in terms of getting to see the guys and seeing what they are physically capable of from the skill set standpoint.  But at the same time, you have to acknowledge that football is a physical game played in pads. 
Any calls for trades of your players?
Kevin Colbert:  No.  We were aware of everybody that was available.  But we chose to just stay with the draft.
Any interest in Randy Moss?
Kevin Colbert:  No.  Like I said, we knew who was available and we just chose to stay with the draft.
How did the process go with Mike?
Kevin Colbert:  The process was fine.  Coach understood what we were doing and why we were doing it.  He and his coaches were in agreement and he thought we put together a good board.  We stayed with it.  It worked the way we wanted it to.  You never know if it is right or wrong until we see if we win more games than we lose.  You never know.  Everybody is optimistic.  We have never had a bad draft or a bad recruiting class.  You are judged on the wins and losses and in two or three years, we'll see.  But the process was great.  Mike and his staff put in a ton of work, as did my scouting staff as they always do.  They were very well prepared and there were no situations where we panicked.  We always had options at every pick and we felt that we picked the best options and only time will tell.