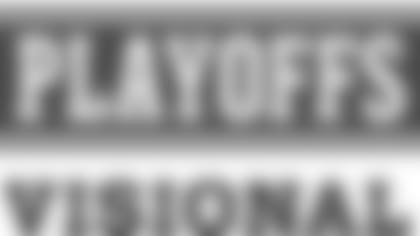 The Steelers will host their AFC Divisional Playoff Game on Sunday, January 11 at Heinz Field. Kickoff for the game is 4:45 p.m. (Eastern Time).
The Steelers will play either the Miami Dolphins, San Diego Chargers or Indianapolis Colts.
Below is the playoff schedule for the wild card and divisional playoff games.
NFL WILD CARD & DIVISIONAL PLAYOFF SCHEDULE ANNOUNCED
*


*NFL WILD CARD WEEKEND
* 
*Saturday, January 3


| | |
| --- | --- |
| NFC:   4:30 PM (ET) | Atlanta (11-5) at Arizona (9-7) (NBC-TV) |
| | |
| | |
| AFC:    8:00 PM (ET) | Indianapolis (12-4) at  San Diego (8-8) (NBC-TV) |
| | |
| --- | --- |
| AFC:      1:00 PM (ET) | Baltimore (11-5) at Miami (11-5) (CBS-TV) |
| | |
| | |
| NFC:      4:30 PM (ET) | Philadelphia (9-6-1) at Minnesota (10-6) (FOX-TV) |

*
*NFL DIVISIONAL PLAYOFFS

Saturday, January 10
* *

| | |
| --- | --- |
| AFC:    *4:30PM (ET) | Baltimore (11-5) or San Diego (8-8) or Indianapolis (12-4) at Tennessee (13-3) (CBS-TV) |
| * | |
| *  | |
| NFC:     *8:15PM (ET) | Arizona (9-7) or Atlanta (11-5) or Minnesota (10-6) at Carolina (12-4) (FOX-TV) |
| | |
| --- | --- |
| | |
| NFC:    1:00 PM (ET) | Arizona (9-7) or Atlanta (11-5) or Philadelphia (9-6-1) at New York Giants (12-4) (FOX-TV) |
| * | |
| | |
| AFC:    *4:45 PM (ET) | Miami (11-5) or Indianapolis (12-4) or San Diego (8-8) at Pittsburgh (12-4) (CBS-TV) |

In the Divisional Playoffs, the division champion with the best record in each conference is host to the surviving Wild Card Weekend team with the lowest playoff ranking. The division champion with the second-best record in each conference is host to the surviving Wild Card Weekend team with the highest playoff ranking. There are no restrictions on intradivision games.

Once teams are ranked for the playoffs, positions do not change:


| | |
| --- | --- |
| American Football Conference | National Football Conference |
| 1.  Tennessee (South Division champion)       | 1. New York Giants (East Division champion)      |
| 2.  Pittsburgh (North Division champion)  | 2.  Carolina (South Division champion) |
| 3.  Miami (East Division champion) | 3.  Minnesota (North Division champion) |
| 4.  Denver or San Diego (West Division champion) | 4.  Arizona (West Division champion) |
| 5.  Indianapolis    | 5.  Atlanta |
| 6.  Baltimore    | 6.  Philadelphia |

The AFC (CBS, 6:30 PM ET) and NFC (FOX, 3:00 PM ET) Championship Games will be played on Sunday, January 18, and Super Bowl XLIII at Raymond James Stadium in Tampa Bay, Florida on Sunday, February 1 (NBC).

The annual AFC-NFC Pro Bowl will be played in Honolulu, Hawaii on Sunday, February 8 (NBC).

# # #