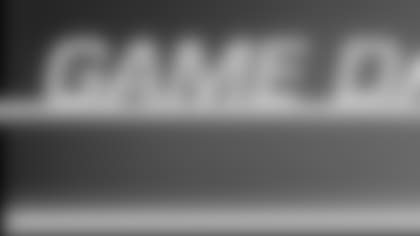 STEELERS at TITANS SUNDAY, DECEMBER 21, 2008 KICKOFF -- 1:00 P.M. ** STEELERS CONFERENCE CALLS VS TITANS
HEAD COACH MIKE TOMLIN
 
(On how tough the past month has been)
 
Well, we've just been taking it one at a time and haven't really focused on the stretch per se. We've had some tough games, we've taken it one week at a time, we've had some tall orders but we have a tall challenge in front of us this week in the form of the Titans so they have our full, undivided attention preparing for that game so we can be at our best. These guys sit at the pole position in the AFC right now so it's a good measuring stick for us in terms of where we really are.
 
(On if he thinks they have flown under the radar)
 
I don't know that. Of course, here in western PA where we are we have great followers and what's going on with us is big news here with our fans. So that's kind of the world we live in, not really aware of the national scope of things.
 
(On if this is a good time to catch the Titans without Albert Haynesworth and Kyle Vanden Bosch)
 
You know, we have no control over when we play people. The schedule is the schedule. So we're playing them this week.
 
(On how much it will affect the defense without Haynesworth and Vanden Bosch)
 
I think they're better equipped to answer that question than we are. We respect those guys. Some of the guys that they're without are great players but they have some great players that will be playing. We respect Jevon Kearse and Tony Brown and Keith Bulluck and those guys that play in their secondary and so forth. They have a great defense and they're a great defense because they have a bunch of great players.
 
(On having injuries and whether you plug in guys to the same scheme or try and tinker with it with new personnel)
 
For us, we've had to play some this year without some of our guys, offensively and defensively. We do what we deem necessary to win that particular week based on the matchup and I'm sure they intend to do the same.
 
(On if they won't have to worry about double-teaming players filling in for Haynesworth and Vanden Bosch)
 
Well, all big guys in the interior defenses get double teamed. That's just the reality of today's NFL. Whoever's playing in place of Haynesworth is going to get double teamed some, that's the nature of it. I'm not trying to lessen the impact of what that guy is. He's a Pro Bowl player. But by no means am I going to be disrespectful to the guy suiting up and playing for him this weekend. I know that their expectations in terms of level of play won't change.
 
(On if he's looking forward to seeing how Cortland Finnegan will handle Hines Ward)
 
I tell you, this guy is playing great ball for them. He's got the knack for delivering big plays. He's playing with a bunch of confidence. He's going to be a big-time challenge for whoever he's covering, whether it's Hines, or Santonio [Holmes] or Nate Washington, this guy has a nice body of work and is definitely deserving of that Pro Bowl honor.
 
(On if teams are looking at the '05 Steelers and '07 Giants and thinking it's possible win a championship without home-field advantage or a first round bye)
 
No, the reality is that the 12 teams that will be in the playoffs are all capable, good football teams that are capable of winning. You like to be able to do it at home in front of your fans. I think that's one of the things that's most exciting about trying to secure home-field advantage. You want that for your fans, you want to be able to perform in front of them. But ultimately a ticket in the tournament is a ticket in the tournament and anyone is capable of winning it.
 
(On if the team has bought into the philosophy of winning games with defense)
 
You know, we're just trying to win games by any means necessary. We won games defensively, we won games with solid special teams play and we won games with timely offensive play. Whatever it takes for us to win.
 
(On the key to timely offensive play and if he's been surprised at the team's ability to rally when necessary)
 
I think it's just guys that want to deliver for their teammates. I know that we have a bunch of those kind of guys, of course, led by our quarterback who lives by those moments. I think that's something that kind of makes them who they are, it definitely makes Ben [Roethlisberger] who he is. Some people relish those moments, other people don't. He's one that does.
 
(On how they'll defend against Chris Johnson and LenDale White)
 
Oh man, those guys are spectacular. A one-two punch, 1,900 yards, 22 touchdowns, I think Johnson's going to the Pro Bowl. New week, new challenges for us. We've had some success against some runners and some run combinations but these guys seem like a big time challenge as we sit here today. That's why they have our attention as we prepare for this weekend.
 
(On if they embrace their stoutness against the rush)
 
You know, the thing for us is we don't take anything for granted. We just respect in this process. We realize how dangerous and capable those men are. Us being able to contain them somewhat is going to be central to us maybe having success in this football game. We respect that element of it and we have some work to do.
 
(On if this is the best defense he's been around and what it means for people to compare it to the Steel Curtain)
 
You know, I think we'll continue to write that story. Greatness is a word that I think gets thrown around too much. Truth be known, great defenses make their mark in January football. Right now we're a work in progress, we're good, we've done some nice things, but we realize when you start talking about historical perspective and things of that nature that December is too soon to have those discussions.
 
(On his words of wisdom to someone trying to decide between James Harrison and Troy Polamalu as defensive player of the year)
 
They both have good arguments. Of course, James has been the catalyst for a lot of things that have gone on around here and made a bunch of splash plays. Troy the same, leading the league I think in interceptions. You can't go wrong with either one of those guys.
 
(On if he hates the idea that one of them may not win because they'll split the vote)
 
Well, we're not concerned about that, truth be known. We have no control over that. We continue to try and focus on the things that we can control and that's our collective performance and our readiness for football games.
 
(On if he sees similarities in the style of play between Cortland Finnegan and Hines Ward)
 
I don't know Finnegan that well to say that. I know that he's made a bunch of plays, he's playing with a bunch of confidence, that's evident from watching him on tape. But in terms of his football personality and what makes him tick I'm not that familiar with him.
 
(On if he had hoped to split carries with Willie Parker and Rashard Mendenhall this year)
 
Ideally, you like to envision the kind of success that those guys in Tennessee are having with the one-two combination but that never really materialized for us due to a lot of reasons. But I have a great deal of respect for how they're doing it down there and ideally you'd like to envision trying to put something on the table like that.
 
(On if more teams will try to go to a two-back system to keep them fresh)
 
I think that has been the case here in recent years in the league, I don't think it's anything new. I think that's why Tennessee went out and got that young man. Jacksonville has been doing it for several years down there with [Maurice] Jones-Drew and [Fred] Taylor. I just think that's a sign of where the NFL is right now.
 
(On if he would be welcome to the idea of an 11-3 record playing for home-field advantage at the beginning of the year)
 
You know, preferably I would have taken 14-0. But 11-3 is what we are so that kind of says it all.
 

WR HINES WARD
 
(On if he's looking forward to coming to Tennessee with so much on the line)
 
I'm not looking forward to it. There's no other way around it. Tennessee has the best record in the NFL and we kind of control our own destiny. It's definitely a big game in the sense of trying to get the easiest path to the Super Bowl with the number one seed and having home field advantage. For us, it's always tough to win a road game and it's something that we've had some success with this year, being a good road team. But Tennessee at the same time is a dominant team.
 
(On if the past month has been one of the toughest stretches he can remember)
 
Yeah, my whole career I don't think we've had to go through a stretch of games like we did. This team has shown a lot of resiliency as far as staying together, staying the course and just going out and playing. We're really not looking forward or looking behind. We're just taking it one game at a time and taking that approach.
 
(On if Cortland Finnegan is a carbon copy of himself as a defensive player)
 
He's a great player, there's no question. He brings a lot of attitude towards the game and he's a Pro Bowl player, which is well deserved. It's just going to be another matchup, another challenge for us receivers as we step out on the field.
 
(On how Finnegan has progressed as a coverage corner)
 
I mean he made the Pro Bowl for a reason and I'm sure the reason wasn't because he was hitting guys and getting penalties. He's definitely had a great year this year and is playing well, him along with Chris Hope. Chris Hope and I are good friends, we text each other all the time so it'll be great seeing him. It's not a big deal going against him because he's a great safety as well.
 
(On if he was excited to see Chris Hope make his first Pro Bowl)
 
Yeah, I actually voted for Chris. He's just well deserved. He's played himself out of the shadows of Troy [Polamalu] and all the other guys we had here. He's making a name for himself down in Tennessee and it's definitely well deserved.
 
(On how much he thinks Hope is looking forward to the matchup)
 
I know anytime you leave a team and you felt like the team could go down a different avenue, you always look back to try and redeem yourself against the team. He's definitely had a great year. I know he's looking forward to seeing all of the guys because during the offseason we all hang out together and we get a chance to see him. In our opinion, just a great friend.
 
(On what he misses about Hope in Pittsburgh)
 
He's definitely a locker room favorite. When there are days when you're too sore or you really don't want to get through practice, he's a big prankster. We always reminisce about him being here or whatnot but one thing about it, when you line up and the whistle blows he's out there ready to play and is going to give it all he's got.
 
(On what he remembers about the Titans overtime win against the Steelers in 2002)
 
It was an exciting ball game. It was a great ball game to be a part of, you just hate to see it come down to the wire where the field goal kicker missed the first one and we got a questionable run into the kicker call. But they called it, they moved it up five yards and kicked a field goal. It was disappointing for us because we felt like it was an exciting ball game, you didn't want to see it end like that. As it did, it went down and Tennessee went on to the next round.
 
(On if he thinks Joe Nedney did an acting job on the penalty)
 
Yes, of course it was an acting job. You guys know it was an acting job but within the rules, it is what it is. It was something that Dwayne Washington, he couldn't do anything about it. It's part of the rules and we're not going to sit there and gripe about it so he did what he had to do to kick the field goal.
 
(On how long that loss has stayed with him)
 
It stayed with me for a while. It was a great ball game. It came down to the wire and fortunately he missed the field goal and Dwayne kind of held up and he flopped. That's what it was. But the ref called it and he went out and made the next kick. You just hate to see a game like that come down to the end like that.
 
(On if home field advantage is overrated at all)
 
No, no, no. You definitely want to take the easiest way and there's nothing easy about going on the road and beating a team in their backyard. What we did in '05 and what the Giants did, that was probably something like the first time in history that a five and a six seed went all the way like that. You definitely want to take the easiest path and getting that number one seed, normally you're playing the number six seed and you really have two games at home to try to go to a Super Bowl. You really can't ask for anything more. We would love to have that number one seed to play two games here in Heinz Field for the opportunity to go down to Tampa.
 
(On if he thinks the Steelers have been under the radar this season)
 
We don't care about that. That's up to the media people and all them. Earlier this year everyone was talking about a New York-New York Super Bowl. Which is cool, we don't care about the recognition or the publicity or whatnot. We're just going about our business and to have the hardest record in the league, probably nobody even gave us a chance to be here where we're at anyway. So it really doesn't matter, outside our locker room, what people think about us or how they feel. We're just staying together as a team and continuing to stack wins.
 
(On what he thinks Chris Hope missed about the Steelers)
 
I just think the comraderie with the players. We're always a close-knit group anyway during the season and the offseason. It's something about being in Tennessee. When you've been here and you were drafted here, your relationships grow and you have some close friends. Then when you move to a different organization you have to rekindle that all over again. But he stays close and in contact. He does my camp, he still goes to different guys camps up here in Pittsburgh. In our opinion, he's still one of us, he's just playing for the Tennessee Titans.
 
(On if the Titans and Steelers have changed philosophies from throwing the ball around to running it since the last playoff game)
 
I mean that's the makeup. Every year a team's identity is going to change and that's because of new personnel or whatnot. Definitely, Tennessee's strength is their great defense and the two running backs that they have. So we feel like if our defense can contain those guys and we go down there and control, don't turn the ball over, convert some third downs, maybe we can go down there and steal one in Tennessee.
 
(On if he feels like the Steelers caught a break with Albert Haynesworth and Kyle Vanden Bosch out)
 
You know, injuries are a part of football. It's great that they're not playing but that's not to discredit the guys that are going to play this game. Those guys have some high motors and this is their opportunity to make a name for themselves. We're not discrediting those guys that are backups but definitely they're a different ball club not having Haynesworth and the other guy in there as well.
 
(On what their defense has been doing to contain running backs this season)
 
Just playing balls out. That's why they're in the top three in all the different categories. People are comparing them to the Steel Curtain defense. For us, we get a chance to go against the number one defense each and every day one-on-one. It's an opportunity for us to go out and get better but at the same time our defense has kept us in a lot of these ball games, the reason why we're 11-3.
 
(On if they have the best defense since he's been in Pittsburgh)
 
You look at it in terms of overall talent, probably yes. But when you have Levon Kirkland, Greg Lloyd and all those guys, it's kind of hard to compare those and I don't want to compare people. But overall defense, our defense it solid and to be number one in all those categories speaks volumes about our defense.
 
(On his thoughts of James Harrison vs. Troy Polamalu as defensive player of the year)
 
Both of those guys have done tremendous jobs all year. In my opinion, both of them can be co-defensive player of the year because they've had that kind of impact on this game and on our team. I don't see any other defensive guys out there having impacts the way they are. [Albert] Haynesworth is another candidate. It's unfortunate he got hurt but he commands that attention and does wonders for those guys down in Tennessee.
 
(On if he takes as much pride in his run-blocking abilities as he does in his pass receiving)
 
I just try to do whatever it takes to win ball games, blocking, catching the ball, whatever. For me, being the most complete wide receiver I can be, that's all I really worry about. It's a great complement to be noticed as one of the better blockers in the NFL at the wideout position but I like to do a lot of things. Whatever it takes to win ball games, that's what I'm going to do.
 
(On Ben Roethlisberger's toughness)
 
Yeah, he's a tough quarterback. You can't speak enough about Ben. His play this year statistically probably isn't one of his better years but on great situational football, we're probably up there with anyone else. We're glad to have him on our team.
 
(On how Justin Hartwig has played since he came to Pittsburgh)
 
We love him. Like I said, he's one of those guys that each and every Sunday brings his lunch pail to work and gets it done. Having his first year in this offense, trying to really learn, he's done a tremendous job and he's only going to continue to get better.
 
(On what he feels like Monday morning after a game)
 
If you don't feel sore then in my opinion you didn't do anything on Sunday. At this stage, later on in the season, everybody is banged up and sore. There's nobody out here that's playing at 100 percent and if you do, I don't know, you must be on something because you shouldn't be feeling 100 percent at this stage. But we're all banged up and coming up in this stretch of games we just play. But we have another tough game against Tennessee down there.