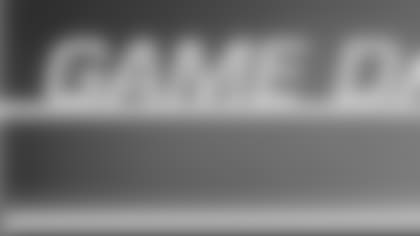 STEELERS vs CHARGERS SUNDAY, NOVEMBER 16, 2008 KICKOFF -- 4:15 P.M. **STEELERS CONFERENCE CALLS VS. CHARGERS
Head Coach Mike Tomlin
*
*So who is your quarterback Sunday?
"I don't know. We'll see. It depends of course on how Ben (Roethlisberger) is able to progress through the week in terms of practice. Of course we haven't practiced yet today, so everything is pretty positive at this point."
 
What are some things you see that others may not see in terms of the way Roethlisberger is delivering the ball or the decisions he's making?
"I don't think it has anything to do with delivery or decisions. I really don't. I really just think it's a function of some missed practice time and developing cohesion and understanding with the people on offense. You lose a little bit of that. You lose a little bit of the things you can't measure when you miss practice time. That's why we practice. Now of course we've dealt with the situation the best we know how because he has been dealing with some discomfort and he hasn't been able to practice, but over time, the cumulative affect does manifest itself in our play. We're in the process of rectifying that hopefully. The good thing is that I think he's well enough to practice here today, so we move forward."
 
How difficult is it for a coach to have to determine whether or not a quarterback just can't play?
"We're all competitors. You want to give guys an opportunity to compete, but it comes with the territory if you will. Those are the decisions that we make and we live with. It's part of the job."
 
How much of the recent struggles for Roethlisberger are due to the injury?
"We don't look for excuses. We really don't. Our performances are our performances. We've struggled here of late. So be it. That's where we are. The only way that we can go about rectifying that is to practice and prepare and go out and play ultimately this weekend. That's where our heads (are) at. The reasons why, the excuse making, we'll leave that to someone else."
 
What does it mean to get Willie Parker back?
"Willie is a valued member of our football team. He's a Pro Bowl-caliber runner. We're better when he's available, but injuries are as much a part of the game as blocking and tackling. We don't make any excuses in that regard. The people that play for us are the Steelers and the standard of expectation does not and will not change. That being said, I'm glad Willie is back."
 
RE: Pittsburgh's top-ranked defense: *
"We've got a bunch of guys that have got great continuity, both players and coaches. They love competing. They love playing the game. They compete against one another. They feed off of one another, so it's been pretty fun."
 
*Did you notice a difference in the Chargers' defense against the Chiefs with Ron Rivera calling plays?
"If there are any differences, they're very subtle at this point. Again, as we move forward, I'm sure that Ron's personality and imprint will become more evident on how they play and what it is they do from a schematic standpoint. That being the first time out, I'm sure there are going to be more differences as we proceed."
 
Do you have much familiarity with Ron and the way he calls a defense?
"I do. Ron and I have known each other professionally and socially for five years or so now."
 
Have you talked to him lately?
"No, I don't know too many coaches that are phone talkers."
 
What do you think of what the Chargers have been going through this season?
"I think that we're all still writing our story. What they're going through right now or what we're going through right now is really irrelevant. I think you judge people on the body of work. A lot of things can change between now and (when) the dust settles. I think just that's where it is. They're in the hunt, we're in the hunt. The teams that get hot in November and December are those that proceed on to January football and they're capable."
 
What are your impressions of Philip Rivers and the season he's having?
"I think he's played awesome. He doesn't need an endorsement from me. His 106 quarterback rating and 21 touchdowns is endorsement enough. This guy is making great decisions. He's including everybody: wide outs, running backs, tight ends. The backs have 60 catches. All the wide outs are collectively averaging 17 yards per catch. They spread you vertically, horizontally and his relationship and rapport with Antonio Gates is special."
 
Do you get the feeling that LaDainian Tomlinson hasn't had his "game" yet this year and is there a fear that it's going to be this week?
"His greatness is just that. This guy when he walks into the stadium is capable of exploding. We understand that. We respect that. For a guy to have 600 yards and you guys be questioning his production is kind of funny to me. He's only on his way to about 1,200 or 1,300 yards at this pace."
 
Re: Tomlinson questioning his own production: *
"You expect that from a guy like him because that's what makes him who he is. I have those similar conversations with Willie. That's how they're wired. That's what makes them awesome. But I don't question this guy's productions or capabilities. He's an awesome football player."
 
*When you lost Parker, did the continuity have an affect on some of the struggles?
"Again, I'm not going to make excuses. The standard is the standard. We practice and have preseason and training camps and OTA sessions and things of that nature so many people are capable of getting comfortable working together. The 11 that are on the field are us. They're the Steelers. That's the standard. Our struggles if any are just that. We're not executing. We've got to do a better job as players and coaches."  

Ben Roethlisberger
 
 
How does it feel to have half of the world wanting to look at your x-rays?
"Well, that's what happens when you're a quarterback and you get injured, but you move on about it because it's really a non-issue."
 
Is there any similarity between what you're going through and what Shawne Merriman went through earlier in the season in terms of taking time off or playing?
"No, it was never going to be an issue of me not playing. I was going to be out there no matter what. It's something that doesn't necessarily, speaking of the shoulder, not the thumb, require surgery, so it's something that you just have to fight through."
 
How would you asses what's been happening over the last three weeks, after you guys had been playing so well?
"Well I think we are just going through a point where maybe we're not executing as well as we should. I'm not playing as well as I should be, the ball hasn't bounced our way at times and it's just one of those times during the season that things aren't going the way that we want but we have to stay focused and try and turn it around."
 
How do you look at the Chargers, they've kind of been an up and down team but still very talented?
"No question, they're kind of the same thing. They are a team that is incredibly talented and the ball just hasn't bounced their way or it's been a last second throw with the Panthers or whatever. They went through some early season issues and they're starting to turn it around and play great football. They're a great football team that at any minute can really do some damage to you. You have to really stay focused on them and know like we do. We know coming in that they are a great football team and we have to stay focused on them."
 
They went through a mid-season defensive coordinator change. Have you seen any difference in the film from their last game and the rest of their film before the change?
"That's the hard part, preparing for a team that, with all the film you see is one defensive coordinator, and only one game film with a new coordinator. It's almost like you take the approach of which coordinator or which way are they going to play. So it's a little extra preparation this week and I don't see too much of a difference other than maybe not as much blitzing at least last week, but that could have been just strictly a Kansas City thing, who knows, so we'll have to watch some more film and see what we can diagnose."
 
You've been without Willy for a while; how big a factor has that been?
"Willy Parker is Willy Parker and to have him out there is a great asset to our team but Maloney Moore has done an unbelievable job filling in for Willy and I can't take anything away from the job that he's done the last couple of weeks."
 
What kind of relationship do you have with Philip Rivers?
"I know Philip from the draft, we were the same class and we have one that I if I saw him we would talk, not one that we would talk on the phone or anything like that but I think he's a great player, great person, and I respect him a lot."
 
During the time at that draft did you have any clue that it would be quite the quarterback class it has turned out to?
"I think if you asked each one of us individually we all kind of knew what we could do individually but no one really knew what our class was going to do, maybe the potential. I talked to Eli the other day when we played them and we just kind of laughed at how our draft class of quarterbacks is shaping up to be a pretty good one."
 
How competitive is the rivalry between all three of you?
"All of us are competitive people but I think it's more about our team than the individual."
 
Through that did you think you had a shot to end up here?
"You know what, I didn't know. I wasn't sure how it was going to pan out and work out and during the whole thing I didn't know what to expect."
 
You've actually ran into quite a string of quarterbacks over the last month haven't you?
"I sure have and that's why I love watching it and learning and watching these other quarterbacks play."
 
What kind of a perspective did you gain from the whole motorcycle incident?
"That's about a four year old question it seems like. It's kind of a thing that's in the past and I don't really think about it anymore."
 
Your defense is extraordinary, what does that mean for you as a quarterback and the things that you might be able to do or try that maybe other offenses couldn't?
"It's fun watching them play. They're so energetic and they fly around and they are such a talented group. It's kind of fun to be the quarterback that doesn't have to go against them on Sundays. To have that good of a defense to know that you can kind of take some chances every once in a while and knowing that, like coach Tomlin always says, 'Give us a blade of grass and we'll defend it,' it's good knowing that you have that good of a defense."
 
Did you see it fall together quickly or has this been gradual?
"That defense has been great since I got here, that's always been the staple of the Pittsburgh Steelers."
 
I don't know if you're aware of this but the Chargers have never won a regular season game in Pittsburgh.
"I was not aware of that. I think this is the first time that they are coming here since I've been here so it will be interesting."
Has winter arrived there yet?
"This week it got freezing. Last week it was in the 70's, it felt good, now it's freezing."
 
Does that work in your guys' favor when you get a west coast team coming in?
"I don't think it hurts. I don't know how much it helps because there are guys on that team that played college ball in cold weather so it doesn't hurt."