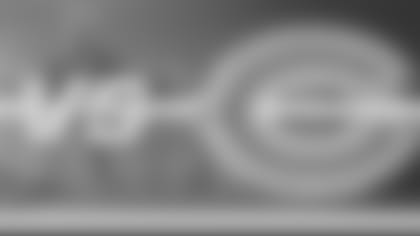 ](http://www.steelers.com/adPromo/clickThrough/processClick.io?adPromoID=95922)
STEELERS at BEARS SUNDAY, SEPTEMBER 20 2009 KICKOFF 4:15 P.M. SOLDIER FIELD
Can you tell us some good Mike Tomlin stories?
I think you have all of the Mike Tomlin stories down by now. Mike is leading the Super Bowl Champions; he has done a super job. Great coach.

Did he always speak then like he does now?
The part I know, Mike and I never worked on the same staff. We are both from the same coaching tree. From what I am told, he is the same Mike that he always was.

When Mike was defensive coordinator in 2006 for the Vikings, can you tell us what stood out?
You know Mike's personality, as far as from what stood out, they are still playing great defense there now that Mike kind of got started for them. Of course still strong against the run, the foundation that he laid for them they are still doing now. They played hard every down. You see some of the same things in the Steelers right now. I know Dick LeBeau is doing a great job with them. Mike, as the head coach and his personality I see in the defense too. Hard-nosed group that plays until the whistle blows each snap.

What is your take on how Pittsburgh beat Tennessee?
I think in the end you have to be excited about the team that finds a way to win. We had good numbers from our last loss against the Packers, but they found a way to win in the end so you have to take your hat off to the Steelers for doing that. Pushing through adversity at the end of the game and putting points on the board to seal the win and they had a lot of good players in all three phases. It will be a huge challenge for us to get a win this weekend.

Your take on the Bears not having (Brian) Urlacher and the Steelers not having Polamalu (Troy)?
Injuries are, as we always talk, a part of the National Football League. You lose good players each week. There will be some of the marquee players that will go down. That is why you should always make your 53, and really your 63 man roster, as strong as possible and the players have to know that their number can be called on at any time. Then they step up and that is what happened. Troy was hurt early in the last game and they were able to play good defense without him. Of course he is a great player, one of the best players in the league. Same thing with us in regards to Brian Urlacher. Brian is the face of our franchise, been here every day I have been here. Just a great player but we picked up the pieces after that, played most of the game without Brian last week. Hunter Hillenmeyer stepped in and did a super job

Do you agree that (Jay) Cutler will bounce back and play well at home?
That's life in the National Football League too. Every quarterback that is playing in the NFL has a game that he would like to forget. That's the game that Jay had the other day, but he is a competitor, he will come back. He is a good football player. A lot has been said about Jay, but he is just one member of the team that lost that game this past week. The thing that I like about Jay, and first off I love him being our quarterback, he has been super with everything that I have asked him and that we have asked him to do, but we were down Sunday night, he put us in the position to win, after all he had gone through, after all the adversity, he followed through. He put us in the position to win the game by leading us to second-half leads. So he will bounce back, right now he is just concentrating on Pittsburgh and trying to get a win.

*
*How long does it take a quarterback to gain a rapport with his wide receivers?
I think that you continue to work on that and it is hard to put a number on exactly when. I think anytime a group gets a chance to work together they get to know each other better just like anything else in life. This past Sunday was a step in the right direction. Every time we have gone out we have taken a step with our group. We had guys like Earl Bennett who had his first start, Johnny Knox, a rookie, both of them came in and contributed quite a bit and of course Devin Hester too. So you get more comfortable with the guys every time out.

Ben (Roethlisberger) used the pump fake a lot against Tennessee.  Anything you can do defensively to stop that?
You have to do something. If you are going to be successful you can't let the quarterback go to his second and third read. As far as what you do is, first off he is a big man, you have to be strong when you tackle him, you have to keep him pinned, you have to clog up all of the passing lanes, but anything you have to keep the pressure on where the quarterback has to get rid of the ball or take the sack. I think it is as simple as that. Our defensive line is the engine of our defense. In order for us to have success Sunday, they have to play well and they know that.

Did you notice Ben using the pump fake against Tennessee to manipulate them and make them go where he wanted them to?
I think he used that in not just Tennessee but I think that is a big part of his game for him to be able to do that. If you allow a quarterback to do that, any defense will break down, if you can go to your second and third receiver. Whether it is Tennessee, it will be the same case with us this week if we allow him to do that, but again you have to put the pressure on him and make him get rid of the ball really quick.

Take on Ben's ability to win football games.
I think in the end that is all it really comes down to. Things can become habits for him, when you continue to have success doing it. He has a track record right now where he has done it so many times, so I think it is not only Ben, we are putting a lot on the quarterback, but I think the team as a whole, you find a way to win games. We have to get that back. That has been our history too, but we have let a couple slip by as of late. But we have to get that back and as much as anything you have to keep your guys playing. You hear coaches talk that this is a 60 minute game or even more with overtime, you have to just keep playing and believe and I think that is what he has done (Ben) and I think that is what we do.

If you had to stop Hester, What would you do?
It's not for me to say. There are some great Pittsburgh coaches there and it is for them to deal with this week. We've have our hands full with looking at the offense they've got.

Do teams kick away from him?
They kick to him. I think he is back to old form, once he gets an opportunity. He feels each time he goes back he can take it the distance and we think he can too. Hopefully we can get that going. We have won a lot of games based on our special teams around here.

* 
*You added Rod Marinelli this year as your assistant head coach, what impact has he had on the defense and how has he and Bob Babich co-existing together?
They are co-existing well together. Both are detailed coaches that believe in fundamentals and getting guys to lay hard. Both believe in technique and coaching hard each snap. Rod has done a super job with us, as I talk about our defensive line being our engine, he is leading it. You won't find a better technician as for a defensive line play is concerned in the league. They guys have bought into everything that Rod has taught them with football and life lessons. He has helped our entire team, not just our defensive line. Bob Babich has done a super job, of course local Aliquippa guy, a lot of energy. I have leaned on Bob the entire time I have been here. He has done a super job. That is why we are excited about Hunter and some of the other guys stepping up like Hunter because Bob has been tuning them.

What do you remember about the 2007 meeting when you were in Denver against this Pittsburgh team?
It came down to the wire. Tough team, we got a field goal in late to pull it off. They were a great team and still are a great team, offensively, defensively. They are coming off of a great win against Tennessee. Defending Super Bowl champs, so we have our hands full.

You put up some impressive numbers during that game; do you feel like you stunned some people?
I don't really remember that much about it. I haven't gone back to watch it and I am not sure that I will. I am on a different team, they are a little different. It was one of those games that I played well and we gave ourselves a chance.

How different do you expect the Steelers defense to be without Troy Polamalu?
It is a little bit of a different defense. He lines up all over the place and you really can't get a good read on him. But they will do pretty much the same thing. That defense with or without Troy is a great defense with all of those veteran guys and they are going to pick up the slack for him. I am sure all of them will raise their level to keep up the excellence that they have.

Were you trying to do too much last game? What is your take after watching the film?
It's a fine line of trying to make a play and whether or not you throw it away or if you give your guys a chance. I just need to do a better job of walking that line, knowing when to let it go or maybe when to just run and slide down and move on to the next play. I am still getting used to these guys and they are still getting use to me and I just have to play better.

How long does it take to get use to a group of receivers?
I think we are heading on the right track. I think those guys played great, they played fast, they were in the right spots. Offensive line played well, so we just have to keep working and getting better and let that one go, it is in the past, we just have to get ready for Pittsburgh this week.

What do you think of (Matt) Forte and how does he match up with other backs that you have played with?
I think he is right up there at the top. He does all the things you want out of a running back. He hits the hole, he can get in between the tackles, he can break it outside, he is good at protection and he is good at getting out of the space and letting me throw it to him. He is the complete package.

What do you expect your nerves to be with the first start at home?
I think everyone is going to be nervous with the first start at home. We are going to have a little bit of butterflies but we just have to get out there, play, relax and do our job.

What has your reception been like in Chicago with the fans? Do you have fans coming up to you?
Oh, Absolutely. It is a big city and a big football town. There is a lot of tradition here. It goes back a long way. They have been really receptive, supportive and we expect much of the same for our home debut.

*
*How tough is the loss of an (Brian) Urlacher?
We were just talking about it; you can't replace Brian Urlacher with one person. You can't expect to fill that hole with one guy and expect him to come in there and play like Urlacher and do all of those things that he does on the field, off the field and in the locker room. So the responsibility is going to fall on everyone in this building. You have to pick up the slack for him and figure out a way to raise our level of play out there.

Do you have any regrets with how things went down in Denver?
I think it worked out for both of us. I think ultimately this was going to happen at some point anyway. I'm sure that there are a few things that they would want to do different and that I would want to do different. In the end, it turned out well for both of us and I couldn't be happier here in Chicago right now.

Do you think sometimes you are unfairly portrayed as the bad guy?
I know anytime something like that happens, 99% of the time the player is going to be portrayed as the bad guy, that's fine. I and everyone that helped me with the decision knew that was going to happen.

Steelers Conference Calls Head Coach Mike Tomlin
HOW MUCH CHANGES WITHOUT TROY OUT THERE?
"Nothing changes schematically in terms of how we draw up the defenses or how we put guys in positions to make plays. Troy is a unique guy and you are going to lose something when he is not in the lineup. Some of the things he is able to do, you can't measure. We have a veteran group and those guys will pick up the slack in different forms and the plays will continue to be made."
DO YOU LOSE MORE AGAINST THE PASS THAN THE RUN WITH TROY BEING OUT?
"I don't know, but we are going to find out here this weekend. Troy makes play all over the field in both the running game and the passing game. We are going to miss him in both places. It probably would be tough for me to quantify right now where he is going to be missed the most."

WHAT IS IT ABOUT YOUR OFFENSE THAT ALLOWS YOU TO SCORE SO FREQUENTLY LATE IN GAMES?
"Some people thrive in those moments and others don't. Ben is a guy that thrives in those moments. He is a guy that thrives in the face of adversity. He sees those moments with great clarity; he puts himself in position to make plays. I believe that the guys that play with him feed off that and it lends itself to those situations. Let's face it; a lot of these games come down to those situations. The NFL is the ultimate parity league. Week in and week out there are going to be games that are decided by a few critical plays, at a few critical moments, and we have a quarterback that is built for those moments."

HOW MUCH DOES HIS DEMEANOR HELP THE OFFENSE?
"Ben is very steady. Not only in those critical moments at the end of the game, but really throughout the game and throughout the week. He has a methodical approach about his job, he is very cerebral and if I had to put a word on it, he is very consistent in his demeanor.

I like the way he uses Heath Miller and Mewelde Moore, not only on Thursday night, but also in the latter part of last season. More than anything, I think that he is getting comfortable with the weapons that he has in this offense."

IS THE TAMPA-2 GOING OUT OF STYLE IN THE NFL?
"I don't know that defensive philosophy or that approach will ever go out of style in the NFL. People will use whatever schemes that they want to use and I know that things move in cycles in the NFL and I think people are gravitating towards the 3-4 defense at the present time, but there is nothing broken with that system. It is tried and tested. It requires an attention to detail and discipline, and if you are committed to it, there is no question you can play top quality football."

WHAT SCHEME WOULD YOU USE IF YOU WENT TO A NEW NFL CITY?
"I am always about the people that you are working with. I think that ultimately you have to play to the strengths of your players and that is what I am doing here. We have top quality 3-4 people here. It would depend on the nature of the athlete of the city that I landed in, you know, whether to play this system or to play the Tampa-2. Really they are very similar at the end of the day when you think about it. It requires an attention to detail, having and understanding of what is going on around you and how that fits into the big picture."

WHAT WAS THE REASON TO STAY WITH THE 3-4 IN PITTSBURGH?
"I had 3-4 people here. Aaron Smith is one of the best 3-4 ends, Casey Hampton is one of the best 3-4 nose guards in the world, and we have top quality linebackers that were 3-4 linebackers. I would have been foolish to try to fit a square peg in a round hole."

WHAT ARE YOUR THOUGHTS ON THE PROBLEMS IN THE RUNNING GAME IN THE OPENER?
"It was probably a combination of a lot of things; not to acknowledge that Tennessee did a nice job wouldn't be fair to them. But at the same time, we were below the line and we need to be better blocking and we need to be better running. We are not interested in excuses or explanations; we have to work to rectify that. For no other reason than that with a sound running game, we increase our chances of winning. That is truly what it is about. We realize that unless we are consistently solid in the run game, it's going to be tough to do that."

HOW DOES URLACHER'S INJURY CHANGE THINGS?
"You probably have to ask Lovie that. I know that they probably have a great deal of confidence in Hunter, who they are putting there. I know that he is not new to the defense; he is not new to their philosophical approach. I can imagine he is a sharp guy that will get them lined up and ready to play."

DO YOU EXPECT TO SEE MORE DIME PACKAGES FROM THEM?
"They control that, but it wouldn't shock me if they do that. I am sure that they have a great deal of confidence in their linebackers. I am sure they will still within their comfort zone and consistently be what they have been and that is primarily a nickel football team."

HOW CONCERNED ARE YOU ABOUT THE RUNNING GAME?
"I am concerned about it. I am concerned about all of our perceived weaknesses. My job is to make sure that we play to our strengths and minimize our weaknesses and work on the things that we need to improve upon. That is one of the things that we need to improve. It increases the chances of winning when you are rock solid in that area. We acknowledge that and understand that, so we are going to work on that."

HOW EXCITING IS IT TO COACH AGAINST SOMEONE FROM THE SAME COACHING TREE?
"It is really irrelevant to me. I am just excited to be able to have the opportunity to do what I do. Before the game, there is a moment to visit with friends or after the game. I have a great deal of respect for those guys, not only Coach Smith and Coach Marinelli, but Jerry as well. Those guys are great guys and I have a great deal of respect for them. But when that ball gets kicked off, those people you are going against are nameless, gray faces."
Quarterback Ben Roethlisberger

HOW DO YOU FEEL THROWING THE BALL AS MUCH AS YOU DID LAST WEEK? 

"Sometimes you have to do what you have to do. The running game wasn't working for us, and the passing game was, and we had to find a way to move the ball. For me, and for us, it's about winning football games. However that needs to be done, that's what you've got to do. If that's running the ball 80 times a game, then that is what you have to do. If it's passing the ball, you have to do that too."
DO YOU LIKE THROWING THE BALL THAT MUCH?
"Come on now, you're asking the quarterback if he likes to throw the ball?"
WHAT DO YOU THINK OF PLAYING THE BEARS WITHOUT BRIAN URLACHER IN THE LINEUP?
"I'll say this, you never ever like for someone to be hurt. We hope he gets a speedy recovery, but as a quarterback playing against one of the best defensive players in the game, I'm not upset that he's not going to be out there. I'm upset he's hurt, but not upset he's not going to be out there."
HOW DOES NOT HAVING BRIAN URLACHER CHANGE THE GAME?
"Well, I don't know. It's hard to say because they haven't played a game without him this year. Whenever you lose your quarterback on defense, or you lose a guy that's the Pro Bowler, probably one of the best defensive players in football, it's going to affect you somehow. Regardless, if you want to say you have guys that are going to fill in, and you know can step up and be fine, yeah you know that and you have that confidence, but you're still missing that guy. I'm sure that whoever they have filling in is going to do a great job, but you're still going to miss Urlacher."
HOW DOES THEIR DEFENSIVE LINE COMPARE TO WHEN YOU PLAYED THEM IN 2005?

"That was a while ago, but trying to remember back, I think they are very similar, maybe even a little more explosive. Obviously, everyone saw what the defensive ends can do, getting up field and beating tackles, and the strength they have up the middle. It's a very explosive front seven."
HOW IMPORTANT IS IT TO YOU TO BE COMPOSED IN THE HUDDLE WHEN THINGS AREN'T GOING WELL?
"For me it is very important. Being the leader, everyone kind of watching you and looking at you, and sees how you react. Even if inside, my heart is racing, and I am going crazy, I try to at least look on the outside that I am even keeled just so the other guys see that and can hopefully be the same."
DO YOU REMEMBER YOUR LAST GAME AT SOLDIER FIELD IN COLLEGE?
"I do remember that, the only reason I remember is because Trai Essex was on that team and I let him know how bad we beat him."
HAS THERE BEEN ANY MENTION OF THE FIELD SITUATION AND WHAT WOULD YOU PREFER TO PLAY ON?
"It's been brought up, but I think the players enjoy the grass, regardless of how bad it gets late in the year. We all, I think, prefer grass."
HOW MUCH DOES IT HELP TO HAVE A FAN BASE THAT TRAVELS SO WELL?

"We've got fans all over and they come in droves. I've never been to Chicago, I don't know how many of them will be there, but I would assume there will be quite a few Terrible Towels."
WHAT ADVICE DO YOU HAVE FOR JAY CUTLER PLAYING IN A BIG MARKET?
"Well, shoot, he was a Pro Bowler last season. He should give me some advice. He's a great quarterback that is going to a bigger market. Pittsburgh's not really a big market, so it's hard for me to give him advice."