Steelers quarterback Ben Roethlisberger loves when he has the opportunity to put a smile on the face of a child who visits the team through the Make-A-Wish® foundation. The reaction he always gets from the kids is one of pure joy, making the day of a young fan that definitely can use a boost.
On Friday he did even more to help, presenting a check to Make-A-Wish® Greater Pennsylvania and West Virginia for $30,000, a donation from the Ben Roethlisberger Foundation. Roethlisberger made a similar donation last year and said hearing from the kids who had their wishes granted as a result made it extra special.
"I got a packet and an envelope with a bunch of letters in it from Make-A-Wish kids whose wishes got granted," said Roethlisberger. "I could just see the smile on their faces as I was reading the letters. It means so much to me and my family and the foundation to be able to help out Make-A-Wish."
Roethlisberger presented the check to Judith Stone, President and CEO of Make-A-Wish® and eight-year old Anthony Cook. Cook, a huge Roethlisberger fan who had his wish of going to Disney World granted and in turn has given back by donating the money he received from the tooth fairy and getting a good report card to help other kids.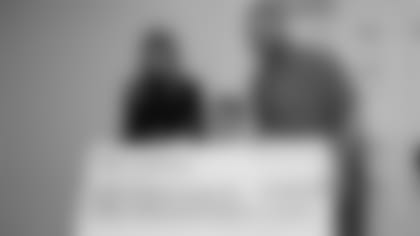 The wide-eyed Cook was in awe meeting Roethlisberger and some of his teammates, watching practice and then heading into the locker room.
"It felt really good to meet Ben," said Cook, "I was really excited. We went in the locker room and he made me find his locker."
Roethlisberger also gave Cook the torn jersey he wore against the Raiders, giving the young boy something he will always treasure, as Roethlisberger himself treasures meeting the kids whose wishes he helps grant at the team's practice facility throughout the season.
"When someone has a wish and that's what's so great about Make-A-Wish, they grant pretty much everything other than going to the moon," said Roethlisberger. "But you can do pretty much anything you want. To come hang out with us, and just to see the fun and to see guys like Anthony get the picture with everybody and go in our locker room and just to hang out. I know we were talking about how his friends are going to be jealous and his brothers and everything like that. To me, that's what it's all about. It is so special."
The money that Roethlisberger donated will help to fund seven wishes, allowing the smiles to continue for a while.
"Everything the Steelers do for us is so above and beyond," said Stone. "The fact they meet all of our kids as soon as they can. They let them come here and see practice and get autographs. They are so warm and wonderful to our kids. It's always wonderful.
"On top of that, the fact that Ben would make a donation to us from his event it means the world to us."