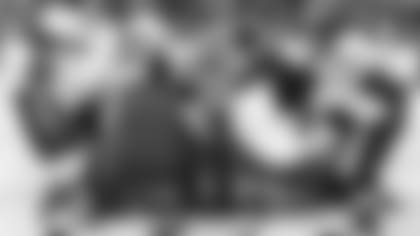 Photo courtesy of Pittsburgh Penguins   By Teresa Varley
Steelers.com
 
Kicker Jeff Reed is used to sitting in the stands at Mellon Arena watching the Penguins play, but when the team took on Tampa Bay, he was down on the ice.
Fear not, though, he wasn't on skates.
Reed dropped the ceremonial first puck when the Penguins hosted the Lightning on a night when the team celebrated the Steelers win in Super Bowl XLIII.
 
"It was pretty cool," said Reed. "I did it the last time we won the Super Bowl. This time I think I was a little more relaxed. I didn't really know where to drop the puck last time. I was like 'all right do I drop it now?'"
 
Reed, who was sporting a Mario Lemieux jersey, dropped the puck between Penguins captain Sidney Crosby and Tampa Bay's Ryan Malone, a former Penguins player who is friends with Reed and also a Steelers fan.
 
"I had requested Malone because he is a friend of mind," said Reed. "It was funny though because you know the home team always wins the faceoff.  Malone told Sidney I am definitely going to win this faceoff and I'm thinking I don't know what to do because I know they are joking but they don't want this to take the wrong turn. Crosby said there is not a chance you are going to win this. I was hoping Malone would drop his gloves just for a little more entertainment, but he never got around to that probably because he didn't want that to make that his last puck drop."
 
The two went back and forth trying to win the faceoff with Reed watching on.
 
"Sidney won," said Reed. "They were hitting each others stick and acting crazy and I finally knocked Malone's stick out of the way so Sidney won it."

 
Reed attended the game with teammates Matt Spaeth, Greg Warren and Scott Paxson and enjoyed the reaction he got from the crowd.
 
"It was great," said Reed. "I know that I have a lot of fans here, but I'm a place kicker. When Ben (Roethlisberger) walks out there your ears are ringing because it is so loud because a lot of the game rides on his shoulders. When I walk out there, I kind of expect some people to cheer and it was really loud and it's a great feeling to realize how much people appreciate the work you do."
 
The Penguins did a tribute video to the team to the Styx song "Renegade" that fans are so used to hearing at Heinz Field, and it included a mix of Steelers and Penguins highlights. It was all part of a celebration that Reed feels it's important to enjoy every step of the way."We don't get to do this all the time," said Reed. "Doing it one time was awesome, and getting the chance not only to go back, but to go back and win was an even better feeling. So when people ask me which one is better, obviously the most recent one."