Steelers players will celebrate Thanksgiving in Baltimore when they take on the Ravens in a primetime game, but this week they did their part to make sure those in need have a celebration as well.
The Maurkice Pouncey & Friends Thanksgiving Celebration was held on Thursday night, with the Steelers' center and many of his teammates distributing all of the makings for Thanksgiving dinner to 200 families from the North Side area.
Pouncey teamed with the Greater Pittsburgh Community Food Bank to select the recipients, who received their turkey and all of the fixings from the players.
"We are in such a blessed situation that the opportunity to give back and put a smile on someone's face is important," said Pouncey. "Thanksgiving is a special holiday and to be able to help provide them a great meal is heartening to me."
Pouncey donated all of the food, while Giant Eagle donated gift cards to further help the families. McDonald's also provided snacks for the families who attended.
The food bank serves 11 counties in the Western Pennsylvania area and their numbers have significantly increased every month since 2008. They depend on the generosity of individuals like Pouncey, organizations like the Steelers, and the general public to aid all of those in need.
"It means so much," said Lisa Scales, CEO of the Greater Pittsburgh Community Food Bank. "The holidays, and especially during the winter time, can add stress to people's lives. People are paying more for heating bills. It's important for people to have that opportunity to receive a turkey, all of the fixings and to interact with the players makes it really special.
"The Steelers have proven time and time again that they are not only champions on the field, but also off the field. This just demonstrates that with what Maurkice is doing, and bringing his fellow players with him is just fantastic."
Helping Pouncey out were offensive linemen Mike Adams, Kelvin Beachum, Ramon Foster, Marcus Gilbert, Chris Hubbard, Fernando Velasco, Greg Warren and Guy Whimper.
"I appreciate all of my offensive line coming out, Greg Warren, some of my friends came to help," said Pouncey. "It's awesome to see your teammates come out and help you in the community.
"It's really sad seeing how many people go hungry. Where I come from you see it all of the time. People really struggle in life. For me to have the opportunity to give back and my teammates have the chance, we are always going to do it."
---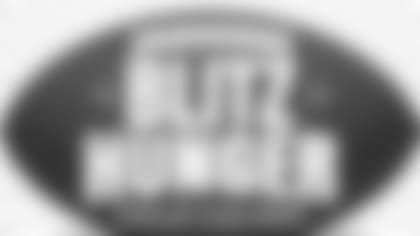 ](https://secure2.convio.net/gpcfb/site/SPageNavigator/BlitzHungerDrive.html)
Help Blitz Hunger: Help safety Troy Polamalu as he takes on Ravens' nose tackle Haloti Ngata in a friendly battle to help fight hunger as a part of the "Blitz Hunger" challenge. Donate to Team Polamalu to help the Greater Pittsburgh Community Food Bank. Donate Now.