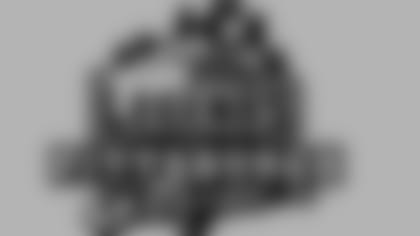 Steelers current and alumni players including Joe Greene, Dermontti Dawson, Merril Hoge, Greg Lloyd, Willie Parker, Antwaan Randle El, Santonio Holmes, JuJu Smith-Schuster, Eli Rogers, Roosevelt Nix, Arthur Moats, Mike Mitchell, Joey Porter, Casey Hampton, Anthony Chickillo and many others will set sail on the once-in-a-lifetime, interactive vacation experience for Steelers fans of all ages. The Legends of Pittsburgh Cruise offers fans the opportunity to spend five nights aboard a luxurious cruise ship with Steelers players, other Pittsburgh sports and entertainment legends and hundreds of fellow fans. The Cruise will depart from Fort Lauderdale, Florida, on February 24, 2018, and sail to Costa Maya and Cozumel, Mexico before returning to Fort Lauderdale on March 1st.
Since the first sailing, the Legends of Pittsburgh Cruise has raised over $200,000 to fund causes that attack injustice. With a mission of "Doing Good Through Sport", players charities such as The El Foundation, Light of Life Rescue Mission, Urban Impact and others have been greatly impacted by cruise funding.
Guests sailing on the Legends of Pittsburgh Cruise will enjoy five days of interaction with their favorite current and alumni players. They will enjoy free access to the legends themselves and dozens of themed events. The legends on board look forward to taking photos, striking up conversations or just hanging at one of the lounges or pools. There will be exciting activities for Steelers fans of all ages both at sea and on shore. Kids will enjoy interactive games and competitions with their favorite sports heroes.
Additional on board entertainment includes but is not limited to: welcome aboard show, super bowl rewinds, remembering Dan Rooney event, player Q&A's, belly flop & sports court competitions, photo opportunities, private dinners with players,* autograph session(s),* special shore excursions with players,* the 70's disco party and concerts from legendary Pittsburgh bands.
Packages include all-you-can-eat dining, access to public Legends Cruise and Royal Caribbean Cruise events on board, a Legends Cruise lanyard and more. Guests can purchase Experience Add-on items allowing them to gain additional access to players or take home priceless souvenirs.
We will sail on board Royal Caribbean's Independence of the seas, the beautiful 1,112 foot long vessel, a marvel of maritime engineering, packed with all the phenomenal onboard experiences you'd expect from our Freedom class of ships—including the FlowRider® surf simulator, a rock climbing wall, ice-skating rink, cantilevered whirlpools, Royal Promenade, mini golf course, and much more.
You may reserve your space by visitingwww.legendsofpittsburghcruise.com or by calling (877) 381-5553.  The Legends Cruise is not available for purchase through Royal Caribbean Cruises. Experience why over 20 Legends and 1,000 fans sail to the Caribbean every year! We look forward to meeting all fans on deck!
The Legends of Pittsburgh Cruise is produced by Leadership League Experiences.
*Depicts Experience Add-on Item.