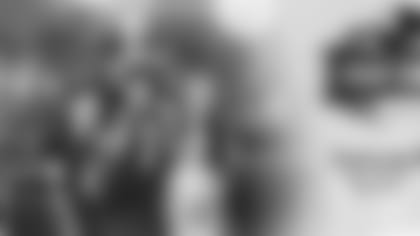 ](http://www.steelers.com/schedule-and-events/FanBlitz.html)
Don't miss the excitement of the 2015 Steelers Fan Blitz, presented by Xfinity! This year's draft day event will be held on Saturday, May 2, from 12:00 PM - 7:00 PM at Heinz Field.
Tickets for the entire day at Heinz Field are $12 for adults and $5 for children 12 and under. Tickets are on sale now at all Ticketmaster Outlets and the Steelers Sideline Stores at:
Westmoreland Mall
Pittsburgh Mills
Premium Outlets at Grove City
South Hills Village
One Steelers Nation Unite member will be chosen on-site to announce a 2015 Steelers draft pick live on NFL Network from this year's Fan Blitz! Join Steelers Nation Unite, check-in at Heinz Field using the Steelers mobile app and you could be selected!
**
2015 NFL Draft Facts & Figures**
The 2015 NFL Draft will take place April 30-May 2 in Chicago.
The first round kicks off on Thursday, April 30 at 8 p.m. (ET), and continues with the second and third rounds on Friday, May 1 at 7 p.m. (ET). It concludes on Saturday, May 2 with rounds four-seven starting at 12 noon (ET).
The Steelers have eight picks in this year's draft, one each in the first six rounds and two in the seventh round courtesy of a compensatory pick.
Since the inception of compensatory picks the Steelers have received 24 of them.
The Steelers have the 22nd overall pick in the first round.
The highest the Steelers have ever selected in the first round in number one overall. That occurred twice, once in 1956 when they selected defensive back Gary Glick, and again in 1970 when the team selected quarterback Terry Bradshaw.
The most draft choices the Steelers ever had was 30 in each draft from 1943-48. Since the NFL's modern era, the most selections were 22 in both 1971 and 1976.
The fewest draft choices the Steelers had happened in 2003 when they only had five draft picks.
The breakdown of first round draft picks since the 1970 draft plays out as follows by position: offensive linemen (8); defensive back, wide receivers and defensive linemen (7); running backs and linebackers (5); tight ends (4); and quarterbacks (3). 
STEELERS FIRST-ROUND DRAFT SELECTIONS (1969-2014)