By Teresa Varley
Steelers.com
Defensive end Brett Keisel has long been involved with charities for homeless youth and was happy to welcome another individual to Pittsburgh who has the same mission.
Tellman Knudson, who has been tabbed as the barefoot philanthropist, made a stop in Pittsburgh as a part of his effort to run barefoot across America. Knudson is trying to raise $100,000,000.00 to aid homeless youth in a project called RunTellmanRun.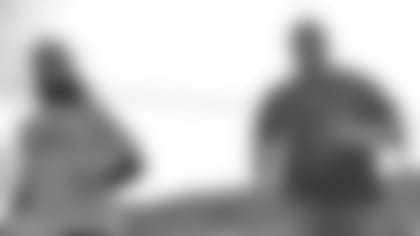 "I can't thank Brett enough for agreeing to meet," said Knudson. "He is obviously respected in Pittsburgh, and he's going to be a great help in shining a floodlight on the problem of youth homelessness in this country."

Keisel met Knudson at The Hub Outreach Center, a place for runaway and homeless youth 21 and under, that provides needed services like food and clothing, along with counseling and crisis intervention.   
 
"Brett Keisel has always been a friend of The Hub," said Myra Powell, supervisor of The Hub. "And it was so nice to see that someone is out there raising money for homeless young people, who usually are forgotten."
 
Keisel and his wife Sarah are involved with the Homeless Children's Education Fund and were happy to spend time at The Hub, meeting with those who use their services to try and help them. 
"I came down here and met the kids who not really live here, but come here to get on the computers, try to get their feet back on the ground because they don't have any other place to go," said Keisel. "They don't have food, clothes sometimes. It's easy for me to lend a helping hand. It's great to meet the people here and learn about all of the great things this place does."