Jesse James didn't need a flight to arrive for the Steelers three day rookie minicamp. He didn't need driving directions to the Steelers' practice facility. All he needed to do was hop in his car and head to the South Side, something that was simple having grown up in nearby Glassport, Pa.
"It feels great to be back in Pittsburgh, ready to work and work with these guys," said James. "I couldn't be happier for the opportunity the Steelers gave me. I am excited to get to work. It's still sinking in a little, but I am excited."
That opportunity is a big one. James, a tight end out of Penn State, was the Steelers fifth round draft pick and is competing for a spot on a roster that includes veterans Heath Miller and Matt Spaeth, as well as Michael Egnew, Rob Blanchflower and rookie Cameron Clear.
"He is a guy with tremendous upside," said Penn State Coach James Franklin. "He has all of the things people are looking for. It's like a storybook ending. He gets a chance to come back home. I know he is excited about being here. If he had to write the script, this is how he would have wrote it."
For James, it seemed like it took a while for that script to be finalized. He had to sit through the first two days of the draft before getting the phone call he was waiting for on the third and final day.
"It was a long weekend waiting around," said James. "I couldn't have been more excited when I got the call from Coach (Mike Tomlin). I am excited. It's home for me. I am happy to be back at home."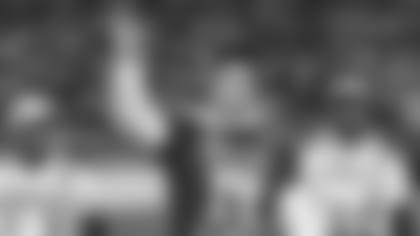 James is no stranger to Heinz Field, home of the Steelers. While at South Allegheny High School he played in Semper-Fidelis All-American game and was part of a group honored during a Steelers home game.
"I am happy to be playing there now," said James. "Being from here it was good for me to get out in front of the crowd for that brief moment. I am glad to be back."
James has great size at 6-7, 261, and while his receiving numbers were low at Penn State, with 38 catches for 396 yards his senior year, it's more a reflection of the system he was playing in than his abilities.
"The scheme changed a little bit from the previous year and offensively for the tight end it didn't work out as well in our favor in the receiving statistics," said James. "It's something I have the ability to do and I am excited.
"I feel with my measurables I have a great body to be a solid blocker. It's something I am going to work on here with Coach (James) Daniels."
He also plans on learning as much as he can from Miller, who he watched play and knows can be a wealth of knowledge for him.
"I am sure I will learn a lot from him," said James. "I am excited to work under him and I look forward to learning from him."