When you hear the name Art Rooney Sr., your immediate thought is the Pittsburgh Steelers. That was his passion. His love. His joy.
But it wasn't his only passion. He also valued family, giving back to the community and faith.
And when Rooney saw that he could use a combination of all of those things to help others, he did what he knew was right, what he had to do. He took action.
Rooney, whose Catholic faith was in the forefront of his life, saw that a local organization, the Catholic Youth Association (CYA), was struggling financially back in the 1970s. He knew he needed to step in and help one of his favorite charities, ensuring that they would be able to continue on with their mission.
It was with that passion that the Art Rooney Award Dinner was born, an annual event that benefits the CYA. It's an event that has embodied what Art Rooney Sr., lovingly known as "The Chief," believed in and one his grandsons, Steelers President Art Rooney II still oversees.
"It's great. We survived the pandemic and are still going here," said Rooney. "It's great to see so many people back in the building. It's special."
The 49th annual dinner was held on Tuesday night at Acrisure Stadium, bringing together Pittsburgh's leaders in business, education and sports to combine efforts to help the CYA serve the most vulnerable in the community…children and the elderly. The dinner honors those who have made a difference in the community and have a passion for Pittsburgh.
"It's a great group of honorees. All people who make a difference in our community," said Rooney, whose son Dan is now involved with the dinner as well. "I am happy to see them get the recognition. They have all given back to the community for many years. We are happy to be able to recognize them for that tonight."
Among the honored was Christina Cassotis, CEO of Allegheny County Airport Authority, who received the Art Rooney Award, presented to an individual for their service to the region and caring for the community the way Art Rooney Sr. did.
"First of all I am incredibly humbled to receive an award that was inspired after such an iconic leader and person who impacted this community," said Cassotis. "I am really humbled by the honor. I can tell you it's a little overwhelming. I am certainly aware of the work Mr. Rooney did on behalf of the community, his family, the country. This is a really big deal, and I am overwhelmed that I am chosen."
Cassotis is not a Pittsburgh native, coming to the city over seven years ago from New Hampshire. But it took her no time to fall in love with her new home and understand what being a part of the community means and the pride that exists in the region.
"This community is incredibly unique," said Cassotis. "I was struck by that as soon as I got here. The way that this community works together when it has a goal, especially when it's an underdog, I've never seen it anywhere else, and we've been the recipients of that. I credit the team that works here every day, but that team really does include the entire community. I would never be successful without this whole ecosystem."
The last few years have been a challenge for aviation in general with the pandemic, but under her leadership and with a solid team behind her, Pittsburgh International Airport has stayed strong and has an exciting future ahead.
"I am incredibly proud of the work that we as a team have done to get to a place we can be recognized as one of the top airports in the country," said Cassotis. "We can be recognized for the innovation we are bringing to the industry. And we can be recognized for the impact we are having on this community, which I have come to really love."
Part of that impact came during the pandemic, when travel came to a halt, but the hearts of those at the airport kept on ticking, looking for ways to help. They opened their parking lots for the Greater Pittsburgh Community Food Bank to host food distributions. They used space to allow American Airlines to park planes for safety. In addition, they hosted a dog and cat food drive at Allegheny County Airport, making sure people had a way to tend to their pets during a tough time as well.
"It was incredibly challenging, as it was for everybody," said Cassotis. "The aviation industry was incredibly impacted. Ninety-five percent of our business went away literally overnight. It was a ghost town out here. We are an airport. We are national, critical transportation infrastructure. We can not close. We needed to be open for people who needed to get home for their families, for medical personnel who were travelling to fill in for parts of the country that needed help, as well as for cargo operation so PPE could get in in the early part of the pandemic and then the vaccines could get in. And then people could order from Amazon or ecommerce. It was incredibly challenging to operate a facility that could not close.
"We are also not taxpayer funded, so with all of our passengers going away, all of our revenue went away. We were incredibly challenged. We did our best. We did an amazing job as a team. We didn't do things differently; we just did different things.
"We kept working. We took care of our team and our community all of the ways that we could."
With passenger traffic returning to what appears to be pre-pandemic levels, the vision now is the future of the airport, and it's a future Cassotis is excited about.
"Our vision for this airport is continue to be an incredible economic catalyst for this community," said Cassotis. "It's important it remain a catalyst for economic growth, for visitation, for tourism, for all of the things it enables. We see this airport as being a center for innovation. It can impact our industry and as a way of highlighting all of the attributes of Pittsburgh, of this region.
"This is what I loved about Mr. Rooney. He was always so aware of the Steelers impact on the community. That is what we are looking for here. We operate in a global industry, but it's about Pittsburgh. How do we make sure Pittsburgh, in all of it's diversity, is on display? The economy, the cultural assets, the sports assets. All of the things that makes Pittsburgh, Pittsburgh in the history. The robotics, the foundations, all of the things that make Pittsburgh great. How do we make sure visitors get that as soon as they land, so they say I didn't know that? The vision is this community continues to be impacted in a positive way by the airport and all it enables and showcases."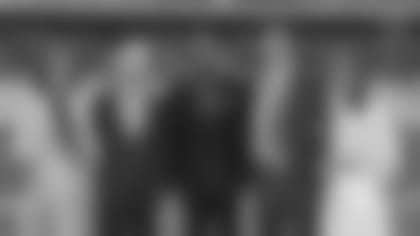 Another person who has had a positive impact on the Pittsburgh region is former Steelers safety Will Allen, and that is why he was the recipient of the Bob Prince Award. The award is named after Prince, the late Pittsburgh Pirates radio announcer and honors someone who embodies his enthusiasm for Pittsburgh sports.
"I am really humbled by it," said Allen. "Just to be chosen for the award from the Rooney family, who dedicated themselves to service starting with 'The Chief,' is special. To be thought of and considered means I am doing something right. Hopefully I am continuing to carry on the legacy and torch of service and thinking of others in the community before myself. It's just fantastic. Especially to be awarded with the other honorees. It's an incredible group."
Allen played for the Steelers from 2010-2012, after playing six seasons for the Tampa Bay Buccaneers. And while his time wearing the black and gold wasn't long, his relationship with Pittsburgh and the Steelers is still going strong.
Allen, who is from Ohio, stayed in Pittsburgh after his playing days, keeping the Will Allen Foundation one of the most giving foundations in the region. The foundation partners with organizations like the Boys & Girls Club of Western Pa. every year to take the kids on a shopping spree to buy presents for their entire family.
"It's my purpose," said Allen. "A lot of people say passion, but passions die, or you can switch them. I say it's my purpose and I use my passion for fuel. My purpose it to be at the intersection of how we bring together community and business and solve challenging problems. I thought that way since I was in college, and now I get to live it. Learning from Coach (Jim) Tressel when I was at Ohio State. Learning what it meant to give back at a young age really planted the seed. My father, watching him in the community.
"There was another side where business wasn't included in that. How do you make it circular and bring all parties together? That is something I get excited about. Hopefully I can continue to dedicate my time and resources to make bridges in the community and see this region transformed. There is a massive opportunity to build together.
"There is a lot happening, a lot of momentum, on the business side, community side and sports side here in Pittsburgh. The city has all of the makings to continue to grow and be dynamic, but in a different way. I want to do my part to help advance this community in every facet that I mentioned. It's just incredible to be a part of a three-sport city, a city that gives graciously but also the opportunity to build on the legacy. That is why I am here, to think differently, to bring innovative thoughts either in the community or the board room. I am excited to do my part and put my hand in the pile as Coach Tomlin would say."
Allen's impact on Pittsburgh isn't just with his philanthropic efforts. It's also through his business ventures, including being the Co-Founder and General Partner of Magarac Venture Partners (MVP).
Allen's company, MVP, is a venture capital firm that focuses on underserved communities that are overlooked, including black and women owned businesses.
"A lot of people have a negative connotation when it comes to (venture capitalism), but African Americans, people of color, haven't taken advantage of it and have been underrepresented," said Allen, who is also on the boards of the Allegheny Conference, Ryan Shazier Foundation and the United Way of Southwestern Pennsylvania. "What we are trying to do at MVP is level that playing field. We understand the statistics that are out there, and we want to commit a great portion of our dollars to people of color, leaders of color, women, people that have great ideas, inspiring and market changing ideas that have been historically marginalized. If their performance meets that, and they have market driven ideas, we want to help them.
"It's not I'm taking over your business, it's how can we support you and teach you about the business. The ones that do, you have to support them and put money behind them. That is just the truth. What we want to pride ourselves on is each one, teach one."
In addition, Nancy Washington, retired educator and administrator at the University of Pittsburgh, won the Patricia R. Rooney Award, Betsy Benson, Publisher and Vice-President of Pittsburgh Magazine, received the Bill Burns Award, Charlie LaVallee, CEO of Variety the Children's Charity, received the John McGrady Award, and Jeff Wilson from Wilson's Pharmacy received the Nick Cardello Award.
About the CYA: The CYA is a true neighborhood community center, operating in three sites and providing social, educational and health-related programs. Among the programs are Senior Centers, Meals on Wheels, & Childcare providing social, educational, health and wellness activities; transportation programs; and an intergenerational program that brings seniors and pre-school children together to form a bond.