Throughout the 2008 season, Coach Mike Tomlin will answer questions exclusively for Steelers Digest and Steelers.com. The following is one of those sessions. For the complete interview, pick up the latest issue of Steelers Digest.
*
*Q. Can an offensive line be successful without being manned by All-Pros?

A. Absolutely.

Q. Is the offensive line a unique position in that respect?

A. No. I think you can have a great secondary with no All-Pros. I think you can have a great defensive line with no All-Pros. It's how men collectively work together that defines a group, a and unit, and a team. That's football.

Q. How is that mentality developed?

A. The funny thing is that the offensive line gets a lot of credit for a collective mentality, and rightfully so, but I think the other positions don't get enough credit for their collective mentality. A collective mentality is the mentality of all position groups in this game. They live and die together, that's their mentality. If you ask the secondary about how important it is for them to work together, they'll tell you. Or a linebacker group, or a wide receiver group. That is the personality of position groups in this game. The offensive line gets a lot of credit for what they do collectively, and rightfully so, because they have a very difficult job. But from a mentality standpoint, all groups are the same.

Q. Are you more surprised or disappointed in the play of the offensive line in the game against the Eagles?

A. I am disappointed that we did not handle their pressure packages. Notice that I said we. I've said all along that the protection of our quarterback is an 11 man job – quarterback, backs, wide outs, tight ends and linemen. Characterize it however you want to characterize it, but offensively we didn't do a good job of the protection of our quarterback.

Q. Do you look at any personnel changes based on that?

A. I am not going to have a knee-jerk reaction. We have a good football team. We are the same team right now that we were at 4:15 when we kicked that ball off. What we are going to do is go in and look at it, accept responsibility for what happened, make corrections, prepare to see it again on Monday night because we will until we stop it and move on.

Q. Did you think about kicking a field goal late in the game and then trying an onside kick?

A. Absolutely not. We did move the ball consistently enough to say that had we kicked a field goal and got an onside kick that we could get down there again. We were down there and we were going to take our shots. Had we gotten in the end zone we would have kicked an onside and attempted to get a first down or two and put ourselves in field goal position. Under the circumstances based on what had happened to that point, no way am I kicking a field goal. We are trying to score while we are down there.

Q. On two occasions in the Browns game – once on a fourth down and once on a third down – the offense rushed to the line of scrimmage to snap the ball. What's the thinking there, and why did you call a timeout on the second one?

A. What we were going to do on the second one was try to get the Browns to jump offside. If they didn't jump, we were going to potentially take a 5-yard penalty, but during the course of the play when we were at the line of scrimmage, I decided to go for it. So I called the timeout, I didn't want us to take a delay of game penalty. That's an intentional plan that we use if we intend to punt. I changed my mind during the course of the play, I called the timeout, we got a huddle call in there and we went for it on fourth-and-1.

Q. But as it happened, Willie McGinest did jump offside, but it was nullified by the timeout.

A. I know. Had I known he was going to jump, I wouldn't have called the timeout. That's how it unfolded. I felt good about the play we had; I wanted to put the ball in Willie's hands; I thought it was critical that we get points on that possession after the turnover to keep the flow of the game in our favor. I didn't want to punt the football, so I called timeout.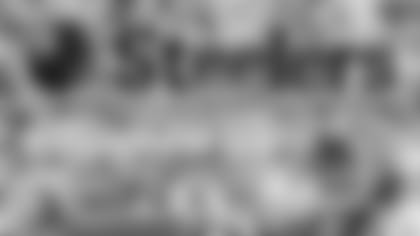 Looking to get Steelers Digest the traditional way - you can subscribe by calling 1-800-334-4005 for credit card orders.