Throughout the 2008 season, Coach Mike Tomlin will answer questions exclusively for Steelers Digest and Steelers.com. The following is one of those sessions. For the complete interview, pick up the latest issue of Steelers Digest.
Q. True or false – a player cannot lose his starting job because of injury?

A. False.

Q. Why do you look at it that way?

A. To deny that as an element of the game is to be unrealistic. When people come in and play great football, you have to acknowledge that. The New England Patriots would not have their dynasty if Tom Brady had not been given an opportunity due to injury. Once they got exposed to what they were looking at, they had no intention of putting Tom Brady back on the bench. There are so many example of that happening, all the way back to Wally Pipp and Lou Gehrig, and so to say that it doesn't exist would be a lie.

Q. What is you demeanor before a game? Are you always confident and up-beat? Are you nervous? And does it depend upon how the week leading up to the game has gone?

A. Usually, I try to be what I feel like my team needs me to be. I'm a pretty cerebral guy from that standpoint, in preparations for a game. I am. I've always been that way. So more than anything, I try to be what the team needs me to be. So I guess you could say I'm not a nervous guy before a game.

Q. Throughout the league now when players are asked about an injury, they defer to the head coach. Is that a competitive issue in your mind, or are coaches trying to remove a potential excuse from the minds of players?

A. I think it's several things. A lot of the times, we don't have accurate information, in terms of where we are with respect to the injury. When somebody is listed as day-to-day, it is just that. You have to be conscious of some of the things you say. Another thing is the competitive advantage. When somebody is preparing to play someone, it's significant from a game-plan preparation standpoint if somebody's left tackle is playing, or not. If somebody's tailback is playing, or not. To say that's insignificant would be inaccurate. So it's a lot of things, a myriad of things that require you to be guarded in how you control the flow of information.

Q. Do you believe opponents target an injury during a game? If a running back has an ankle injury, would defensive players go after that?

A. I don't know if it's to that degree, but I know that people are going to get their oil checked, if you will. What I mean is that if you are a defensive back who is coming off a lower body injury, you're going to defend deep balls. If you're a running back and you have a shoulder injury, you have to run behind your pads. It's the competitive nature of this game. Not to sound medieval, but it's just the competitive nature of this game.

Q. What do you remember about the run-up to the 2004 NFL Draft in terms of what was thought of Eli Manning, Philip Rivers and Ben Roethlisberger?

A. At that time, the general consensus was that it was Eli and Rivers, and Ben was a clear third from a league standpoint. But they all had franchise quarterback characteristics and were highly thought of.

Q. What separated them and what made Eli Manning the clear No. 1?

A. He had the pedigree. Rivers played in a BCS conference. The only question regarding Ben was that he was a MAC quarterback, if you will, and a lot of people use those things as deciding factors in terms of separating that group.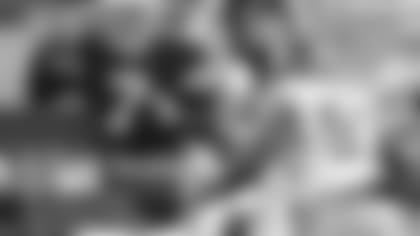 Looking to get Steelers Digest the traditional way - you can subscribe by calling 1-800-334-4005 for credit card orders.