Throughout the 2008 season, Coach Mike Tomlin will answer questions exclusively for Steelers Digest and Steelers.com. The following is one of those sessions. For the complete interview, pick up the latest issue of Steelers Digest.

Q. The NFL trading deadline is Tuesday, Oct. 14, but that has to be one of the most boring days on the league's annual calendar. Why is there so little player-for-player trading in the NFL?

A. I just think the commitment you have to make from a group cohesion standpoint to be successful in the NFL is probably a little unique to the other sports. When you start talking about trading, particularly once the season starts, it makes success very difficult. That's probably the driving force behind it. It's tough enough to get new people on board when you get them in March, or in the draft in April, to get up to speed and develop the kind of cohesion and camaraderie you need to be successful in this game. You start talking about making September and October trades, I don't think the fruits of the transaction would show itself in a quick enough time to merit such a change.

Q. Beyond meshing, the learning for that individual would be significant as well, wouldn't it?

A. Absolutely. It's more learning than just rote memorization. It's timing, it's being a cog in a machine and knowing where you need to be and why. Very difficult.

Q. Back in the 1950s when Buddy Parker was the Steelers coach, trading veterans for future draft choices was done regularly. Do you believe in that?

A. I'm a proponent of building through the draft, and if at all possible I want us to keep our draft picks. In today's NFL, particularly in this era of free agency, it puts a premium on the draft and you ability to evaluate and draft well. I'm interested in not only keeping the picks we have, but also in maybe acquiring somebody else's.

Q. How do kickers fit in with the dynamic of a football team?

A. It has always fallen into two black-and-white categories in situations I have been in: The kicker is either really one of the guys and if you didn't look at him kick you wouldn't know he was a kicker in terms of his relationship with the team; or he's on the outside looking in. And there's really nowhere in between with those guys. We got a guy here – Jeff Reed – who's one of the guys. I think the players have shown that by electing him captain. They appreciate what he does, but he's one of the guys. He's very normal. I've been in other situations where the guy is like an alien. They appreciate what he does, but socially he's not one of the guys.

Q. Was Reed like that the first day you came here, or has he grown into that?

A. I'm sure he's grown into that a little bit more since I got here, but he had the makings of being normal, if you will.

Q. You're familiar with the road Jeff Reed had to take to make an NFL team. Is that as spectacular a story as it might sound?

A. Not given his job description. I think you'll find that a lot of guys who do what he does get into the league under those circumstances. About five years ago when I was down in Tampa, we had Martin Grammatica hurt and we bring in this guy to kick for us. Nobody even took the time to get to know his name. The guy bangs two significant field goals in the second half of a football game, and he's about to bang the game-winner when Ronde Barber leans over to me and says, "Hey, what's that guy's name?" That guy's name was Matt Bryant, and he was just the NFC Special Teams Player of the Week last week, and he has been kicking for the Buccaneers ever since.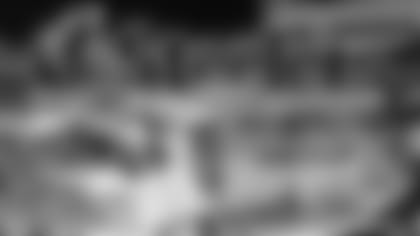 Looking to get Steelers Digest the traditional way - you can subscribe by calling 1-800-334-4005 for credit card orders.