Throughout the 2008 season, Coach Mike Tomlin will answer questions exclusively for Steelers Digest and Steelers.com. The following is one of those sessions. For the complete interview, pick up the latest issue of Steelers Digest.
*
*Q. Hines Ward is in his 11th season, and he holds virtually every franchise receiving record. Of all of the good things he does, can you pinpoint what he does best?

A. He plays a complete game, he does. He plays with the ball, he plays without the ball. He's a guy who has a unique ability to see the game from outside the helmet when he's playing. He knows where the ball is supposed to go in the running game, and he blocks accordingly. A lot of times we talk about the type of blocker that he is because he's very physical, but he's also a smart blocker in terms of knowing where the ball potentially is going and he positions himself very well. He does that better than anybody I've ever seen.

Q. Willie Parker is now in his fifth NFL season, his fourth year as a starting running back. Where is he now in his career?

A. He's at that critical stage of his career where he's at the top of his game physically and mentally. He's a veteran player, but he's not such a veteran player where his body is starting to betray him. Those are the golden years for players, if you ask me, and they have to take advantage of it and he's one of those who does.

Q. Is he underrated?

A. I don't worry about how other people view him. I know he's not underrated by this football team and in this locker room. Everybody knows what he's capable of doing, everybody knows what he's willing to do to help this football team win, and he is loved and respected for it.

Q. What does it say about Willie Parker that he's 5-foot-10, 209 pounds and yet he has carried the bulk of the load for a team that wants to establish its running game every week?

A. So much of this game is above the neck, and I think mental toughness is a big part of this game. This is a guy who is mentally tough, and it's mind over matter a good bit of the time in football. He's smaller than most guys who tote it a lot, but he's a tough guy. He wants that burden. He craves it, and that's what makes him a special player.

Q. Do you find that you appreciate a guy like that more once you've had to live without him, as the Steelers did at the end of last season with Parker?

A. I would like to think I appreciate him regardless, but that's human nature. Sometimes you don't miss things until they're gone. That's something I anticipate. I wasn't surprised by the fact I missed Willie Parker.

Q. What is your level of comfort with the offensive line?

A. I'm comfortable with those guys. I think we are a unit in development, and I'm excited about where we're capable of going. By no means do I think we're a finished product, but right now we're good enough to win, and we better be.

We need to continue to march forward with this thing, and time is going to be what allows us to do that. There's really no way around it, because we've got a new center, a new left guard and we've got a younger right tackle. That's football. This group is coming together. They work every day, and you have to respect them for that.

Q. There were a series of events during the NFL's opening weekend of 2008 – starting with Tom Brady's injury – that seemed to drastically alter the landscape. Does it ever surprise you how quickly things can change in the NFL from one week to the next?

A. I'm never surprised by the ever-changing story lines in this game. Early in the year, people try to paint a picture of what teams are going to be and what teams aren't going to be, and it's just too premature to do that. The good teams are the good teams, regardless of injury, and great teams have a way of overcoming.

What happened to Tom Brady was unfortunate, but we're all going to find out that New England is a good football team, and they're going to find ways to win games. That's one of the reasons they've been so successful, why they've been one of the most successful teams of late in this business.

Once you get a couple of games under your belt, you get a sense of where teams are going and how they're developing, how they ride success and failure, and then you have an indication of where you are. We jump the gun sometimes when we try to paint pictures based on what happened in one week.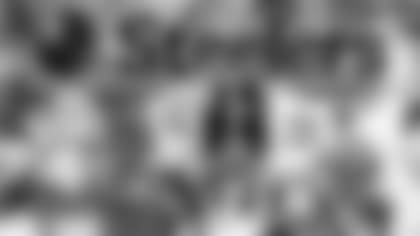 Looking to get Steelers Digest the traditional way - you can subscribe by calling 1-800-334-4005 for credit card orders.