When you think about the history of Steelers football, there are names that undoubtedly come to mind.
They are the names of the legends. The ones who made the organization and the team what it is today.
And that is why four more individuals, four legends in Steelers history, will make up the third class of the team's Hall of Honor, which was revealed today at a press conference held at Saint Vincent College.
The Steelers legends who will be inducted into the Hall of Honor for 2019 include Larry Brown, Bill Cowher, Elbie Nickel and Hines Ward.
The team introduced the Hall of Honor in 2017, an idea that came from Steelers President Art Rooney II, along with late Chairman Dan Rooney. The Hall of Honor was established to recognize former players, coaches, and front office personnel who played an integral role in the success of the franchise, from the beginning in 1933 until now. To be considered, a player must be retired at least three years and played a minimum of three seasons for the Steelers. Former coaches and contributors had to make significant contributions to the team and community.
Brown was an integral member of the Steelers four Super Bowl teams of the 1970s. A fifth round draft pick in 1971, Brown easily can be considered one of the most underrated players in team history. When you think of the teams of the 70s, you think of names like Lambert, Harris, Bradshaw and the litany of Hall of Famers. But when late Coach Chuck Noll was once asked of all the great players who were a part of those Super Bowl teams deserved to be in the Hall of Fame too, his answer came fast – Larry Brown.
Brown started his career at tight end and caught a game-clinching touchdown pass from Terry Bradshaw to secure a win in Super Bowl IX. He later made the switch to tackle, where he blocked for Franco Harris and made an impact that was tough to measure.
"It's a great honor," said Brown. "I certainly feel appreciated. It was unexpected. To be recognized with so many great players and teammates is very humbling. I think all players know when you play, so many who worked hard, toiled and are dedicated don't get recognized. When you get recognized it's quite an honor.
"When I got the call from Art, I sat there and was reflective and though about it for a minute. I am still processing it. It's greatly appreciated."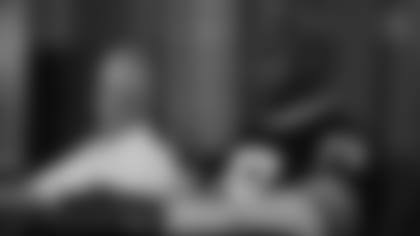 Cowher was the Steelers head coach from 1992-2006, leading the team to victory in Super Bowl XL. In his 15 seasons he guided the team to eight division titles and his teams played in six AFC Championship games and two Super Bowls, losing in Super Bowl XXX to the Dallas Cowboys.
"To be inducted into the Hall of Honor is a true honor," said Cowher. "The Steelers organization and the tradition is recognized as one of the best in the NFL. Football is the ultimate team sport. My 15 years was the collaborative work of players, coaches and support staff. Having grown up in Crafton, just four miles from Heinz Field, this is very special to me. I am truly humbled.
"I was blessed to play a small role in the Steelers tradition. To be recognized with those in the Hall of Honor, it's humbling. It all starts at the top with the Rooney Family. To be recognized for making the contributions I did, along with the others who are part of the Hall of Honor, it really is humbling. Particularly when you grow up in Pittsburgh and know what the Steelers mean to the city. To me, as a little boy growing up watching the Steelers, this means a lot to me. It's special.
"When you talk about tradition, and organizations, the Steelers are one of the best in the NFL. The longevity of the ownership. As a kid growing up watching the likes of Franco Harris, Jack Lambert, Joe Greene and Chuck Noll. It was a steel town and Noll identified with that. As a kid you were proud to say you were from Pittsburgh. You can take people out of Pittsburgh but you will never take the Pittsburgh out of people."
Known for his fiery style, and of course the chin, Cowher brought energy and enthusiasm every time he was on the sidelines and was respected by those who played for him.
"Bill Cowher, he continually challenged me throughout my career," said Hall of Fame running back Jerome Bettis, a member of the Hall of Honor. "He is the guy that kept me going and always kept me motivated when things were up and down."
Nickel was one of the Steelers early legends. He was drafted in 1947 in the 17th round and played 11 seasons for the black and gold. The former tight end had 329 career receptions and was named a member of the Steelers 75th Anniversary All-Time Team.
Nickel, a three-time Pro Bowl selection, served in the Army during World War II. He passed away in 2007 at the age of 84.
Ward played 14 seasons for the Steelers, after being selected in the third round of the 1998 NFL Draft. He played on two Super Bowl teams and was the MVP of Super Bowl XL. He had 1,000 career receptions for 12,083 yards and 85 touchdowns. His versatility was always on display with his blocking ability a shining example of that.
Ward was an inspiration to many. Someone who did his job with a smile always on his face, whether he just caught a touchdown pass or was making a punishing block to help one of his running backs get a few more yards.
"Hines Ward was my mentor," said Santonio Holmes, who followed in Ward's footsteps when he earned MVP honors in Super Bowl XLIII. "He was the leader of our organization when I played with him. He took me under his wing, showed me how to be a professional, what things to look for on and off the field, how to carry myself, also in the locker room, how to be a good teammate."
The 2019 Steelers Hall of Honor Induction ceremony will be held on Sunday, September 29, in the PNC Champions Club at Heinz Field, the weekend the Steelers host the Cincinnati Bengals. Members of the Hall of Honor class will be presented with a steel football, a replica of one presented to Art Rooney Sr. by the U.S. Steel Corporation at the team's 50th Season celebration.
For information on the 2019 Steelers Hall of Honor induction ceremony, which benefits the Chuck Noll Foundation for Brain Injury Research, please click on Hall of Honor.