Over the past month, the fields at Saint Vincent College have been filled with Steelers players practicing and getting ready for the 2023 NFL season. Players, who as kids, dreamt about the opportunity to play professional football.
But they aren't the only football players who were lucky enough to grace those fields during training camp.
Youth football teams from the Western Pennsylvania area were also enjoying their time on the fields, taking part in the game they love and now have dreams of one day playing on the professional level.
On a daily basis, multiple teams took part in a daily skills clinic, then forming a tunnel to welcome the players to the field as they head to practice and taking in the practice session.
It's all part of the Steelers Youth Football Program, a program that encompasses boys and girls of all skill sets from youth football through high school and continues to grow on a yearly basis, with teaching and safety main components.
"There are so many awesome lessons to be learned involving youth football," said Steelers Coach Mike Tomlin, whose own sons, Dino and Mason, played youth football and are now playing at the collegiate level. "Yet it's the life things that we talk about in general. There are also some very technical things, and the earlier they learn them, the better for their safety. It is important that we work to keep the kids safe, and a component of that is teaching them the proper technique.
"You can address something really technical, and the kids will have a good time, particularly if it's challenging to do. They just want to be challenged. You can find ways to make that component of it fun for sure."
When the program was introduced, high school football was one of the main outlets for those wanting to play. Yes, there were always youth football organizations, but the Steelers wanted to take it to another level, starting with a focus on coaching education, safety and skills.
"It's exciting, because when I first started high school football was king, and it still is, but there was a piece in youth football that was missing," said Mike Marchinsky, the Steelers senior managing for marketing events. "Coaching education had to take place and we had to talk about proper training and making sure kids were tackling correctly. We put a lot of our effort and time into educating coaches and really getting in front of youth players to make sure they're doing it the right way.
"And we didn't leave high school behind. We started the High School Coach of the Week and we still had different things like that. In the last two years we made a more concerted effort for our High School Showcase Game of the Week. We added Steely McBeam to it. We've added t-shirt giveaways, we added some other things to be in their space a little bit. We did the All-Peer Team, which again is honoring a kid that's goes above and beyond, is a pure leader for their team, their school and their community. We want to be more active there because those are the next players. We've got a couple more years for those eight-year-olds to get to us, but we really made an effort to get in front of high schools and we've actually started working with Prospect Media a little bit and Dream Shots Media, some folks that are really dialed into the high school kids to get those eyes on some of our events, like 11-On. We're just finding different ways to get to that audience and have some fun."
Having fun and doing it the right way is what it's all about. That was the case for many Steelers players when they first started playing football, something that kept them in the game until now.
"I had a lot of fun playing," said linebacker Alex Highsmith, who played for the Coastal Panthers in Wilmington, North Carolina growing up and now hosts his own football camp in his hometown. "It was important to play as a kid, learning about the game. I watched a lot of football growing up. Playing it, learning how to play right, helped me out. When I got to middle school and high school where you actually played tackle, I understood it more. I knew the ins and outs of the game. It's important for kids to get the knowledge of the game at a young age.
"Being coached well is so important at a young age. You want to be taught how to tackle well. Being coached right and player safety is huge for young kids."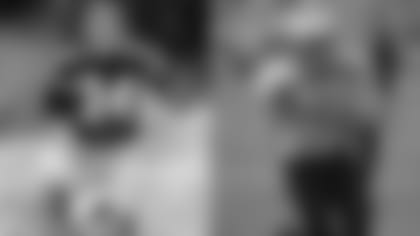 Fellow linebacker Markus Golden started playing when he was six years old at Matthew-Dicky Boys & Girls Club in St. Louis, Missouri, following in the footsteps of his brothers and other family members who had a love for the game.
"My whole family always had a passion for football," said Golden. "My uncles coached me when I was young. My love for the game, wanting to have fun and being like my brothers when I was growing up, is what got me started. I was able to get great coaching from my uncles, but they always made it fun. Learning the important techniques and how to play the game the right way."
Golden's eight-year-old son, Markus Jr., is now playing flag football, and his dad is happy he is starting at that level as he grows his passion for the game.
"I would rather him play flag football right now, learn the skills, learn how to move around and just have fun with it," said Golden. "It's fun. I want to make sure he is ready.
"My son has been playing since he was four. He is moving around, moving fast. It helps them with movements, techniques and smarts of the game.
"I love watching him. He loves it himself. I try to not push him towards it. I want him to grow up doing what he wants to do. But he loves it."
This was the first year long snapper Christian Kuntz hosted a youth football camp, but he is no stranger to being a part of the Steelers Youth Football program. Kuntz worked the team's youth camps this year and also was a regular at the high school game of the week, helping to energize the crowd and spread the love of the game. And for him, that love started with youth football.
"I played in the fifth grade at Our Lady of Grace for the South Hills Saints," said Kuntz. "It was a learning experience. I got to play with my older brother and that was cool. Learning the techniques and everything about the game at that age is the most important thing. It's important with all of the rule changes going on that these kids learn the proper way to tackle, to use their hands and tackle with their head up. That will keep football relevant forever the safer the game is."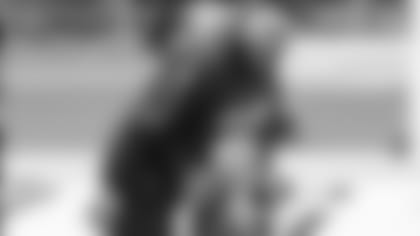 One aspect of youth football the Steelers have gotten more involved with over the past few years is Girls Flag Football. The sport is growing in popularity nationwide, and the Steelers are helping to grow it in Western Pennsylvania.
The Steelers have put their support behind Girls Flag Football League in Pittsburgh, hosting events for them throughout the year and working with them all season. In 2023, there were 17 schools and 22 teams participating, up from six in 2022, with some of the schools having multiple teams because of the popularity.
"Girls flag football has exploded," said Marchinsky. "We tripled the number of teams in the second year, and we had Pittsburgh Flag Football help us manage all the games. For it to keep moving forward, we're going to need more of a buy in from the school districts and other people to have a committee and a scheduling system and all that kind of stuff. The Pennsylvania Interscholastic Athletic Association (PIAA) just voted unanimously that it's an emerging sport, meaning there were a significant number of teams playing in the state."
The goal is to get the sport sanctioned in Pennsylvania, something the Steelers and Philadelphia Eagles are working closely together on.
"We just have to get to 100 and then it'll turn into a sanctioned sport. We're closer than people think to for it to be a sanctioned sport, which is awesome," said Marchinsky, who indicated the state overall is around the 60-70 percent mark. "Once the girls play and watch the schools, see the other girls play, then the buy in is extreme. There's some hesitation to get it launched I think because there's some fear of finding a coach. They wonder can we get enough girls. A lot of schools have powder puff games where it's 11-on-11 flag football. This is five-on-five. When they realize they only need seven to nine girls to have a team that helps. It's just about taking the time to educate the athletic directors and getting the information out there."
While the Philadelphia and Pittsburgh markets are being tapped into for schools, Marchinsky believes the reach is going to begin to extend further in the PIAA.
"We haven't even gone outside of our own immediate areas," said Marchinsky. "We haven't gone into Central Pennsylvania. We haven't gone up North to Erie. The more that we expand, the quicker it'll happen.
"It's exciting, and there is also the mindset of what is next. What do we have to do next to get it where there's a buy in everywhere. Even if it's a sanctioned sport, not every single high school in Pennsylvania is going to offer it. They still have to opt in like girls wrestling went through the same thing. Not every high school has girls wrestling, but it's a sanctioned sport. We're following a similar path as wrestling."
The excitement the girls have playing the game is something that warms the hearts of everyone involved with the program, which is getting support from all around. Nike has jumped on board, providing a $100,000 grant to all 50 states, something that is used for equipment and uniforms.
"What I see is the excitement that that they can do it, and the love for the competition," said Marchinsky. "If you go to a girls' soccer match or a girls basketball game, it looks like something they've been doing for a long time. It comes second nature and they're not surprised by some of the things that they do. I think especially when we hold the tournament at the end of the season, when girls are scoring touchdowns or they're making a big play, the level of excitement just seems that much more than a normal high school girl hitting a three pointer. It's an oh my gosh moment for me because it's almost like they can see themselves as a T.J. Watt making a stop or Kenny Pickett making that big throw. It's the level of excitement that they couldn't believe they could do it, but they're excited that they did it. It's a really unique celebration."
One of the first programs the Steelers launched for kids was the Steelers Youth Football Camps, now hosting them yearly in the north, south, east and west areas of Western Pennsylvania. The camps have grown in popularity over the years, as well as growing in the way player safety is approached.
"The camps are probably one of my favorite parts of the year," said Marchinsky. "Youth football camps are probably one of the best parts of what we do. We had 800 kids from 21 states this year. We had a waiting list of over 350 kids that we couldn't get into our camps because we were full. And it was our 15th anniversary. We launched the camps in 2009. This year was down again. We created it to go north, south, east and west of Pittsburgh so we can pull kids from everywhere. If we come out to Saint Vincent College, we were hoping to get kids from Latrobe and Greensburg and up north at Slippery Rock, from Grove City and Erie. Never did we ever imagine there would be kids from Anchorage, Alaska and Honolulu, Hawaii, as well as Texas, California and more. And people make a vacation of it. They get a kick out of being on the same field as the Steelers when we have it at training camp at Saint Vincent College.
"I'd be naïve to not highlight the reason they come is the quality coaching that they get from all of our high school coaches that are there and the impact that our current and former Steelers make when they're there taking part. They're not just there to sign autographs. They're not just there for a face. They're in the drills. They're having fun. They're encouraging the kids. And to see the faces of those kids when they work with Chris Boswell, or they catch a pass from Charlie Batch, it is unbelievable."
Batch attended all of the camps in 2023 and has been a regular throughout the years helping with the program, understanding the importance of growing the next level of players.
"When you have that type of camp, the kids are eager to learn," said Batch. "You want to teach them everything that we know, but at the same time giving them something tangible to be able to take back to their teams that can help them number one, personally with their individual goals and obviously team goals. We're just trying to make sure that they leave out better than they came in. And have fun at the same time."