Training Camp Blog: Following the Steelers during training camp at St. Vincent College Check here for camp updates from Teresa Varley 
Wednesday, August 19
Champs visit champs
It was a hockey day at Steelers training camp on Wednesday when some of the Stanley Cup Champions stopped by for a visit.
Pittsburgh Penguins coach Dan Bylsma, along with team president David Morehouse, assistant coach Mike Yeo and others from the organization, were at camp as guests of director of football operations Kevin Colbert.
The group got a tour of the facilities at St. Vincent College, including the locker room where they met safety Troy Polamalu and linebacker James Harrison. They also had the opportunity to visit with linebacker James Farrior, who was a regular at Mellon Arena during the Stanley Cup playoffs, and talked about his Super Bowl ring and the still to come Stanley Cup champions ring.
 
"It's a chance for us to come and not only be fans of them like they are of us but also to come and see things and learn something from them," said Bylsma, who was sporting a t-shirt honoring both teams championships. "I think it's an unbelievable thing not only for the Steelers, the Penguins but the city to have the City of Champions back, the experience we have watching them play."

Bylsma is a native of Michigan, but is no stranger to the support the Steelers receive around the country and counts himself as one of the team's fans.
 
"I think in terms of the Steelers everyone in the United States was either a Cowboys fan or a Steelers fan back in their heyday, and I was on the Steelers side I can honestly say," said Bylsma. "One of my best friends was a season-ticket holder in college so kind of through osmosis and the lean years in Detroit I was aware of what the Steelers were always doing so I would be wearing the black and gold."
While the visit was about watching practice and having fun, it also gave Bylsma and the others to see how the Steelers organization operates and get a feel for how they are handling camp coming off a world championship.
"We're fans first and foremost, but I think the opportunity to come here and watch how they're doing things, how they approach training camp and even hopefully get a chance to chat about how they're dealing with a season after a championship and their mentality going into camp, something we would like to try and learn from," he said.
Bylsma watched film with Colbert and then met with head coach Mike Tomlin, before heading down to practice.
"Each coach in each different sport brings something different to the table," said Bylsma. "It's different from what our approach is and to see how coach Tomlin and the Steelers do it. You kind of look for ways where it does translate over, getting your players the work level, the habit level they need to have to build that foundation and also the mentality and focus of the player and keeping that fresh after a championship season. I'm looking for those ways and hopefully I come up with some answers today."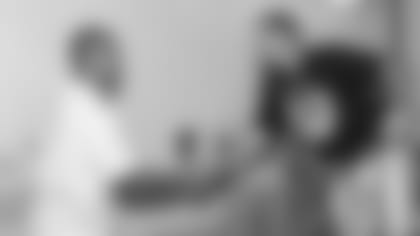 Tuesday, August 18

Bringing back memories
Former Steelers guard Sam Davis, who played for the team from 1967-79, stopped by practice on Tuesday to check out the team.
 
Davis was impressed with the field conditions and accommodations at St. Vincent College, which were much different than what existed when he played.
 
"It's good to see what all you miss," said Davis. "We didn't have it this good when I was here. We definitely didn't have it this good. Our field was never this good. We always had it muddy out here."

Davis said that the visit brought back some good memories for him.

"You can't forget about those days," said Davis of playing in the 1970s. "Without those days they wouldn't be where they are now. The best part about those days was Chuck Noll. He changed it. If it wasn't for him we wouldn't have gotten to where we are. He loved the game. He loved his players. He was an excellent coach, the best coach."

Ben's arm is fine
A hot topic in camp this year has been Ben Roethlisberger's arm after he said he needed to get it back after the first few days of camp. Since then he has had no issues, but the questions have kept coming.
 
And Roethlisberger let everyone know he is just fine on Tuesday.

"You guys made such a big deal about my arm being sore, hopefully you will start writing that my arm's looking better," said Roethlisberger. "It feels good. Today, the red zone period, seven on seven, we completed every pass. I think we completed all but one in the team red zone, so it's really starting to come along. It just took about a week; that's kind of what we anticipated."

Skies cleared
A few downpours came through the campus of St. Vincent College on Tuesday afternoon, but the skies cleared and the sun was out for the afternoon practice.
"The weather cooperated with us this afternoon and we were able to get our work in," said Coach Mike Tomlin. "I thought it was a good day of work."

Among those taking in the afternoon practice on Tuesday was Pittsburgh Mayor Luke Ravenstahl. 


 
Monday, August 17
Timmons on track
Linebacker Lawrence Timmons made it through his first game as a member of the starting defense, but is looking for more from himself and everyone when the Steelers take on the Washington Redskins on Saturday night.
 
"Guys are getting more comfortable now," said Timmons. "In the (Cardinals) game we did some things a little shaky, but we are learning. We are here to learn and get better and progress toward the season. If we go out here and practice like we are supposed to and go out there with the right mindset, anything is possible.
 
"You always have to work to get better every day. That's the way we take things. I have been working to get better and think I am doing fine."
 
Timmons is no different than any of his teammates wanting to break training camp this week, but he still likes that atmosphere at St. Vincent College.
 
"I like Latrobe. It takes us away," said Timmons. "We are in our own little world. That is the good thing about camp."

Taking steps

Second-year linebacker Bruce Davis knows it's just baby steps, but was encouraged by what he was able to accomplish against the Cardinals in the preseason opener. But, he still knows he has a ways to go and is working daily to make sure he has a spot on the roster.
 
"I still have to make the team," said Davis. "My draft status doesn't matter. It's a new start. I still have to make the team and get my seat on the bus.
 
"Year two it's a lot easier. I am not thinking as much. It makes the game slow down. But there are still things I have to learn. It's a work in progress."
 
One area where he wants to make immediate progress is his conditioning, but he knows it can be solved.
 
"It's evident I got tired there at the end of the game," said Davis. "That is easily fixed, extra conditioning during the week. I didn't get a chance to make plays in the run game because they weren't running when I got in there. I need to work on my rush and stance when I am tired. It's things that are easily fixed."

Leap frog
 
There were plenty of laughs during morning practice when wide receiver Limas Sweed picked up his helmet and found a frog in it.
 
"It was the kickers," said Hines Ward of who the guilty party was. "They don't have anything to do. They put the frog in his helmet. It was pretty hilarious.  I don't know where they found a frog, but they did. All of the guys got a laugh out of it. You need stuff like that. Camp gets tiring and draining and any time you can provide a laugh like that it helps."
 
Ward said his only disappointment was Sweed found the frog before putting the helmet on.

"Everyone likes to mess with Sweed. If you want to pull a prank, play it on Limas Sweed," said Ward. "It was funny. I was hoping he would put the helmet on with the frog in it, but he saw it before he put it on his head."


 
Sunday, August 16Ready for camp to endThe Steelers break training camp on Friday before travelling to Washington to play the Redskins and there is no doubt the players are getting anxious.

"It's coming soon so we are excited," said quarterback Ben Roethlisberger.

Roethlisberger said he uses training camp to keep on learning, something that you should never stop doing in the NFL.
 
"I am always trying to get better," he said. "For me it's learning the offense and learning defenses and what plays work with certain defenses and making sure I don't make mental mistakes."
 
And with his arm back to the strength he wants it, Roethlisberger is focus on other areas as camp winds down.
 
"I am now working on getting my footwork going, working on quick feet and getting away from center," he said. "I am working on getting back there so I can get the ball away on time."
One thing that Roethlisberger has noticed about this camp is how Coach Mike Tomlin is taking care of the veterans, giving guys days off to make sure they are fresh and healthy for the regular season.

"He is taking care of the guys, knowing he has to help our legs and bodies and have us stay healthy," said Roethlisberger. "I think the guys appreciate it. It's good. A lot of guys now their back tightens up, legs get sore. It's good to start resting up now for the start of the season."
 
While camp is all about work, there is also some down time, which included Roethlisberger taking the offensive line to ride go-carts on Saturday night and playing plenty of video games.

"It's fun to be around the guys," he said. "At night when you are playing Wii against each other or X-Box or just hanging out and goofing around, that is fun and it builds up some good camaraderie."
 
On guard
 
Guard Darnell Stapleton underwent arthroscopic surgery two weeks ago on his knee to have some 'loose bodies" removed, but is hoping to be back on the field soon.
 
"There is no doubt in my mind I will be back out there playing," said Stapleton. "I am trying to get back as soon as possible."
Stapleton has missed most of training camp because of the knee and is anxious to get back in the mix of things. He is going to have the knee re-evaluated this week before being able to move forward in his rehabilitation.

"It's frustrating," said Stapleton. "We had a great season last year. You want to be in camp with your guys and be able to build as a unit. Stuff happens some times and you have to fight through it. Hopefully I will be back faster than people think.
  
Ladies take center stage
Sunday was the annual American Respiratory Alliance Women's Training Camp and more than 300 ladies were on hand to learn the finer points of football from Steelers alumni and current players.
Former players Delton Hall, Jeff Hartings and Louis Lipps, along with current Steelers Dan Sepulveda and Greg Warren, took the women through passing, receiving, blocking, punting, long snapping and defensive drills. Members of the Pittsburgh Passion, the areas women's team, also helped with the drills.
 
"They have energy. There is a lot of energy out here," said Hall. "I like that. They might not know the plays and how to get in position, but that is why they are out here. To see them try and learn the plays is part of the fun."
The ladies did not let the scorching sun or humidity bother them, running around on the same fields that the team practiced on later in the day.

"We love it. We look forward to it every year," said Charlotte Drury from Jeannette, Pennsylvania. "We get together and come to camp every year. We love doing the drills. The alumni are wonderful. They spend so much time with us and show us the ins and outs. We go home and let our husbands and boyfriends know we know more about football than they do."

Hartings took advantage of the opportunity to teach the ladies about what the offensive linemen do, something that isn't as easily noticed on television.
 
"It's not something easy to understand," said Hartings. "I want them to understand what players go through in camp and understand when they watch football better."
 
"It's absolutely amazing. They love the Steelers, they love football. There are some pretty good players out here. I think the Pittsburgh Passion might be able to recruit some of them. Their excitement level with how hot it is, it says a lot about the Steelers, the organization and the fans."

Click here for photos from the day.
Saturday, August 15Black and gold wedding
Jennifer and Michael Detore decided they wanted some unique memories from their wedding day, so after tying the knot at St. Bartholomew's Church on Saturday the diehard Steelers fans decided to stop by training camp to have some photos taken. The bride and groom, who were toting Terrible Towels, were joined by their best man and maid of honor, who were dressed in black and gold of course.
"We wanted to have our pictures taken and support our team at the same time," said the new Mrs. Detore. "We are just happy to be here. We appreciate the hospitality. We couldn't find a better place to be. This is our life every Sunday. We share it watching the Steelers. Our family is more excited than we are that we came here.
"It's been pretty neat. I got to try on a Super Bowl ring. It had more bling (than the wedding ring).


A different view
Tackle Jason Capizzi gets to see an entire different side of training camp now that he is a player. As a kid growing up in the Pittsburgh area Capizzi used to attend training camp as a fan.
 
"I used to be one of those people that would come up," said Capizzi. "I was one of those people that used to come up and sneak on for the morning practice. They would try to chase me off. I would hide behind a tree and they would tell me to go. It's cool to see it from the other perspective."
Capizzi shared some of his thoughts on camp, including his take on the cafeteria food and rookies singing.
On the food:
 
"The food hasn't been bad, but I am a fussy eater. I eat when I am hungry. If I am forced to schedule my eating habits, you are going to get tired of eating. That is why guys lose weight. You have to force yourself to eat and put good stuff in your body. I have to eat. I have high metabolism. I have to eat. If I don't I will wither away to nothing…I know that is hard to believe.
 
"The sweets table is the devil. They had little banana cream pies the other day and I said how much I liked them and they made me a whole banana cream pie to take back to the dorm. It's sitting in my room, the empty tray, collecting ants. I eat pasta, rice, vegetables and my shake at the end. The shake has strawberry, banana, frozen vanilla yogurt, protein and milk. But don't leave the empty cup on the floor of your room because the ants like it. We have a bug bomb in our room right now so I can't go back in there for three hours. It's not the cleanest place."

"No one has done as good as I did my rookie year. I had Hamp (Casey Hampton) in tears my rookie year. I sang a song by Shai, If I Ever Fall in Love. Matt Spaeth didn't want to sing, so he was my backup vocalist. Everyone was capping and singing along. I heard Ziggy Hood was the worst. If you are the first round draft pick you have to bring something to the table."
 
Making the adjustment

One advantage that first-round draft pick Ziggy Hood has in making his adjustment to the NFL is that things don't have to happen overnight for him. The Steelers have Brett Keisel and Aaron Smith at defensive end, allowing Hood time to learn and adjust.
 
"Everyone tells me to stay calm because it won't all come right away, it takes time," said Hood. "It's my first year and I want to show that they made the right choice, but I am still young and have time to grow. They don't need me to step in right away. Learning is the biggest thing I have to do right now."
 
Hood is looking to one day unseat one of those guys as a starter, and despite that both have been more than helpful
 
"I was always told this is more a family-type of team where if I need help I can go pretty much to anybody and, any aid I'm seeking, I can go over to a vet and he'll help me out because it isn't a selfish team," said Hood. "You can't have six Super Bowls without being unselfish. That's how great they are."
Tuesday, August 11Casey comes to camp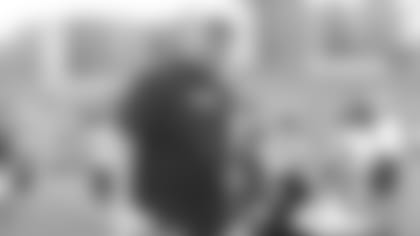 Former major league baseball player Sean Casey, who retired in January after playing 12 seasons, was at camp on Tuesday with his two sons Andrew and Jacob to watch the Steelers practice.

Casey moved to the Pittsburgh area at a young age and has been a Steelers fan ever since.
"I moved here when I was five years old and probably when I was five years and one day living in Pittsburgh I became a fan," said Casey. "My neighbors had season tickets and would take me to a game every year. We would go to church in the morning, then to the deli and come home and watch Steelers game. Everything was about the Steelers. I am a huge Steelers fan."
 
Casey started his career with the Cleveland Indians in 1997 and then played for the Cincinnati Reds from 1998—2005. He played for the Pirates (2006) and Detroit Tigers (2006-07) before finishing his career with the Boston Red Sox (2008).

"Last year when I was playing in Boston people would ask who I root for and I would say I am a Steelers fan," said Casey. "But people always compare the Red Sox Nation to the Steeler Nation and the Steeler Nation to the Red Sox nation. Those are the only two you can compare."
 
This was Casey's first trip ever to training camp, as he never made the trek as a kid and playing baseball has prevented it as of late, so he was happy to be able to bring his boys along.
 
"It's cool for them," said the personable Casey. "My first players I liked were Terry Bradshaw, Franco Harris, Lynn Swann and Mean Joe Greene. As it went on I liked Louie Lipps. We named our cat Louie. Anybody who has been a Steeler we have been fans of. Hines Ward is one of our favorites now.  Jacob loves Hines, Santonio (Holmes), Ben (Roethlisberger)…all of these guys. They are fun to watch.

"I am breeding them to be the next level of Casey Steelers fan."
 
Casey is currently working as a studio analyst for MLB Network and is back living in the Pittsburgh area.
 
"This is home for me," said Casey. "I lived in Florida and it never felt like home. One thing about the Steelers that makes them so awesome is the fans. When you come back to Pittsburgh you realize there are great people here, hard-working, blue collar people. That's why we came back here."
A visit from Hollywood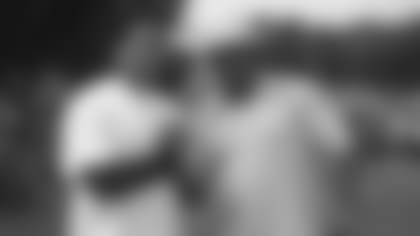 Actor Ving Rhames was also at practice on Tuesday as he is in town for the premiere of "The Bridge to Nowhere," produced by Mike Dolan and shot by Blair Underwood in Pittsburgh. Rhames is also promoting his upcoming move, "The Goods" which hits theaters on August 14.
Rhames is a football fan, but admitted that the Steelers are not his team.  
 
"I am a New York Giants fan," said Rhames, who is from New York. "You guys won the Super Bowl, but I can say my team beat the Super Bowl team. I do have to say, though, your receivers as a little better than ours now, with Hines Ward and all. Yours are better than ours. I am grateful to be out here. Life is good. "
Rhames had the chance before practice to talk to coach Mike Tomlin, as well as Troy Polamalu, LaMarr Woodley and James Harrison.
Stormy weather
 
Practice was cut short by a few minutes on Tuesday when thunderstorms moved into Latrobe. The players cleared the field before the storm hit and it was a good thing as it came in with a fury. Players were headed into the cafeteria afterwards trying everything to stay dry – from towels over their heads to rain ponchos.
Back on campus

Former Steelers cornerback Mel Blount was at practice on Tuesday morning with the football team from the Linsly School in Wheeling, West Virginia where his sons play on the team.  
 
"I thought it was great," said Blount. "Players came over and met them and spoke to them. It meant a lot to them. It was special. I think there is always wisdom you can share with the kids."
For Blount, who spent part of the weekend at the Hall of Fame inductions seeing Rod Woodson, it was the first time he has been back at St. Vincent College since he was a player.
 
"I have not been back up here in 26 years," said Blount. "To see all of the changes and what has happened, all of the buildings - It's different. These guys don't realize how good they have it. They have air-conditioning, flat screen televisions. It's pretty special."

 
 
Monday, August 10

Pitt is it
 
There have been a lot of familiar faces at Steelers training camp this summer and on Monday there were a few more as University of Pittsburgh Head basketball coach Jamie Dixon and Athletic Director Steve Peterson were both at practice.
 
"This is my first time at camp," said Dixon. "Normally we are recruiting at the end of July so it doesn't work out and then I have one week of vacation. I am not taking vacation this year so I came out here instead. It works out well.
 
"It's great. I know a lot of the coaches, the players and administration. I have said since I have been here that I like to look at teams that are successful. The Steelers and how they interact with the community and their attachment with the fans you can only learn from that."
Steelers' players and coaches are regulars at Pitt basketball games throughout the year and were happy to see Dixon at practice.
 
"As soon as I walked down here Jeff Reed came up to me," said Dixon. "It's great. We want to be a part of the community. Their players are a part of the community. Anybody that wins like they do you can learn a lot of things from them."

ESPN crew on hand

ESPN's Chris Mortensen, Ron Jaworski and Jon Gruden were also at practice on Monday. ESPN is televising the Steelers-Cardinals game on Thursday night. Mortensen was only in town for the day as a part of his bus tour of 21 training camp sites in 24 days.

Finding his way
Just signed center Alex Stepanovich made his debut at practice on Monday. Stepanovich worked out for the Steelers last Friday before being signed on Monday.
Earlier in the afternoon he was asked if he will be ready to play in Thursday night's preseason opener against the Arizona Cardinals at Heinz Field.
 
"I don't know," said Stepanovich. "I'm just trying to find lunch. I'm just glad I found breakfast and lunch already."
Coaching clinic

The Steelers cancelled their morning practice on Monday, but the group that attended the team's Youth Coaches Day in the morning still learned plenty. The coaches heard from director of football operations Kevin Colbert, head coach Mike Tomlin, assistant head coach/defensive line coach John Mitchell and tight end Heath Miller. Each one offered their own unique story and outlook on youth football.

Well traveled fan
Doug Atchinson was among those visiting training camp as a part of the Steelers Fan Club and the LaGrange, Kentucky resident enjoyed every minute of it. It's just one of the many trips that he makes to follow the Steelers.
Atchinson plans on seeing the Steelers play in Chicago this year, and when that happens he will have visited every NFL city to see the Steelers play.
 
"I went to my first game in 1999," said Atchinson. "I told my wife I am going to see them playing every opposing team. I went to 10 games in 2002. I have been to every NFL city to see them play. With all of the travelling I do for work, I got frequent flyer miles so that has helped. It has been an adventure.
 
"Each one of the trips was unique. Green Bay was great because there was such a reverence during the National Anthem. Oakland was a zoo. I have taken family members and co-workers. It's been a journey."

 
Sunday, August 9

Making a splash
Rookie running back Isaac Redman caught the attention of everyone at camp on Sunday when he scored twice during the much anticipated goal-line drill.
Redman scored the first time when he found a hole and just took it in and then powered over fellow free agent rookie, linebacker Andrew Schantz.
 
"I was just trying to find a crease and go with it," said Redman. "I just try to make the best of any opportunity they give me. I get about one run a day, when I get it I just have to go. You have to put your head down and get it. It feels good. There was a lot of anger built up in that run. It was good to get a carry and show what I can do."
Redman said he was itching to get in to the drill when he saw the offense stopped on the first three plays of the drill.
"The defense kind of handed it to us," said Redman. "It felt good to punch one in on them."

Redman, who is in a competition at a position loaded with talent, said he is feeling comfortable in the offense and hopes that his ability as a short yardage back will help him.
 
"I am feeling pretty good. I am getting the plays down pat now," said Redman. "As long as I am working hard, the more I can do special teams wise, the better.
 
"I am a pretty good short yardage back. I hope they saw that today. You have to find the hole and go. You have to see the crease and go. If guys get under you, you don't have a chance. You run to your pad level, get a crease and go."
 
Family affair
 
The annual family day was held at training camp on Sunday, a day when players get the chance to see their wives and kids and spend some time together. Coach Mike Tomlin, whose sons Mason and Dino have spent the last few days at camp, gave the players the evening off so they could have some extra time together.
 
Rings and things
While most of his teammates have had the chance to show off their rings to friends and family, safety Troy Polamalu has yet to receive his Super Bowl ring.
 
Polamalu was not in Pittsburgh for OTAs, so he missed the ring ceremony.
 
"I saw the other guy's rings," said Polamalu. "The first ring I saw was Marvel Smith's when I saw it over the summer. It was impressive. It goes above and beyond any ring that has been created for a Super Bowl champion.
 
Honestly I don't know where it is at. It's kind of irrelevant at this moment. I will get it later on this season. We won the Super Bowl; I don't need anything to remind me of that."



Saturday, August 8Seeing double
Hines Ward has seen it all during training camp, but on Saturday even he was taken by surprise when a fan was watching practice in a complete Steelers uniform, wearing a Ward jersey.
 
"Ben (Roethlisberger) was calling my name, saying Hines I see you," said Ward. "And I looked up and there was a guy in full uniform, wearing my jersey. In 12 years of training camp that is a classic. I had to get a picture of him. For someone to do that, that was just unreal."
 
That fan was Gino Marotta from Ft. Lauderdale, Florida, who was making his first trip to training camp.

"I am such a big fan that last year I decided to go the whole nine yards and be my favorite player and wear the uniform each week," said Marotta. "I wore it to the Super Bowl last year."
 
Ward had Marotta brought onto the field after practice to pose for a picture with him.  
 
'Big E' learned a lot at camp
 
Former Steelers linebacker Earl Holmes, who is the inside linebackers coach at Florida A&M, was with the Steelers since the start of training camp as a coaching intern.

"I feel like it's home again. I'm happy to be here," said Holmes. "I am learning a lot as a coach now. I've been coaching since I retired. Just to be around here, a winning tradition, Super Bowl champs….everything's positive. I'm hoping all of this I can take back with me to Tallahassee and we can win us a championship."
Holmes soaked in as much as he could from the coaching staff, hoping it will help him as he continues his coaching career.
 
"I'm going to be totally honest and I'm not just saying it because I'm back in Pittsburgh. Coach (Dick) LeBeau, Coach (Keith) Butler, Coach (John) Mitchell coached me and everything they passed on to me—all this valuable knowledge I can pass it on to guys," said Holmes. "The passion they had in coaching I just try to give it to them. There's so much valuable information that I want to give it to the players I coach and see how well they can do with it. You don't get this everyday. Not too many people get to live their dream. To be able to live my dream and have a successful career. I just want to pass it on to the younger guys. Dreams do come true."
 
Holmes said it's a lot different being a coach than a player and he appreciates what the coaches did for him and he took a little bit from each of them in his coaching style.

"I took a little from Coach LeBeau, from Coach (Bill) Cowher and all those guys and kind of put my spin on it," said Holmes. "At the same time you have to know when to hold them, know when to fold them. Know when to get on a guy and know when to tell him hey next time you'll get him. It's like being a parent which I love. I love coaching because I've had great coaches in my life. And I know what they taught me and what changed me and I'm just trying to keep it going.   Just pass this knowledge around."

Friday, August 7
 
Picture perfect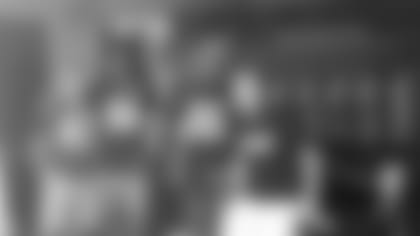 The most popular aspect of training camp the first week, other than practice itself, has been the Super Bowl Trophy display. All six of the Lombardi Trophies that the team has won have been on display where fans can step up and have their photo taken and it's been a huge hit.
 
"It's pretty overwhelming seeing them," said Jason Sagadraca, who was at camp along with his parents Dennis and Aleta and his brother Adam, (shown above) visiting from Virginia. "It's amazing seeing the six trophies on the table, knowing we are the only team in the NFL that has six. This is our first tracing camp experience so we couldn't be happier."
The trophies made their way over to Latrobe Memorial Stadium on Friday night where the packed house enjoyed the opportunity to have their photo taken with them as well.
 
Nice to meet you
When Ziggy Hood was drafted by the Steelers, the defensive linemen said he was looking forward to meeting Joe Greene, who is a scout for the team.
           
Hood didn't get a chance to meet him during the team's mini-camp or OTA's, but when he saw him at training camp he jumped at the opportunity.
           
"I met him, it was brief. I introduced myself to him on the field," said Hood. "That is a living legend right there. I didn't want to not introduce myself and regret it because he is that great.
           
"For a man to have done what he has done, it's amazing to meet him."
           
Hood hopes one day to have more time to spend talking with Greene and would love to pick his brain about the position.
           
"If I get a chance, I will take everything and turn it into something positive," said Hood.
    
Making the adjustment
 
Linebacker Lawrence Timmons is looking more comfortable as he is working his way into a starting inside linebacker spot, replacing Larry Foote. There are adjustments he has had to make, especially with knowing his assignments, where he has to be, when he has to be there, but he is picking things up just fine.
 
"He is going to be fine," said defensive end Brett Keisel. "They wouldn't have made the transition without thinking he can do the job. He is still young; he is still learning; he will be great. It's about knowing where to go, where to fit, not just running and making the plays. So far he is doing a good job. He is only in his third year. I was just a slappy special team's guy in my third year. He will be fine."

Thursday, August 6
 
Hoop it up
University of Kentucky head basketball coach John Calipari was at practice on Thursday, a guest of wide receivers coach Randy Fichtner, who he knows from his days at the University of Memphis.
 
Calipari is no stranger to the Pittsburgh area though. He was born in Moon Township, just outside of Pittsburgh, and was an assistant coach at the University of Pittsburgh from 1985-88.
 
"This is unbelievable to be here," said Calipari. "I love being back. I still have aunts and uncles here. It's great to come back and see the hills and smell the grass.

"I grew up a Steelers fan. I just had a function and had Terry Bradshaw there speaking and I was having him sign footballs and stuff. I have always been a fan. Now with Mike (Tomlin) here and Randy and I coached together at Memphis, and Mike was at Memphis for a year, it's great to visit. It's been fun. To be here has been a treat. I brought some Steelers fans from Lexington. They are everywhere."
Calipari said he loved the atmosphere at training camp and that he respects the Steelers organization and they way they go about their business.
 
"It's a championship organization from top to bottom that has one goal in mind, win championships," said Calipari. "They do it with good people, do it the right way, treat people right. That is what the Steelers have always stood for, why they sustain it.  That is what we want at Kentucky. We want to be the best of the best. Plus I get to Twitter this and take pictures and send that back."
 
Calipari was hired by Kentucky on April 1 and said it's been a hectic start.
 
"Mike asked how is it going. He said the first 90 days, they are crazy," said Calipari. "I hope we can build this kind of atmosphere. We have the kind of fans they have here."
 
Center of attention
Center Justin Hartwig continues to nurse a toe injury during camp and is anxious to get back on the field, but won't foolishly rush.
 
"I definitely have some more healing to do," said Hartwig. "I am waiting to make sure things are stable before I go out and push myself. I don't want to re-injure myself. Time is on my side. I need to be ready for September. Hopefully it won't be too much longer that I am sitting out. It's tough sitting here watching."  
 
 
Flags flying
NFL Officials are spending a few days at training camp and it gives the players a good chance to get a feel for how the game is being called, with the ability to interact with them.
 
"It's one of the things we look forward to," said quarterback Charlie Batch. "They go over the rules and tell us what to expect, what they are out here looking for."

Full house
Blue skies and comfortable temperatures made for a perfect day at training camp and most people agreed. The crowd was estimated at around 15,000 people, the biggest crowd of camp so far.

A new roll call
Things have been quiet on the field during stretching this training camp, but not likely for long.
 
The last few years cornerback Bryant McFadden led the defensive backs and other defensive players in their 'roll call.' But since he left via free agency, William Gay is finally feeling ready to step up and take over the role, which includes dancing with teammates cheering him on.
 
"That was a big task but I think I can come up with something," said Gay. "I have been asking people what I should do. Hopefully I can come up with something that will look good
"We are trying to get our swagger back. B-Mac was the one who did the roll call, starting up all of the dances. We are planning something for Friday night lights, for the night practice. We have to get back to it because the season is about to start. They have been telling me I have to do something. We have to do something."
 
Air time
 
WDVE Radio, the Steelers affiliate, was at training camp on Thursday, broadcasting their shows throughout the morning and afternoon with a slew of Steelers players. Also on hand was Sirius Radio, who also had a wide assortment of players on the air.