---
Wide receiver Antonio Brown hosted his first ever Harvest Huddle, combining a turkey giveaway with fun, interactive events for kids.
The evening kicked off with around 85 kids, selected through Big Brothers/Big Sisters of Greater Pittsburgh, along with one of their parents, being treated to a preholiday meal.
"It's always great to give back," said Brown. "I am in a good position and to be able to give back and show others what there is to be thankful for, this is a good opportunity.
"Any time you can make a difference and affect someone positively, gather them together and spend time with them and let them know there is plenty to be thankful for, it's special."
Among the fun activities were face painting, cake pop decorating and ice cream making courtesy of the Carnegie Science Center. Brown, along with Isaiah Green, Kashif Moore and Richard Gordon, also posed for pictures and signed autographs for the kids.
"I just want them to be encouraged, thankful for the position they are in and be motivated moving ahead," said Brown. "It was an opportunity for them to just enjoy being kids. I want to encourage them and motivate them. It's not just about material things, but there is so much to be thankful for and I just want to give them that insight."
Brown, who said he is most thankful for his family and his health, ended the evening by distributing turkeys and all of the makings for Thanksgiving dinner to the families.
"I am blessed to be in the position I am in and just want to do what I can to help others," said Brown. "I have so much to be thankful for."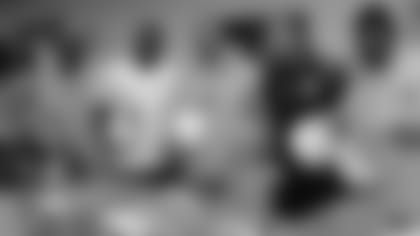 ---
---
It's often the strongest who come to the aid of the most vulnerable, and that was the case on Monday night when Steelers linebacker LaMarr Woodley hosted his 6th Annual Thanksgiving Giveaway.
Woodley, through the LaMarr Woodley Foundation, teamed with the Greater Pittsburgh Community Food Bank to help those from Pittsburgh's Hazelwood neighborhood, providing them all of the elements for Thanksgiving dinner without having to worry about it breaking their budgets. Some of the recipients were elderly on fixed incomes, while others were families struggling to put a complete meal on the table.
"It's just about giving back during the holidays, helping people save money here and there when they aren't in such a good situation," said Woodley. "If you can help them by giving them a few things for Thanksgiving and them save some money here and there. It's always important. You want to make sure everyone has the opportunity to have food on their table. I am blessed to be in the situation that I am in so I want others to be blessed as well."
Woodley and some of his teammates greeted everyone and handed out the food to some grateful recipients.
"Hopefully it helps set an example for kids," said Woodley. "They might see you doing something and when they get older and in a better situation they will do something to give back."
Woodley also gave back in his hometown of Saginaw, Michigan, donating 500 gift baskets with household supplies and basic needs to families. The gift baskets were distributed at the Saginaw High School gymnasium, and included items such as laundry and dish detergent, paper towels and napkins, trash bags and more.
"Saginaw is where I am from," said Woodley. "I wouldn't be here today in Pittsburgh if it wasn't for everything that happened there. I want to make sure I take care of both of my homes."