Pressley Harvin might not fit the mold.
And he is okay with that.
Because he is breaking the mold.
"I definitely hope that I am doing that," said Harvin. "I have always been striving to make changes, not just for myself, but people behind me. It's people that come after me, that looked up to me, that I am showing them the right way of doing things. I am changing things for the people behind me."
When most people think of an NFL punter, they have an image in mind. A lankier player who likely grew up playing soccer. And there is one other thing, most NFL punters are white.
Harvin is none of the above.
He is 6-0, 255 pounds, was on the track and field team, and became the first Black punter to win the Ray Guy Award, presented annually to the nation's top punter.
Yes, he is breaking the mold.
"I have always been more of an underdog in football," said Harvin. "Whenever I have to prove myself, I have always had that underdog mentality. The biggest underdog factor is I am a black punter, and you never see that much.
"Whenever I started kicking back in middle school, I always had that mentality that I am different and unique. I didn't want that to make people think I didn't earn what I have. Back in seventh grade we had open tryouts and I was playing offensive line. Coach said one day we need a punter and kicker, so we had open tryouts. Every guy had a tryout and when it was my turn, I kicked it and the ball went straight up in the air. Ever since that moment I knew it was something where I was the only one on the team that could do and do it pretty good. I started kicking in seventh and eighth grade but didn't get any training until freshman year in high school."
When he did get to high school at Sumter High School in South Carolina, he started hearing from people that he should play tight end or linebacker because of his size. That wasn't what he wanted, though. He wanted to continue as a punter and didn't back down.
"I had the mentality that I have to prove to people I can do this at a high level," said Harvin. "I took it really personal. I had my ups and downs. Just getting into high school, being on the football team, coaches try to lean you in a direction. That was a direction I didn't agree with. That was the one time I had to tell a coach no, I don't want to do that. Usually, a coach will put you in a right position. That was the first time I told a coach no, I want to do this, not that. He told me flat out I wouldn't be good at it. I thought this coach doesn't believe in what I can do, let me show him I can do this."
It was a frustrating time for Harvin, one that pushed him to the edge, but never over the edge.
"I wanted to quit when I was younger because it wasn't common, I didn't have a coach that was behind me," said Harvin. "It was always my family and God that encouraged me to chase my dreams. Me and my family have a mentality that we don't quit. I kept that I don't quit mentality."
And it all paid off. In 2020, Harvin led the nation and set a Georgia Tech and ACC record with a 49-yard punting average. He was a unanimous first-team All-American, becoming only the third Georgia Tech player to earn that accomplishment, and winning the Ray Guy Award en route.
"It's definitely a huge honor," said Harvin. "It's a lot of hard work and sacrifice. During my career, it hasn't always been pretty. When the punter goes on the field, we aren't always doing well. That is where I try to help out as much as possible.
"I am not the stereotype size and race for a punter, but I do it with my ability. Being the first African American punter to win the Ray Guy Award, it's not just about my name on that trophy, it's about all of the punters who were before me, Greg Coleman, Reggie Roby, guys who paved the way for me to be in the same profession.
"If you have guys who put their heart and mind to something, they can do it."
There is no doubt Harvin put his heart and mind to making it to the NFL, not something common for a player who comes from Alcolu, South Carolina, where there are less than 500 people.
"My hometown is tiny," said Harvin. "If you drive through it and blink, you might miss it. Growing up it was different. It was family. My whole neighborhood is family. I grew up in church and that community was helpful. I grew up where family came first."
It was his family he shared those dreams of making it to the NFL with, in particular in a note he sent to his mom when he was in middle school.
"I always had dreams of the NFL," said Harvin. "On draft day my mom sent me a screen shot of something I sent her from seventh or eighth grade about aspirations of playing in the NFL. I had a goal then. I just didn't have a route to get there. It's been a lot of hard work. I am appreciative of my parents and coaches that helped me get to where I am."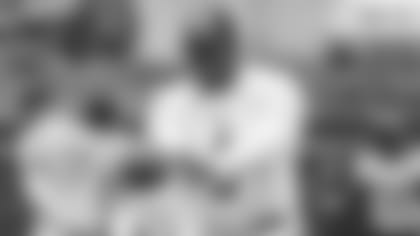 Harvin was the only punter selected in the 2021 NFL Draft, waiting until late in the seventh round to hear his name called, a wait he knew he would have to endure.
"Waiting is definitely a process. Punters normally go on the last day," said Harvin. "The first two days didn't include me, but it was good to see the looks, how proud families were. I was just waiting to have that moment with my family. Saturday was a little bit different. There weren't too many specialists that went. That was kind of unusual. But I have always been a patient guy. To be able to be patient, believe in myself, and believe others will believe in me, that paid off.
"When I got the call from the Steelers, and I wasn't really looking for that call at that moment because the draft was two picks behind. When I got the call, I was ecstatic, so was my family. The hard work paid off.
"Coach (Mike) Tomlin was the first person I spoke to. To have him believe in me and have him or anyone from the Steelers on the phone with me is a blessing."
It was almost a blessing he missed, though.
"Funny story. I was on the phone with the Falcons about a free agency deal the moment I got the call," said Harvin. "I didn't realize the Steelers were on the clock. When I got the call, the head coach of the Falcons was on the phone with me and I said, coach, I hate to cut you off, but I have to take this call. I missed switching over by about three seconds. The call coming from Pittsburgh hung up. I raced to call back.
"I thought it was about free agency stuff. I said hello, and the voice on the other end said I hope you weren't on the phone making free agency deals. I didn't know it was Coach Tomlin because I never spoke to him. I was like Coach, I am not going to lie to you, I am. He said, well you don't have to worry about that. This is Mike Tomlin from the Steelers and we are going to pick you here. I was like, what. I didn't realize the draft was that far behind. It was an ecstatic moment."
And one that the broke the mold.