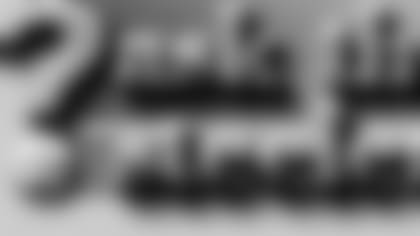 Steelers.com is now accepting questions for Ask The Steelers, a feature where fans get to email in questions for selected Steelers players and we take them to the players for their answers. The player(s) listed below are the only ones we are currently accepting questions for.
Only one question per person - please do not ask multiple questions in your email.
We will select the questions from all of those submitted. More players will featured throughout the next month.
To submit your question please please click on this link and send an email to:
steelersfeedback@yahoo.com –(Be sure to put Ask The Steelers - Lawrence Timmons   - on the subject line of your email)

Please include:
Your name - First and Last
City and State
You must be at least 18 years of age to submit a question.
Please send in questions only for the player(s) listed above.
LAWRENCE TIMMON BIO INFO:
PRO CAREER (16-0/1-0):Was the Steelers' first-round draft pick (15th overall) in the 2007 NFL Draft…played primarily on special teams and as a reserve linebacker as a rookie…played in all 16 regular-season games and the playoff game against Jacksonville.
2007 (16-0/1-0):Appeared in all 16 games and the playoff loss to Jacksonville as a reserve LB and special teams contributor…made NFL debut at Cleveland in Week 1…finished season with two tackles and two fumble recoveries…tied for second on team with 12 special teams tackles...9/9 at Cleveland:Saw most of his action on special teams where he got one tackle…also played the last Browns' possession at LB...9/16 vs. Buffalo:Saw action on special teams and logged three special teams tackles (two solo)...9/23 vs. San Francisco:Saw special teams only and registered two solo tackles...9/30 at Arizona:Saw his only action on special teams, but did not register a tackle...10/7 vs. Seattle:Saw his only action on special teams and logged one special teams tackle...10/21 at Denver:Only saw action on special teams but did not register a tackle…10/28 at Cincinnati:Saw his only action on special and did not record a tackle...11/5 vs. Baltimore:Saw extensive action on special teams and recovered his first career fumble on a fumble forced by James Harrison…saw action on the last two Ravens' possessions...11/11 vs. Cleveland:Saw his only action on special teams, but did not register a tackle...11/18 at N.Y. Jets:Saw action on special teams only and registered one solo tackle...11/26 vs. Miami:Saw extensive action on defense and special teams…recovered his first defensive fumble of the season…part of a defense that gave up only 159 total yards, including 49 rushing, 110 passing and only nine first downs...12/2 vs. Cincinnati:Saw his only action on special teams and finished the game with two tackles...12/9 at New England:Saw action on special teams but did not register a tackle...12/16 vs. Jacksonville:Played on special teams and managed one special teams tackle, while playing in his 14th consecutive game...12/20 at St. Louis:Saw action on special teams and finished with one special teams tackle...12/30 at Baltimore:Saw action in his 16th career game but did not register a tackle...AFC WILD CARD 1/5/08 vs. Jacksonville:Saw action in his first postseason game but did not register a tackle