For Steelers founder Art Rooney Sr., his passion was always his beloved Pittsburgh Steelers. He built a football legacy that continued with his son, Dan Rooney Sr., and now his grandson, Steelers President Art Rooney II
There is another legacy that Rooney, who was affectionately known as 'The Chief,' also built. It's a legacy of giving back to the community that has also transcended through the generations.
That legacy is felt daily by those at the Catholic Youth Association (CYA), a local organization 'The Chief' stepped in to help when he saw they were struggling financially back in the 1970s. He knew he needed to do whatever he could for one of his favorite charities, one that embodied the Catholic faith that was a major part of his life, ensuring that they would be able to continue with their mission.
It was from that passion that the Art Rooney Award Dinner was born, an annual event that benefits the CYA. It's an event that has embodied what he believed in, and one Art Rooney II still oversees, with his son Dan Rooney also an integral part of it as well.
The annual dinner was held on Tuesday night at Acrisure Stadium, bringing together Pittsburgh's leaders in business, education and sports to combine efforts to help the CYA serve the most vulnerable in the community…children and the elderly. The dinner honors those that have made a difference in the community and have a passion for Pittsburgh.
This year CYA celebrated the 50th Anniversary of the Art Rooney Award Dinner, and with that in mind the organization honored Art Rooney II, who received the Art Rooney Award, presented to an individual for their service to the region and caring for the community the way Art Rooney Sr. did. And with his grandfather winning the award the first year of the event, receiving it on the 50th Anniversary just seemed right.
"This is the 50th Anniversary of the dinner, and when you think about what happened since The Chief started this 50 years ago, it's amazing," said Mary Ann Heneroty, the CEO of CYA. "I met him later in his life, which was a blessing. But when I took over at CYA 20 years ago, Dan and Art Rooney II invited us to the practice facility to meet with them. I wasn't sure what they were going to talk to us about. Dan Rooney said, this is my dad's favorite charity, and we are going to support you. Art was right there with him. I was in awe.
"You heard about the Rooneys, but I never really knew them. But you have the tradition of it going through multiple generations. Art came to the dinner every year, supported us. We thought about honoring him before and everyone said Art doesn't like to take awards, he doesn't like to take credit for things. We thought this being the 50th Anniversary of something his grandfather started, who could be better than Art to honor. We had to cajole him a bit but were thrilled he accepted.
"Every year we go into this, and I say we are a non-profit community center. When we start this dinner, we are talking about captains of industry, celebrities and football players. And Art tells us thank you for doing this in honor of my grandfather, and it just takes my breath away. It shows the kind of humble person he is."
Among the work CYA does is for vulnerable seniors and kids, supporting programs such as Meals on Wheels, while providing a warm, loving environment. Heneroty knows without the dinner, without the support of the Rooney family, they wouldn't be able to continue the work in the manner they do.
"It's humbling," said Heneroty. "Here is a family that is so accomplished. To think about how they put together the football organization and all the things they do in the community. To think they have been willing to stick by us for 50 years, they send the message of loyalty, tradition, caring about the community and caring about us. We are humbled to be a part of that.
"It gives you the ability to carry on services without having to worry if there is funding or not. It gives us the ability to serve more people without having to hold back any services."
While Rooney is honored to receive the award, he doesn't look at it as something that is about him, but rather about everyone who has been a part of the Art Rooney Award Dinner and keeping it alive for 50 years.
"It's nice to have the honor, but I really look at it as a tribute to all of the people who kept this dinner going for 50 years now," said Rooney. "I have been to most of the dinners, haven't missed too many. I was there at the beginning, and I remember my grandfather and the group of people that came together to start the dinner. I am not sure if any of them thought we would be doing it for 50 years. It's great it's still going, and Mary Ann keeps it alive. It's an honor to be part of it and I am happy to see it happening for 50 years.
"There are a lot of good memories. Number one, my grandfather and the other people who worked with him to start it. And down through the years so many great people who received the awards. If you look at the list, it's a great group of people. I am honored to be a part of it."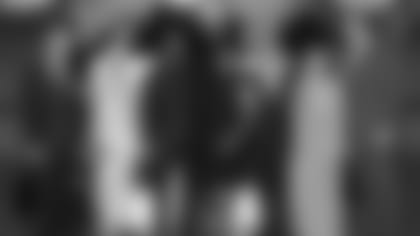 The event also honors others in the Pittsburgh community who have made a long-term impact or have recently stepped up to help the community in a major way.
One such person is McKees Rocks native and former University of Pittsburgh defensive back, Damar Hamlin. Hamlin, who plays for the Buffalo Bills, has a story of courage and perseverance after he suffered a cardiac arrest while playing against the Cincinnati Bengals on Monday Night Football last season. Hamlin made a miraculous comeback, returning to the field in the preseason and back at full strength after a frightening battle.
But it's his commitment to his community that tugged at the hearts of those at CYA, and he was honored as the recipient of the Bob Prince Award. The award is named after Prince, the late Pittsburgh Pirates radio announcer and honors someone who embodies his enthusiasm for Pittsburgh sports and the community.
Hamlin's 'The Chasing M's Foundation,' is dedicated to the development, health and safety of youth through sports, engagement activities, training and programing.
"Everyone knows the Damar story," said Heneroty. "It captured the news when he was hurt and the whole country was praying for him. For him to come out of this and do so many good things in his community, running his charity, his courage to come back and generosity, I think that is why we wanted to honor him and why Art selected him."
One of Hamlin's missions is to raise awareness for the need for safety equipment at sporting events and other locations, including AEDs, something Rooney appreciates and respects.
"It's great to see him healthy again and playing football," said Rooney. "It's also great to see the way he has taken this as an opportunity to make it bigger than him just playing football. His foundation, the attention he is calling to the need for safety equipment at football games and other places, it's great the way he, his family and foundation have handled that. I am proud he is a Pittsburgh kid."
While Hamlin was unable to attend the event because of the Bills' practice schedule, his parents, Mario and Nina Hamlin were on hand, and a video message from NFL Commissioner Roger Goodell was played during the event, congratulating Rooney, Hamlin and CYA.
"Congratulations on the 50th Anniversary of the Art Rooney Award Dinner," said Goodell. "The Catholic Youth Association was one of The Chief's favorite charities. Congratulations to them and all the incredible work they have done in the Pittsburgh community, as well as beyond. To the honorees, congratulations, and in particular to Art Rooney and Damar Hamlin.
"Art, we are so proud of the impact you have made in Pittsburgh, but also in the NFL. Thank you for your leadership and all that you have done for both the community and the NFL.
"And Damar, congratulations. You are extraordinary. Your strength and your inspiration is off the charts."
The evening also celebrated the work of KDKA Radio's Larry Richert, who has been a staple in Pittsburgh media for decades. Richert was the recipient of the Bill Burns Award, named after the late KDKA-TV news anchor and an award that stands for journalistic excellence.
"When I first got to KDKA 35 years ago, it was Bill Burns last year," said Richert. "It's amazing because I got to know him, his daughter Patti. They were very prominent in the news business. All these years later it's remarkable to get this award.
"I am usually more comfortable handing out awards than getting them. You don't really draw attention to yourself in this business. I am honored and humbled to receive it. And looking at the past list of winners, I am in pretty special company. I am at a loss for words to frame what it really means. It's pretty exciting, the 50th Anniversary too."
Richert is also the public address announcer at Acrisure Stadium for the Steelers, began narrating Steelers highlight films in 1985, and is a part of the University of Pittsburgh Football network broadcast team where he hosts the pre-game show and reports from the sidelines.
"For me, this brings a lot of what I do all together in one night," said Richert. "My relationship with the Steelers goes back 40 years to WTAE Radio. We were the rights holders to the broadcasts. I used to feed radio highlights to NFL Films. The 1985 season, I narrated my first highlight film for the Steelers, and I met The Chief. I was a young guy then. They told him I was the young guy who narrated the film. He asked where I was from, and I told him my dad was from the North Side. He immediately asked what church he went to and what school. I felt an immediate bond. Then I got to know Dan Rooney really well and felt privileged to know him. Then Art II, and now Dan, Art's son. I have known four generations of the Rooney family and I am really lucky to get to do the things I do.
"This is such a great honor for Art with the family history. And Damar Hamlin, with what I get to do with my work with Pitt, I watched every play he had in college. I have a connection to all the recipients. I feel we are all connected. We all want to find ways to help others, and that is what is great about Pittsburgh, is how we help others. That's the way it always has been with the Rooney family."
In addition, Karen Feinstein, the President and CEO of the Jewish Healthcare Foundation, won the Patricia R. Rooney Award, named after the late wife of Dan Rooney Sr. and presented annually to a woman who has provided exceptional service to the Pittsburgh community, and Helen Hanna Casey, the CEO of Howard Hanna Real Estate Services, won the John McGrady Award. In addition, many of the former award winners were on hand to help celebrate the 50th Anniversary of the dinner.