Steelers 41, Cleveland Browns 0
December 24, 2005
Cleveland Browns Stadium
A look back at a key win in the Steelers-Browns history.
Christmas comes early: With visions of sugar plums dancing in their heads, the Steelers got an early Christmas gift when they defeated the Browns easily, with a 41-0 shutout.
The win put the Steelers in a good spot for the postseason, with just one game remaining against the Detroit Lions at Heinz Field.
"We'll take some time, enjoy Christmas, come back and understand what we have in front of us," said Coach Bill Cowher. "We control our destiny. That's the only thing that counts."
It was the Steelers first shutout since they shutout the Browns, 22-0, on October 22, 2000. It was also a win that set them up to clinch the final playoff spot with a win the following week over the Lions.
"It's big, man," said Casey Hampton said. "It's a one-game season. We control our own destiny, you can't ask for anything else. That's what you play for."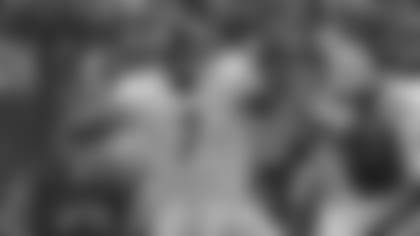 Early on: The Steelers came out of the gate like Rudolph the Red Nose Reindeer leading the way for Santa's sleigh, not letting anything get in their way. Jerome Bettis had a two-yard touchdown run, and Hines Ward pulled in a seven-yard touchdown pass from Ben Roethlisberger to put them up 14-0 before the Browns knew what hit them.
"This was one of those games where we clicked really well on offense," said Roethlisberger. "Our defense was out there having fun flying around. It was fun watching them."
Jeff Reed hit two second quarter field goals to send the Steelers into the locker room at halftime with a 20-0 lead.
Defense doesn't bend: The defense stuffed the Browns, allowing just 63 yards rushing, 183 yards passing, and sacking Charlie Frye eight times, Joey Porter accounting for three of them.
"It's real big," said James Harrison. "That's what you want to do as a defense, shut out a team."
Don't mess with Deebo: Harrison had the hit of the day, and it didn't even show up in the stats. A Browns fans ran out on the field during the game and toward Steelers running back Verron Haynes, who was in the backfield, and then toward the Steelers' sideline. Harrison saw it happening, and went into action. Harrison grabbed the fan and slammed him to the ground until security took over.
"When he first came out he took off after V (Verron)," said Harrison. "He started toward our sideline, he turned around and started backing up toward our sideline, so I don't know if the guy had anything on him or whatever. With his back to me, I thought I could take him down safely without risking injury to myself or my teammates and hold him there until the proper authorities came."
Speak up: Quincy Morgan, who played for the Browns from 2001-04, caught a 31-yard touchdown pass from Charlie Batch, which gave the Steelers the 41-0 lead. Morgan was thrilled to deliver against his former team.
"My Christmas is good now," said Morgan. "I don't need anything else for Christmas."