It's not often you find someone who makes the commitment to a charity that spans more than three decades, but it's also not often you come across two individuals like Tunch Ilkin and Craig Wolfley.
The two made a commitment to help the Light of Life Rescue Mission almost 35 years ago, during their playing days with the Steelers, and they are still holding on to that commitment, giving their time, energy and heart to help those the mission serves.
And their efforts haven't gone unnoticed.
On Sunday, Pittsburgh Mayor Bill Peduto and Allegheny County Executive Rich Fitzgerald proclaimed June 13, 2021 as 'Tunch and Wolf Day' in Allegheny County, honoring their years of service to the mission and the Pittsburgh community in a ceremony on the Great Lawn on North Shore Drive, with current and former Steelers and other dignitaries in attendance. The day coincided with the 19th Annual Tunch & Wolf's Walk for the Homeless for the mission, which was held virtually and with walkers doing their own 5K or 10K walk on Pittsburgh's North Shore on Sunday morning.
"We can't even put into words how grateful we are as an organization for the two of them," said Doug Smith, executive director of Light of Life Rescue Mission. "The challenge in today's world is how many players actually stick around a city for 35 years. I think what is special is, and Tunch always shares the story, is that he walked into Light of Life as a player. There are a lot of charities you can go to as a player, but he said once he walked through the doors of the mission, he has never been the same. That was almost 35 years ago, which is half of our existence at Light of Life.
"I can't tell you how many donors or volunteers who I have talked to and I asked them how they got involved or hear about us, and they say Tunch and Wolf. They have impacted the city, used their platform, led bible study. They have done it all. We are extremely grateful."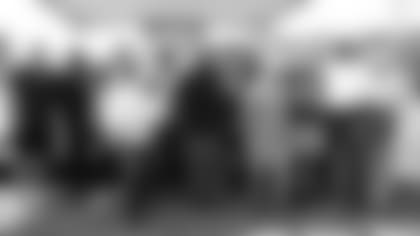 The annual walk this year can't be done in person, even though COVID restrictions have been lifted for gatherings, because of the timing and planning that needed to take place. But it still is happening virtually, and many showed up on the North Shore to do their own walk, to aid in the effort to raise $100,000 this year for the mission, which 'transforms lives through the love of Christ by providing food, shelter and hope to men, women and children experiencing homelessness, poverty or addiction to restore them as healthy members of the community.' The money raised will be part of the mission's 'Thanks a Million' capital campaign to be used for renovations.
For the mission, honoring both is a labor of love, especially this year after Ilkin announced his retirement as the color analyst with the Steelers Radio Network to focus on his treatment to fight ALS, which he was diagnosed with in Sept. 2020.
"They have committed their lives, their platform, their resources, their passion to us for half of our existence," said Smith. "We just want to say thank you."
Ilkin and Wolfley both have led Bible study at the mission, spoke at Chapel services, hosted the walk, served meals and invited members of the Light of Life's programs to training camp, along with a lot more. The Light of Life will open a new shelter, as well as renovate the other, and there they will include the Tunch and Wolf Chapel and the Tunch and Wolf Kitchen in their honor.
"The last thing Tunch ever wants is this to be about him," said Smith. "He might even be mad we are honoring him. It's never been about him, it's been about serving the most vulnerable men, women and children.
"There is no question we will lock arms with him, fight this fight, pray with him, stand with him as he goes through this battle and cheer him on just as he has cheered us on for 35 years."