Sean Kugler (l) was among the coaching staff changes in 2010.



For the players and coaches directly involved in it, an NFL season is a marathon, a supreme test of endurance, toughness, intelligence, will and skill. For the fans who immerse themselves in it, an NFL season is a roller-coaster of emotions that can elicit tears of joy at one point along the ride and tears of frustration at another point along the same ride.
The 2010 NFL season was an interesting one for the Pittsburgh Steelers, to be sure. Successful in that the Steelers won the AFC North Division and clinched the AFC Championship at Heinz Field to earn a spot in Super Bowl XLV, but frustrating just the same because they lost the Lombardi Trophy to the Green Bay Packers.
Here is a final chance to re-live the moments that combined to shape the Steelers' 2010 season. Maybe it changes your opinion of it, or maybe it simply reinforces it.
Part I of this series looks back at the Steelers' offseason moves leading up to the 2010 NFL Draft.
Jan. 14, 2010: Beginning the process of hiring replacements for offensive line coach Larry Zierlein and special teams coordinator Bob Ligashesky, both of whom were fired, and for quarterbacks coach Ken Anderson, who retired, Mike Tomlin's first hire is Sean Kugler. Why would the Pittsburgh Steelers hire the offensive line coach from a 6-10 Bills team that allowed more sacks per pass attempt than any other team in the NFL in 2009? In about six months, that will become a stupid question.
Jan. 21: It's Al Everest as the replacement for Ligashesky, and he has been a special teams coach long enough to understand what's what when it comes to . "I tell them this: if we were to go and try to rescue 20 hostages, and we saved 18 lives and got two killed, they're not going to write about the 18 we saved. They're going to write about the two we got killed. That's the nature of our job: don't be the problem."
Jan. 29: Jerry Olsavsky, who first came to the Steelers as a 10th-round draft pick in 1989 and played 10 NFL seasons as an inside linebacker, is hired as the defensive assistant.
Feb. 6: Dick LeBeau is elected to the Pro Football Hall of Fame as a member of the Class of 2010. Steelers Nation rejoices.
Feb. 16: Tomlin completes his coaching staff with the hiring of Scottie Montgomery to be the wide receivers coach. Earlier, Randy Fichtner was switched from receivers coach to quarterback coach.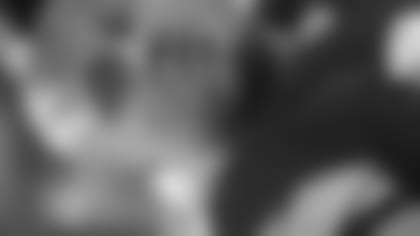 Casey Hampton signs a multi-year contract.
Feb. 25: A couple of moves with the opening of the free agency period right around the corner – Casey Hampton signs a multi-year contract and the franchise tag is put on Jeff Reed. The move with Reed happens because an agreement with him couldn't be reached and the Steelers want to protect themselves from losing him in free agency. Players respond differently to the uncertainty of a one-year contract, no matter how high the salary, and this will haunt Reed for months.
March 2: The Steelers extend tender offers to restricted free agents Willie Colon and Daniel Sepulveda. They will end up doing the same with William Gay and Matt Spaeth. Deshea Townsend, Willie Parker, Carey Davis and Darnell Stapleton will not be brought back for 2010.
March 5: The day that a tiny town in Georgia called Milledgeville becomes infamous.
March 9: Antwaan Randle El re-signs with the Steelers after being released by the Redskins. It's the first of three moves that will bring back three players who came to realize they were better off in Pittsburgh.
March 14: With free agency about 10 days old, the Steelers' additions have been players such as Will Allen, Arnaz Battle and Jonathan Scott. Much more attention is being paid to the New York Jets, who signed running back LaDainian Tomlinson and traded for cornerback Antonio Cromartie. Will the Jets be as relevant come January as they are every March?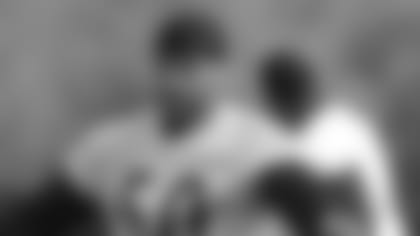 Larry Foote returns via free agency.
March 15: The Steelers' free agent class grows by one with the addition/return of Larry Foote. "I'm just here to add depth and help us win," said Foote. "I'm quite sure I'm going to play, the amount I don't know. Right now, Lawrence Timmons and James Farrior are the starters. I'm glad to be back, and the football part will take care of itself."
March 18: With the annual NFL owners' meeting a week away, Rich McKay, president of the Atlanta Falcons and co-chairman of the league's competition committee, predicts that player safety issues will be front and center when the executives gather. Meanwhile, Mike Tomlin attends the University of Florida's pro day, where it's reported that he's evaluating quarterback Tim Tebow. Good guess, but wrong.
March 21: The NFL announces that the Steelers will get three compensatory picks in the upcoming draft, based on the players they lost the previous offseason as unrestricted free agents. Two of the extra picks will come in the fifth round, with the other in the seventh. In about five weeks, there will be names associated with those compensatory picks: Crezdon Butler, Stevenson Sylvester and Doug Worthington.
March 23: Tomlin assesses where the Steelers are with one month to go before the draft: "Really, I'm encouraged. I kind of like what we've done thus far in the offseason. The things that tripped us up in 2009 we're beginning to address. I want to be a world championship-caliber team this year, and we weren't a year ago. That's going to be our guide as we move forward."
March 29: No decision has been made by law enforcement in Georgia on whether Ben Roethlisberger will be charged with a crime in connection with that incident in Milledgeville, but the issue of him being a pariah in the Steelers locker room won't gain any traction. "I'm sure the other players will welcome him," said Aaron Smith. He's just one of the guys. We all go through issues and trials, and this is just one he's going to have to face."
April 1: No fooling, Willie Parker signs a one-year deal with the Washington Redskins.
April 11: Having exhausted their patience with Santonio Holmes, who had taken to ripping fans on Twitter, the Steelers trade their talented receiver to the New York Jets for a fifth-round pick in the upcoming draft. Fourteen hours later, the NFL announces Holmes will be suspended for the first four games of the 2010 season for again violating the league's substance-abuse policy.
April 19: The Steelers convene for the first set of their OTAs minus Ben Roethlisberger, who already had learned he would not be charged in the incident in Milledgeville but was still awaiting word on what discipline might be meted out by Commissioner Roger Goodell.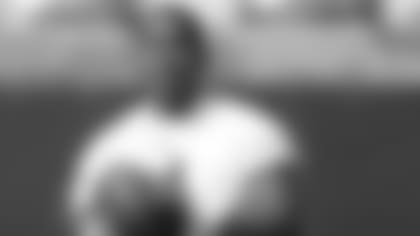 Byron Leftwich returns to the Steelers.
April 20: The Steelers reacquire Byron Leftwich from Tampa Bay, and they only have to spend a seventh-round draft choice to acquire a veteran quarterback with starting NFL experience who is familiar with their offensive system and personnel.
April 21: Despite not being arrested, arraigned or charged with any crime, Roethlisberger is suspended for six games by Roger Goodell. The suspension carries a condition that it could be reduced to four games if Roethlisberger cooperates with the plan laid out by the commissioner.
NEXT: PART II – Gatting ready for training camp