An informal diary from Steelers Training CampThursday, August 19
The Steelers held their final practice of training camp on Thursday morning, wrapping up a great three weeks at St. Vincent College. Former Steelers Hall of Fame cornerback Mel Blount brought a group of kids from his Mel Blount Youth Home to watch practice and meet the players.
Afterwards Coach Mike Tomlin held his press conference for the Giants preseason game but didn't give away any secrets.
On the quarterback rotation Tomlin said: "It's not finalized as of yet, no.  Similar to last week, some of those decisions are made last minute in the preseason.  That is just how it goes."
As far as Maurkice Pouncey and Justin Hartwig at center: Tomlin - "It is going to be Justin Hartwig.  We are going to rotate Maurkice in and Jonathan Scott in some with that group if we get enough looks with those guys like we did a week ago with Scott and (Flozell) Adams.  We will continue to look at those guys and hopefully get an opportunity to see those guys in with the ones."
And on rookie Jason Worilds who did not play against the Lions because of a hamstring injury; Tomlin – "He is going to get a look.  I don't know if it is going to be any more extensive than anyone else in his position."
As far as camp goes, it's amazing what goes into moving your operation for a three week period. There are so many people that do a great job outside of the full-time staff of the organization.
Thanks to all of those who help from the camp office staff to the rest of the camp staff stationed all around St. Vincent campus, the experience workers and the great people in the cafeteria who do a good job of feeding some big guys every day and always have a smile on their face.
The staff at the merchandise tent did an amazing job all camp too. I don't know how they handled the heat in that tent on some of those 90 degree days, but they were awesome. And for all of you that were at camp and signed the book – it will be delivered to the team.
Hopefully you enjoyed all of the updates from camp and especially the lighter side of it at times. Before signing off - here are some pictures that didn't make it in yet, but wanted you to enjoy.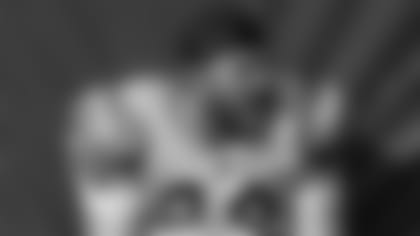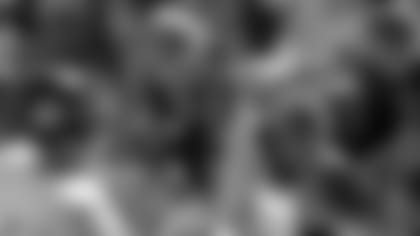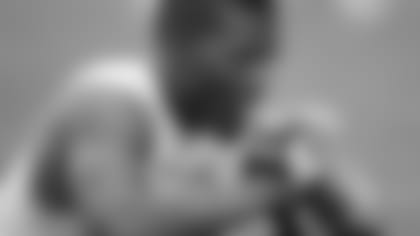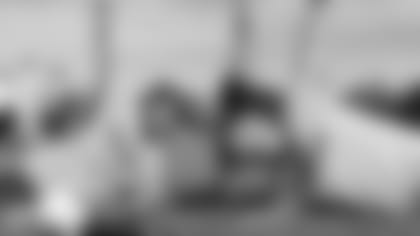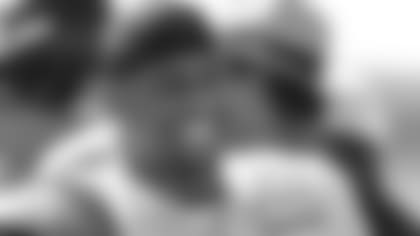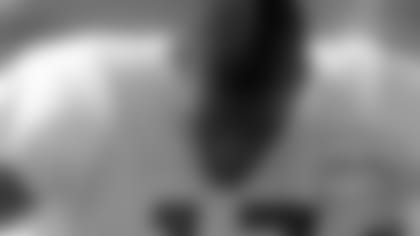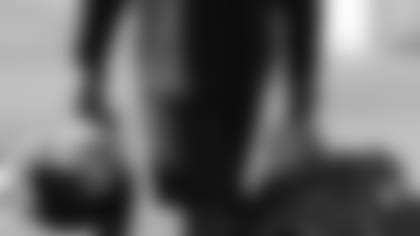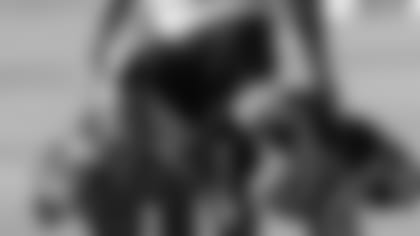 Wednesday, August 18
Today was the last afternoon practice of training camp – the final one open to the fans that have turned out in great numbers and shown awesome support for the team all camp.
There was a special teams practice in the morning, and afterward the hot topic was about punter Dan Sepulveda working on kickoff duties.
"I am just trying to put my hand in the pile and help this team any way I can," said Sepulveda. "It's something I wanted to add to my skill set even before the draft. I wanted to do it before the combine and determined I wasn't ready. Just punting alone was going to be my focus coming in. I had it in the back of my mind and wanted to work into it as I got comfortable punting.
"I enjoy kicking off. It's different. It's a lot of fun. It's fun doing something different. I enjoy the new challenge."
Rookie wide receiver Antonio Brown also weighed in about his touchdown celebration against the Lions on Saturday night, when he took his helmet off after he was off the field.
"The guys told me to be humble," said Brown. "For the first one I was excited. This week if I get in the end zone it will be a little different. I was amped up. I went a little crazy. That is not the norm for me. My juices were just flowing."
Safety Ryan Clark continues to enjoy the last few days of training camp – being a part of the camp staff on Wednesday. Clark went into the parking lot early in the afternoon and helped park cars. While some people knew it was him right away, others were totally taken off guard. (Be sure to watch the great video by our crew).
"It was awesome. They recognized me a little earlier than I had hoped so I had so keep some quiet so they wouldn't give it away. A couple that didn't recognize me they got it bad. It was extremely fun. I enjoyed it. It kind of broke the monotony of camp. It's the last day the fans can be here so I gave them a little treat. To give them something to enjoy for cheering for us year after year is good."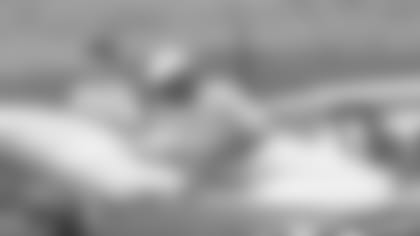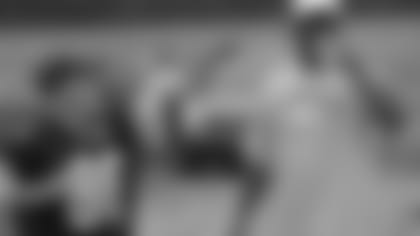 Tunch Ilkin and Craig Wolfley were doing their radio show on WDVE this afternoon outside of the dorms, with guests such as James Harrison (pictured below), Dan Sepulveda and LaMarr Woodley. Ilkin was talking to Woodley about a nickname for the linebacker, and came up with one that Woodley liked – LaMarr "The Chopper" Woodley.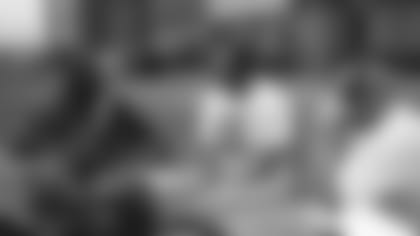 Last October the Steelers took part in breast cancer awareness month with players sporting pink gloves, shoes, and towels. Some Steelers even wore pink shoelaces. During camp linebacker James Farrior still has those shoe laces in and hopes to keep it that way.
"I usually wear the same shoes all of the time," said Farrior. "I thought it would just be a good gesture to keep on wearing them."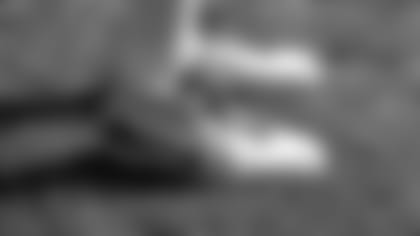 A group of youth football players from different communities in Pittsburgh were at camp today and heard from Farrior and fellow linebacker Larry Foote. Both players shared with them the importance of school and staying out of trouble.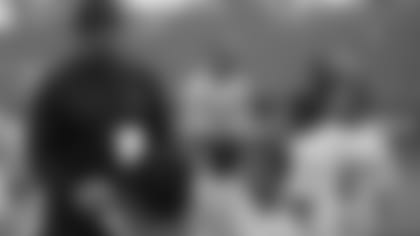 Tackle Willie Colon is on injured reserve, but that doesn't mean he has done a disappearing act from training camp. Colon is right there with his teammates, getting his treatment and offering support.
"I haven't been going through the grind that they are but I am around the guys," said Colon. "That has been the biggest thing to help me get through this process, bring around the guys. I am getting to know some of the new guys like Flo (Flozell Adams) and some of the rookies we got. It's been a pretty consistent process as far as enjoying my time and doing the work I need to do to get better."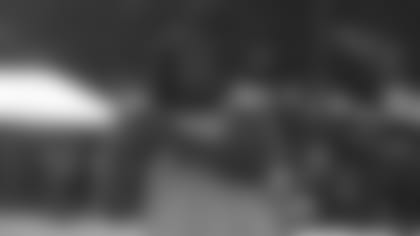 Today was the final on-field post-practice update from Coach Mike Tomlin and he gets a big thumbs-up for making me the x-marks the spot for where he stands each day. Scott, Forest, Mike and Brian appreciated it too with the cameras. (see that Steelers mic in the middle!!)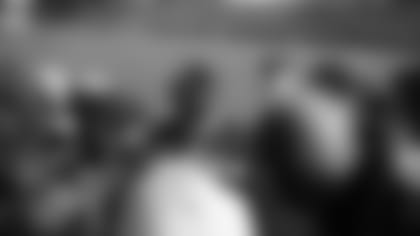 Tuesday, August 17The Steelers ended their day with the annual offense-defense softball game held on the baseball field just outside of Rooney Hall.
The offense was victorious thanks to an amazing pitching performance by multi-talented running back Isaac Redman. Redman shut out the defense in the six inning game.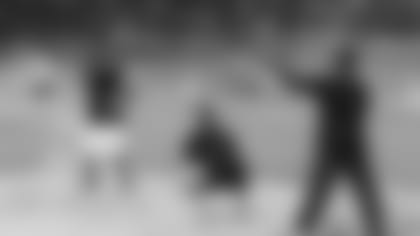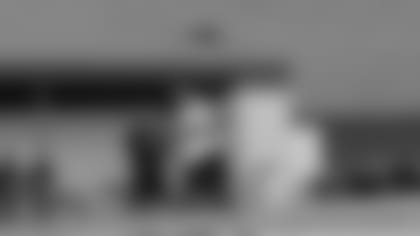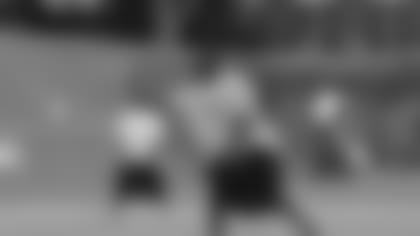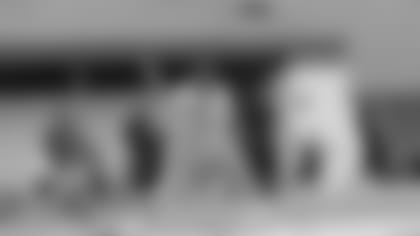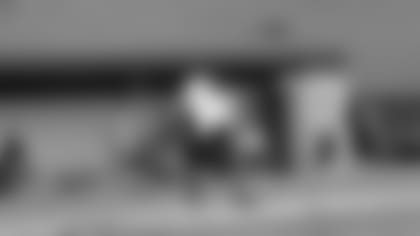 Happy Birthday to Antwaan Randle El. After practice the players gave him a big shout out in the huddle - and then beat on him just a bit with those birthday punches.
I can't help it but smile every time I see Ryan Clark walking through the crowd of fans who are scurrying for a spot in the autograph line, in such a hurry that they go right around Clark without even noticing him to get that spot.
I actually watched today as Clark walked by fan after fan, with just a few noticing. He even stopped and talked to a family with a baby, who didn't know who he was. As I was taking pictures, Clark was standing near the bottom of the steps by the locker room and a family was walking down those steps. They were excited saying to each other, hurry up, let's go get an autograph. I thought he was caught. And then the reality moment – they said there is Steely McBeam, hurry up. Even Clark couldn't help laughing when he heard that. When he got to the top of the steps, his cover was blown and many at the bottom were kicking themselves for not knowing it was him.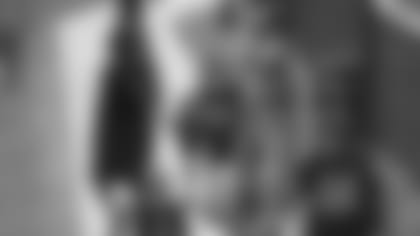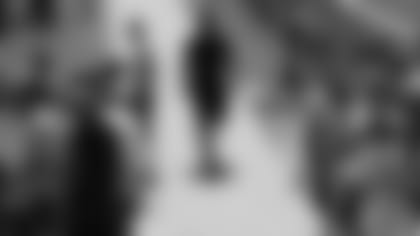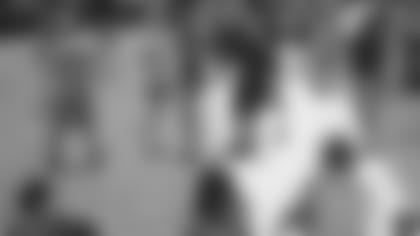 Even some young players, including wide receiver Emmanuel Sanders, managed to recently slip by unnoticed as seen below.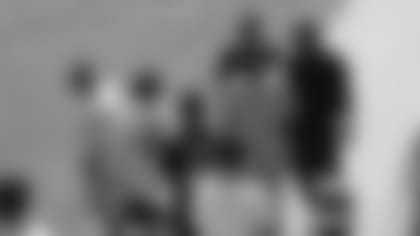 After going through a grueling practice you would think the last thing players would want to do is get a little more exercise, but young wide receivers Mike Wallace and Antonio Brown do just that. Seriously, I don't know how Brown held that position for as long as he did with sweat just rolling off of him.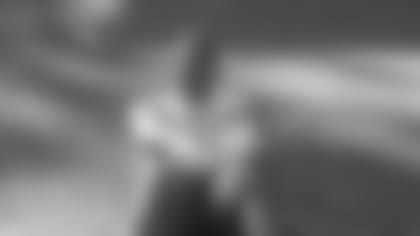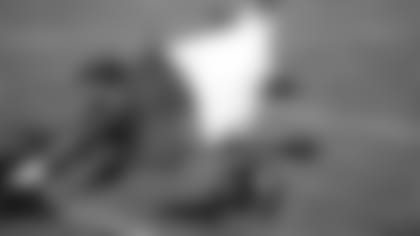 Many of the interviews the players do daily are during the lunch hour outside of the cafeteria. So when there aren't any players around talking, sometimes the conversation does focus on food and what's on the menu for the day.  So here is a look at what they offer – and yes – desserts got the biggest praise from everyone.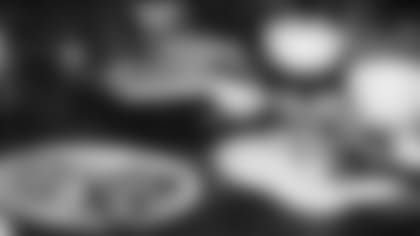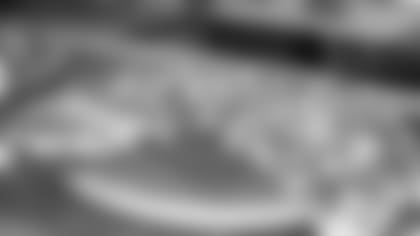 After dealing with sweltering temperatures and high humidity last week, this week got off to a perfect start with a sunny and clear day. It was warm, but the break in the humidity was huge.
Peter King from Sports Illustrated has been making the rounds at training camps and was at Steelers camp on Monday. He spent time talking with Ben Roethlisberger and Hines Ward during the lunch-time period as well as a few other players.
Roethlisberger talked to the group of media that gathered as well and said he knew he wasn't going to play last Saturday against the Lions, but tried lobbying for some playing time with Coach Mike Tomlin.
"If you look at film you'll see me talking to him every three plays, trying to get in there," said Roethlisberger. "He wasn't budging."
Tomlin joked after practice that it was even more often that Roethlisberger was in his ear.
"I thought it was every second play…but I am not going to dispute him there," joked Tomlin.
As far as this Saturday against the New York Giants, Roethlisberger said: "I'm hoping I get in. I'm not sure when but I'll take any time. I'll take whatever coach gives me."
Roethlisberger had this to say about fellow quarterback Dennis Dixon:
"I always tell him to run. If your guy's not there pull it in and take off. He's got something that the rest of the quarterbacks in the room don't have because he can take off running and score on plays that most people wouldn't get out of the pocket on. He needs to utilize those talents that he has and he's developed so much just in one year."
Running back Rashard Mendenhall chatted at lunch time and talked about his fumble in the preseason opener.
"You can't let that happen," said Mendenhall. "As a running back when you get the second level you want to make big plays and make guys miss. You have to take care of what you have to take care of."
Mendenhall also weighed in on fellow running back Isaac Redman who is battling for a roster spot.
"He has come a long way," said Mendenhall. "He is a natural runner and has a good feel for the game. It shows when he plays. He is going to get chances and opportunity."
---
And speaking of running backs, former Steelers running backs coach Dick Hoak was at practice on Monday. Hoak attended Hall of Fame inductions for Dick LeBeau and was happy to see his friend finally get his due.
"Dick should have been in a long time ago as a player," said Hoak. "The reason he didn't is the other guys in that backfield were already in there. That hurt him a little bit. The same situation happens in Pittsburgh. I think the voters think there are too many Steelers in there and they don't vote them in and that's unfair."
Hoak is hoping to make a return trip to the Hall of Fame next summer to see Jerome Bettis inducted.
"Myself I think he should be in," said Hoak. "Again it's one of those things. A lot of these people think there are too many Steelers in. If he doesn't get in next year, he will get in the Hall of Fame. I just hope he gets in there next year."
Hoak watched the entire practice, talking to some players and coaches, and talked about how relaxing it is to watch practice now.
"I come up now and watch and if it gets too hot I can leave," said Hoak. "It's nice to come up and watch the guys. I really enjoy it."
---
There was a touching moment at the end of practice on Monday when Liz Rada, a 17-year old visiting camp through the Make-A-Wish Foundation, had the chance to meet her favorite Steelers player – Troy Polamalu.
"I couldn't sleep last night. That's very rare for a teenager to not like sleep," said Rada. "It's pretty much the most exciting day of my life. Troy has always seemed like a nice guy and a great football player so it's the best of both worlds."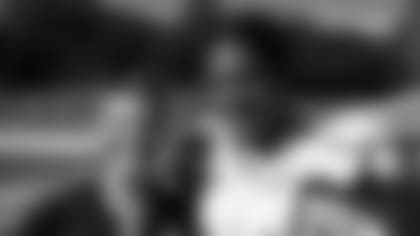 Saturday, August 14-Sunday, August 15
Fans were excited early on for the preseason opener at Heinz Field. Walking around outside you could see people wearing just about every player jersey – from Franco Harris and Jack Lambert to Mike Wallace and LaMarr Woodley. There is nothing like the enthusiasm of Steelers fans and the way they support the players.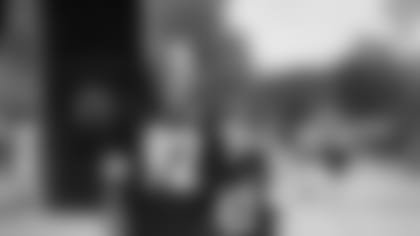 It was great to see former running back Merrill Hoge pregame. Hoge was at the game just to check the team out and be a fan. He said it was nice to be able to actually catch up on what is happening with the team without having to work.
There was quite the buzz on the sidelines before the game with two well-known actors watching pre-game warm-ups.
Taylor Lautner, who starred in the "Twilight" series and is in Pittsburgh filming "Abduction," enjoyed his time on the field, talking with Steelers players, coaches and even saying hi to some excited young fans.
Lautner, who told me you can't help but get the feel for Steelers-mania as soon as you arrive in Pittsburgh, really got a feel for it at Heinz Field and soaked it all in. Among the players Lautner met were Hines Ward, Ryan Clark and Dan Sepulveda. Sepulveda told Lautner that people come up to him all of the time and tell him that he looks like him. Lautner agreed. For all of the "Team Jacob" fans out there, the good news is Lautner is extremely nice and sincere.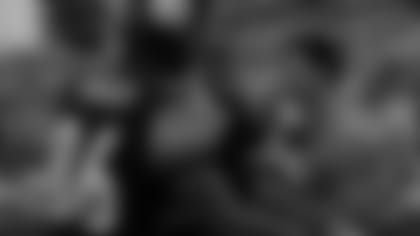 Also on hand was Ving Rhames who also was at training camp last summer.
The highlight of the pregame was when defensive coordinator Dick LeBeau was honored for his induction into the Pro Football Hall of Fame. It couldn't have been a more appropriate game with  LeBeau's induction for his incredible career playing for the Detroit Lions.
Both teams lined-up from sideline-to-sideline with LeBeau walking down the middle. Players cheered as loud and as long as the Heinz Field crowd did. It was an awesome scene.
Sitting in the press box you knew things weren't going to be good when people were getting text messages that there was lightning in the North Side area. It hadn't quite reached Heinz Field yet, but you knew the outlook wasn't good. And then, boom, the skies opened up and the rains came hard. Not long after thunder and lightning accompanied it and the officials quickly cleared the field and delayed the game for an hour and 13 minutes. The busiest place in the press box during the delay was the food line as everyone made a bee-line for the "halftime" meal at that point.
All-in-all it was a great night – football is back!
Since there was no open practice today, the diary is going to focus on the fans who have been coming to training camp the past two weeks.
---
One of the great things about Steelers training camp is the incredible fan turnout that the team gets every day. Last Sunday the parking lot was filled to capacity for the first time, and cars parked wherever they were able to find space. During the week the support has been equally good, so I thought it was time to highlight some of the fans who have made the journey to St. Vincent College to check out practice.
As I was walking from the dorms I noticed a couple sitting under the trees (smart move as it was in the 90s) and having a nice picnic lunch. It is the 11th year for Bill and Vickie Condran to come to camp from Elizabethtown, Pa. and they always sit in the same spot – that they call "their spot."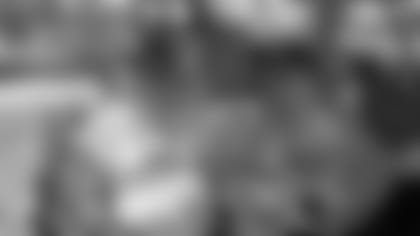 "It's our third trip in the last two weeks," said Bill Condran. "We wait in line and get under the tree. We bring our camper and stay in the area and come here a few times a week."
They picked the spot because it's a good place to get autographs from Steelers coaches and a prime spot for watching practice.
"We really like the atmosphere here," said Condran. "Seeing the players you watch on TV. When you are here you learn so much more about them."
While some people come back year after year, I ran into Shawn Grendzinski and Kristen Malloy from Palmyra, Pa. at camp for the first time ever.
"Every year when it's over we say we should have gone, so this year we decided to do it," said Malloy.
The two had their blanket laid out, soft drinks ready and were excited for practice to start.
"We are just looking forward to seeing the team," said Grendzinski. "I think it's cool to see them when they are not playing. This is more relaxed and easy going." 
Standing in the autograph area outside of the locker room were friends Dana Jefferson and Mike Prince, along with Prince's nine-year old son Nase'Air, who made the journey from Plainfield, New Jersey for the day in hopes of getting a few autographs and seeing practice. They got their wish when Ike Taylor stopped and signed for.
"It's great. It's better than anywhere," said Jefferson. "Other camps you don't get close to players. They don't have the fun zone. Here the kids get the autographs and players make sure of that. They treat the fans great here."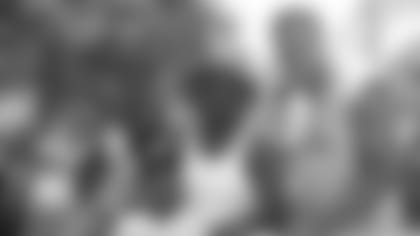 Those are just a few of the stories. There are people like Kim and her crew who came from Kansas, Mindy and Danielle from Ohio, Ralph and Greg from New York and many more who spend their summer vacation at Steelers Training Camp.   
"It's pretty awesome," said long snapper Greg Warren. "Guys from other teams say there isn't this kind of support day in and day out. It's awesome to go out there and interact with them every day."
Coach Mike Tomlin held his first official press conference of the season, talking with the media in the morning about the upcoming game against the Detroit Lions on Saturday night at Heinz Field. Tomlin didn't give away any secrets about who would start at quarterback and what the rotation would be. After the press conference both Byron Leftwich and Dennis Dixon talked outside the cafeteria, and they don't know the rotation either but both hope to play. Ben Roethlisberger talked after practice and would like to play too, but is willing to do whatever the coaches ask, including lining up with the second team.
"I want to get in there and get some reps and get a feel the speed," said Roethlisberger "It's always a different speed even if it is the preseason. I just want to play. I want to be out there with the guys. I want to be back with my guys and out there at Heinz Field."
Leftwich is looking forward to facing guys in other uniforms and just getting a break from the training camp routine, which he summed up.
"Training camp is a necessary evil," said Leftwich. "You are supposed to hate it, it's supposed to be hot and you are supposed to be sore. They are doing it everywhere. Nobody likes it. It's part of the process, team building and everything."
Leftwich has looked good in practice and said that he is feeling good as well.
"I feel great. I feel great about everything," said Leftwich. "You couldn't ask for a better camp. I couldn't ask for anything better from this camp."
---
It was a good day to have just one practice as heavy rain overnight left things a bit damp in the morning.  Then, around 1:15 the skies opened again and while this time the rain wasn't as heavy it did send the fans that were waiting to get on campus scurrying for cover. Some diehards though who were near the front of the line didn't budge. It paid off for them, because by 1:23, the sun was back out. The skies looked threatening again and honestly, Coach Tomlin must have a good deal with Mother Nature because amazingly there was rain all around the area, but once practice started it missed St. Vincent College.
---
Kentucky head basketball coach John Calipari, who hails from Moon Township, made his annual trip to Steelers training camp on Thursday. Calipari and Tomlin have become friends, with Tomlin speaking to the Kentucky team last season.
Calipari visited with Tomlin, said hello to several Steelers players, and then asked to meet defensive coordinator and Hall of Famer (love saying that) Dick LeBeau.
Overall it was a great trip for Calipari.
"You feel here an aura of a championship organization, the way the players carry themselves, the way the coaches carry themselves, the way Mike is at ease yet aggressive at what he does," said Calipari. "You want to be around it and see what it feels like. That's what we are trying to build and get to."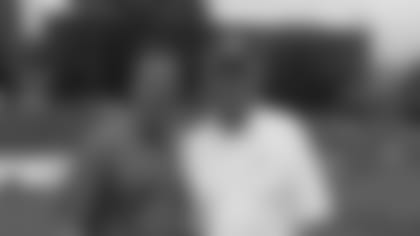 ---
It's always fun to see the players and their kids after practice, and today was no different as it seemed like defensive line day with Brett Keisel, Aaron Smith and Ziggy Hood all having their kids there. It's also nice to see when parent's come to check out their son's at practice – including Jeff Reed's parents who made the trip from North Carolina to visit. They are great people and it's good to see them. Good to see Bob too.
---
The most enjoyable part of the day came after practice when players welcomed a group of kids from Variety the Children's Charity. The kids had watched practice from the field, and then the players – way too many of them to even name them all – came over and signed. The turnout was amazing and it speaks volumes of the way the players are in the community. Kudos to Heath Miller who works with the group and all his teammates. The smiles on the kids faces as it was going on, and the fact that players literally stood in line waiting to sign, is what makes a day special.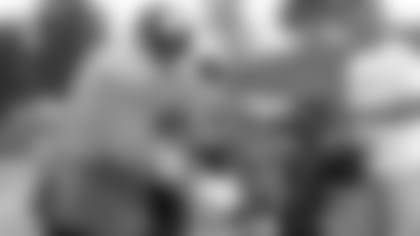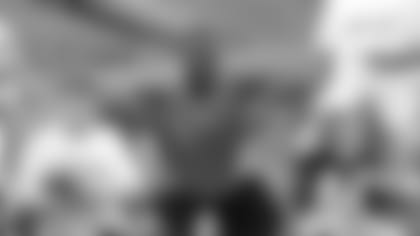 It was a busy and hot (really hot) day at camp today. People were waiting to get in the parking lot at 10 a.m. – yes five hours before practice on a really hot and steamy day. We are lucky to have such loyal fans – I just hope they didn't get overheated.
It was youth and high school coach's day at practice (some nice video from the Steelers TV crew will be coming soon). Coaches from around the area heard from Director of Football Operations Kevin Colbert, Coach Mike Tomlin and linebackers Coach Keith Butler and enjoyed watching practice in the closed morning practice. The day is part of the Steelers celebration of Youth Football Month in August (which will also include special activities at Saturday's game against the Lions).
---
Not long after things got rolling for the afternoon practice, defensive coordinator Dick LeBeau stepped onto the middle of the field. At that point the crowd broke into cheers. That will never get old because he so deserves it.
---
At the afternoon practice there were some touching moments with wounded servicemen from Walter Reed Hospital visiting practice.
They watched practice from the sidelines and afterwards had the chance to meet some of the players, including Troy Polamalu, Hines Ward, Aaron Smith, James Harrison. Max Starks and Heath Miller, as well as Coach Mike Tomlin.
"I am honored and humbled at the same time," said Tomlin. "The sacrifices they make for us as a country and citizens are quite remarkable."
His feelings were echoed by the players.
"These guys have sacrificed so much for this country," said Smith. "There isn't a more noble thing to do than go out and defend and fight for your country. I have nothing but admiration for these guys.
"These guys are the true heroes of our country right now. I just play a game. They put in the time and work to keep us safe and give us the freedoms we have today."
Among those attending were Keith Maul, a 21-year old Sergeant in the United States Army who grew up a Steelers fan in Johnstown, Pa. Maul lost his right arm when hit by a grenade during a mission, but his positive outlook was a shining example of what these heroes really are all about.
"This means the world," said Maul, who has a prosthetic arm that is decorated in a Steelers motif. "I am here watching them practice and got to see them at the White House. This is awesome. It means the world to come back home and see my team."
Marine Lance Corporal Eli Tice, who was injured in Afghanistan on May 24, is a Redskins fan who was getting things signed for a fellow Marine who is a Steelers fan, but loved being at Steelers training camp.
"I couldn't pass up the opportunity to come out here and see a lot of great football players," said Tice, who was injured when he stepped on an IED. "My unit is still in Afghanistan and it makes me feel guilty that they are there doing hard work and I am hanging out with the Steelers. I miss my guys a lot. I miss being over there doing my job."
Tice lost part of his leg, but is on the road to recovery and is starting to walk again, something that makes his unit happy.
"I put my first steps on Facebook," said the 20-year old Tice. "My mom videotaped it. The guys in my unit said they were sitting around the computer watching it and they were all crying. I said they were a bunch of wusses, why are you crying. That is Marines. That is the bond we have. I miss them."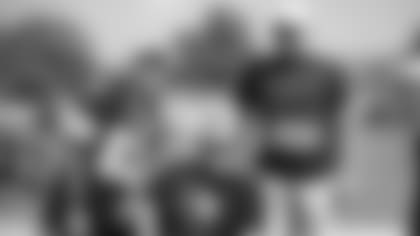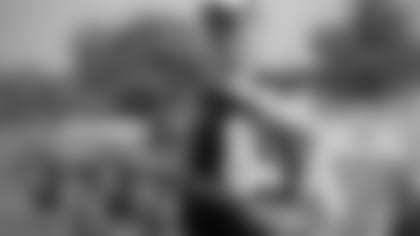 Tuesday, August 10In today's diary here are some pictures from behind the scenes around camp.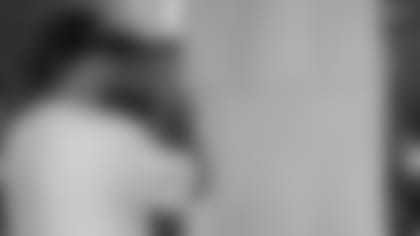 Garrett Giemont checks the weigh-in list
Steelers TV hard at work.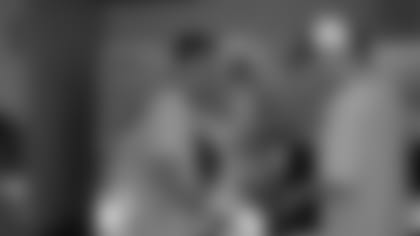 Ball boys do the laundry.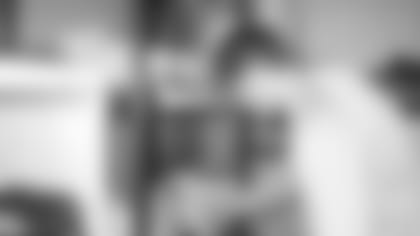 John Murphy in the equipment room.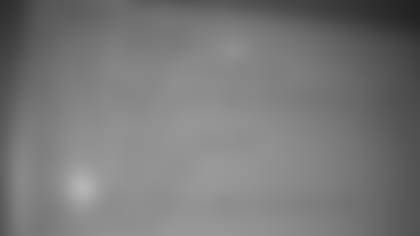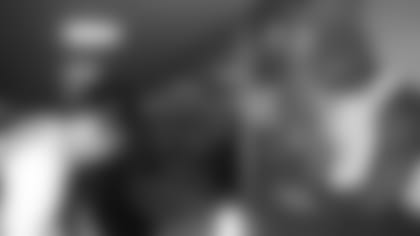 Getting taped for practice.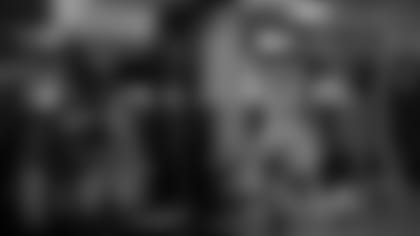 The day started off great with a morning practice and then Ben Roethlisberger sat down for a one-on-one interview that will appear right here on Steelers.com (be sure to check the videos). But overall it was a quiet day and one of those days I was starting to wonder what would be good for the diary.
And then along came Dick LeBeau. LeBeau was back at practice today after spending the weekend enjoying all of the festivities at the Hall of Fame induction.
LeBeau came walking down the hillside to practice and as soon as he hit the bottom of the hill and the players saw him, they immediately began cheering for their beloved defensive coordinator. It didn't take long for the fans to join in. Then the hugs as player after player approached LeBeau in some heart-warming moments. Seriously, it was one of the coolest things to witness on the field.
After practice I had the chance to ask LeBeau what that moment was like.
"It was like I came back home," said LeBeau. "This is my home. That's my family. That is what it was like."
LeBeau also talked about the entire Hall of Fame weekend.
"It was an experience of a lifetime, once in a lifetime," said LeBeau. "The most meaningful thing for me, truly, honestly, was having our team over there. I said several times I wouldn't want to be there without them. It was so gratifying to look over there and see our Steelers over there."
Much of LeBeau's Hall of Fame speech centered on the current Steelers team, and he said the reason for that was they played a role in him getting in the Hall by keeping him in the spotlight.
"These guys are my guys," said LeBeau. "They are the reason I was there in the first place. You better talk about the reason you are there."
LeBeau said the one disappointment with his speech was he didn't mention the Steelers linebackers, but they know how he feels about them. He also said he couldn't wait to get back to practice and went on to explain why he felt like he was back home.
"I have five Super Bowl rings, and only two of them say Champions and that is with the Steelers," said LeBeau, who said he has been adding HOF to his autograph since he was told he would be inducted. "What else is there? We are all in this business for success."
It was a picture-perfect day in Latrobe on Sunday, with sunny skies, low humidity and temperature in the mid-80s.
The day kicked off with the 2010 American Respiratory Alliance Steelers Women's Training Camp. Over 300 women from 24 states were on hand for the event, which started with football drills on the practice field conducted by current Steelers players Jeff Reed and Greg Warren, and former Steelers Mark Bruener, Dwayne Woodruff, Craig Wolfley and Edmund Nelson.
 "I love my boys. I come every year," said Kim McGavitt from Alexandria, Virginia who is at her 10th women's camp. "I make it a full day with a bunch of friends and we have a ball. They treat us excellent here. There is more to do now than when it started. We appreciate what they do for us women fans."
And those who are at their first camp had just as much fun. 
"It's awesome," said Lillilan Komomrowski from the North Hills area of Pittsburgh. "I like it a lot. I like the interaction with the players teaching us their jobs. I really love it."
The players enjoy it too and love the support they get from the female fans.
"It's just fun doing this," said Warren.  "These ladies come out here and it's just about running around with the football. It's not so much about learning the technique as it is seeing what we do, getting a little better appreciation about being here. They are just out here having fun, running around, laughing, and carrying on."
Well, maybe fun, but there is a slight serious side to those drills too.
"I love this. I wouldn't miss," said Nelson. "I enjoy the ladies because they are more aggressive than the guys. These are genuine Steelers fan. They are excited about the football, and they know their football.
"Why play games. This isn't a joke. We are out here to kill people - that's the way it is."
And now some leftover tidbits from Dick LeBeau's Hall of Fame induction: Former Steelers Joey Porter, Clark Haggans and Alan Faneca were all on hand, flying in from Arizona where they are in camp with the Cardinals. They were there to support LeBeau and Russ Grimm…The Steelers used their dinner prior to the induction to give the rookies there first real shot at singing during camp. The veterans called out most of the rookies, who had to perform. Crezdon Butler stole the show…Had the chance to talk to many of the defensive starters about the induction and all of them were amazed, but not surprised, that LeBeau focused more on them than himself. It's classic LeBeau.
On a completely unrelated note, a highlight for many at lunch today was the first appearance of mint chocolate chip ice cream in the cafeteria.
Today was also family day, a favorite for all players. For those with families in town it's a great chance to see them. For those without family, they get a bonus with a night off from meetings.
Among those who were joined by their families were Mike Tomlin, Chris Hoke, Ryan Clark, Ziggy Hood, Antwaan Randle El, Aaron Smith, Heath Miller and many more. Hoke seemed to be having a wonderful time playing with his kids, all decked out in #76 jerseys, on the field after practice. Hood held his 12-day old son, who is tiny, but looks even smaller in Hood's hands. The Clark's first stop at dinner – the snow cone machine for youngest daughter Loghan. Everyone had a blast and there was no doubt that family night was special for everybody.
"Football makes up such a big part of our lives," said Tomlin. "For us to be functional family people, we have to be football families. I know that is the case in my home. My wife does an awesome job of allowing me to integrate what I do for a living into our family life. I am sure that applies to the other coaches and players.
"We're football families. We appreciate them coming out here and supporting us in terms of what we do. It's great to have an opportunity to share this with them and spend as much time with them as we can."
One guy who wasn't on hand to enjoy family day was Mike Wallace, who was excused from practice for the birth of his first child on Saturday.
Today it's all about Dick LeBeau. There will be nothing more exciting than seeing him put on the gold jacket and be inducted into the Pro Football Hall of Fame. He had an amazing playing career with the Detroit Lions and that is why he is being inducted. But he also has had an incredible coaching career, and the Pittsburgh Steelers are blessed to have him as our defensive coordinator.
You will read all kinds of things about LeBeau the player and coach over the next few days. So let me tell you about LeBeau the person.
People often ask is Dick LeBeau as nice as he seems. You want to say yes, but then you think for a moment and you know – he is much, much nicer than he even comes across.
He is a caring, compassionate person in a sport that is measured by toughness.
He is as sincere as they come, as unassuming as they come.
There are days when he will see you in the office and ask you about your family. And he truly wants to know how they are doing. There is nothing put on. And he remembers their names.
Ask him to do you a favor, and he will thank you for being asked.
He can recite 'The Night Before Christmas' by heart…and put so much heart into it that an entire football team anticipates him sharing it with then just like little kids anticipate Christmas morning.
He loves what he does and when you ask him how he is he will never say anything but it's a great day to be alive. He never seems to have a bad day. Never seems to be down.
He is loved by everyone who knows him because he treats everyone the same – from interns to owners, rookies to fellow Hall of Famers. He considers everyone in the Steelers family – his family. And we all feel the same about him.
He is soft-spoken, but at the same time, whenever he speaks you hear every word his says.
As he finished an national television interview talking about being a Hall of Famer, he smiled, said thank you and added Go Steelers. He really loves what he does.
If there were a Hall of Fame for good, quality people, Dick LeBeau would be the first inductee. But since there isn't, everyone should be happy that a good, quality person is going into the Pro Football Hall of Fame.
Congratulations Dick – you deserve this day. Thank you for being you.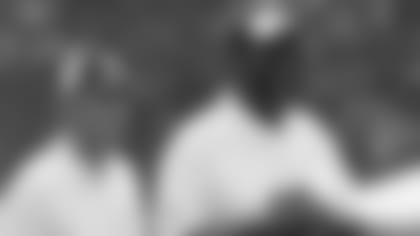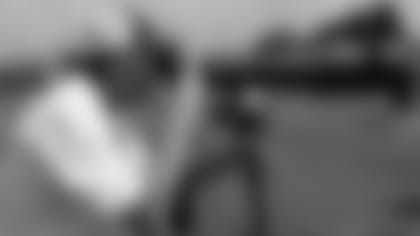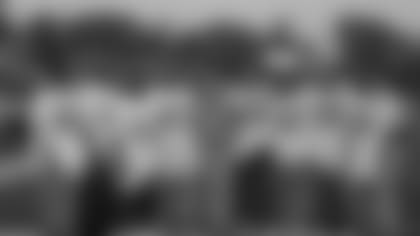 Steelers players wear LeBeau's Lions jersey at Hall of Fame game in 2007.
The Steelers held their annual Gatorade Junior Training Camp at Latrobe Memorial Stadium today, bringing out kids from all around to learn the fundamentals of football while having fun.
The camp was a warm-up for the team's evening practice at Latrobe Stadium, an annual highlight of camp.
One person missing from camp on Friday is defensive coordinator Dick LeBeau, who already headed to Canton, Ohio for Hall of Fame induction events.
I had the chance to catch up with former defensive lineman Brentson Buckner, who is doing a coaching internship with the team during camp.
Buckner, who lives in Charlotte, North Carolina where he does a sports radio show, is thrilled to be back on the field.
"I just love football," said Buckner. "After I retired I wanted to find a way to get back into it. I was training guys to go to the Senior Bowl and their personal workouts. I just got that bug. I reached out to John Mitchell and he said if I can get it approved I would love to have you come in. Football is in my blood. Playing for 12 years it doesn't just leave all of a sudden. I needed to find a way to get back in. I can't play any more so I might as well coach."
Buckner said one of the great things about being in camp is learning again from LeBeau.
"Being under Dick LeBeau when I played and now coming through as a coach I am starting to see all of the little nuances about the defense, how to work players, how to coach them and how to teach them," said Buckner. "You can go out and coach a guy, but you have to teach them for them to retain it. I am learning from John Mitchell how to teach those guys so they can understand and apply it to their trade."
The morning kicked off with NFL commissioner Roger Goodell visiting training camp, along with former Oakland Raiders coach John Madden. The two have been on a road trip, visiting NFL training camp sites. They arrived inconspicuously, in a plain white bus as opposed to the ESPN road trip bus a few days ago that was painted in a football motif.
The two watched the morning practice and then Goodell talked to the media for a little over seven minutes with the topic of conversation solely around Ben Roethlisberger. After that, Goodell and Madden held a fan forum with Steelers fans. One of the most unique sights during the visit was seeing Madden driven around in a golf cart by one of the St. Vincent monks in full attire. That's what makes it such a special place to have training camp. They were then on the road again, headed to Cleveland for their last stop before going to the Pro Football Hall of Fame inductions.
WDVE-FM was on hand at camp today doing their annual Steelers blitz with plenty of great guests on the air throughout the afternoon. Always fun and entertaining to listen to.
Mother Nature continues to look favorably upon the Steelers. While it was another warm day, despite cloudy skies early in the afternoon the sun was shining by the time the team took the field for practice and things remained dry much to the delight of the fans on hand.
The Steelers won't have an afternoon practice on Friday, but instead head to Latrobe Memorial Stadium for a night practice at 7 p.m.
"It's like high school - Friday night lights," said wide receiver Hines Ward. "That is what we call it. For us as players we get to put on a show. We look forward to it."
It's amazing how many fans come from all across the country to see the Steelers practice. So far this year there have been fans from Hawaii, New Mexico, California, Mexico and more who have said hello and signed the guest book in the Steelers merchandise tent. If you are coming to camp, make sure you take a minute and sign the book as well.
Wednesday, August 4Hot and humid. That is what August is all about and that was definitely the case on Wednesday in Latrobe. But you won't hear Joe Greene complain about the heat. Not for a second. Greene sat down with us for an upcoming Steelers.com interview and while everyone was heading inside for air conditioning prior to the start of practice, Greene didn't even appear to break a sweat as he sat and talked with us for about 15 minutes (check Steelers.com in the upcoming days for the video). When it was time for practice, Greene was joined by some of his family, including two grandsons, who were visiting from out of town.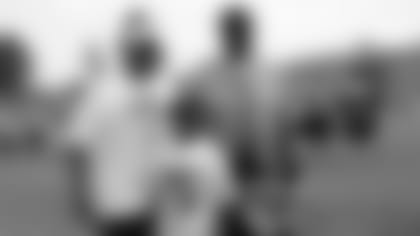 The heat index on the field reached at least 95 degrees near the start of practice, but an alert athletic training staff made sure the players stayed hydrated.
After practice the attention was on quarterback Ben Roethlisberger. During a visit to the Baltimore Ravens training camp NFL Commissioner Roger Goodell said, "He is doing what he's been asked to do and frankly more. He understands the seriousness of this and the fact he has to change the way he's doing things. I'm encouraged by that."
Goodell will be at Steelers training camp on Thursday and everyone wanted to know if Roethlisberger will meet with him.
 "I assume I will, but it's not scheduled that I know of," said Roethlisberger. "It could be a last-minute thing. I'm not really sure."
The skies turned dark near the end of practice, but it wasn't until the players were able to clear the field that the skies opened up with rain and lightning could be seen in the distance. It didn't last long, though, and when it was over a rainbow could be seen over the St. Vincent campus, captured by our team photographer Mike Fabus.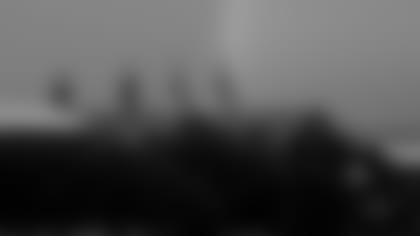 Tuesday, August 3Today was the annual Steelers Kids Club Day at training camp and despite the cloudy skies it turned out to be a great day for all of the kids who took part.
The event kicked off with punter Dan Sepulveda talking to the kids, including the importance of having fun while playing sports. Sepulveda stressed that kids should not take sports too seriously at a young age and that they should make sure they are having fun at what they do.
He also answered questions from the kids – including what his longest punt was and in turn, one youngster made him laugh when they asked what his shortest punt was. By the way, the answer was nine yards while he played at Baylor.
And as the saying goes, when all else fails – punt. Well that is what happened after Sepulveda left. The next scheduled guest couldn't make it but we had a great fill-in – tight end Heath Miller. And kudos to Miller for doing a great job – literally on a moment's notice. Miller was heading in to the locker room when I stopped him, asked him for a few minutes to talk to the kids and the always classy Miller came through in the clutch much to the delight of all of the kids.
After that strength and conditioning assistant Marcel Pastoor took over. Pastoor talked to the kids about the workouts players do, being in condition and answered questions including ones about working with injured players as they fight back from injuries.
Special teams coordinator Al Everest blew everyone away with his interactive approach with the kids. Everest got many of the kids involved, bringing them to the front of the group and lining them up in formations as he explained what each position does on the special teams units. The kids were thrilled for their moment or two of being a tackle, long snapper or kicker.
It was then down to the field where a brief rain didn't dampen anyone's enthusiasm as the kids belted out "Here we go Steelers, Here we go," as the players took the field. And they were thrilled as player after player came over to give them high-fives. Coach Mike Tomlin put the kids into a frenzy when he came over and gathered them in a group to welcome them to camp.
The afternoon ended with a tour of the team's locker room on the St. Vincent campus and then off to the Steelers Experience and to watch practice with their families.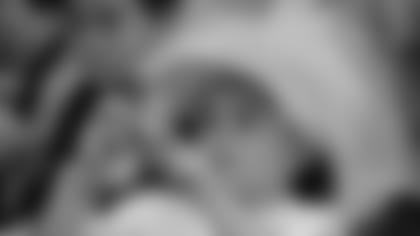 While temperatures rose a little bit on Monday, there were still sunny skies over Latrobe and another great day for two practices for the Steelers.
Ryan Clark, a fan favorite at camp, sports a new and unique backpack each year. This year he is proudly sporting a How to Train a Dragon backpack as he walks around campus. It's hard to miss it.
It's been great seeing some former Steelers players around camp, including former punter Josh Miller who is working for local radio, defensive lineman Brentson Bucker, who is working with the coaching staff in camp, and tight end Mark Bruener who is doing a scouting internship during camp.
"I have been trying to get back in football since I retired," said Bruener. "Knowing I can't play anymore, the body obviously can only take so many years, my love and passion and heart I have for the game still exists at a very strong level.
"Finding a way to get back into the game is something I have tried to do for a while. I talked to Omar (Khan) and Kevin (Colbert) at the NFL Combine and talked about this opportunity. I expressed a strong interest in it and followed up and am lucky to be here.
Bruener, who is currently living in Seattle, has already learned a lot in camp.
"I gained some overall knowledge from the coaching staff and the scouting staff in how they go about evaluating talent and bringing in the best players they can to the Steelers organization," said Bruener.
 Sunday, August 1
The day started off quiet without a morning practice, and there is nothing more peaceful than the campus at St. Vincent when there is little to no activity.
Things always pick up around lunch time, though, as players head over to the cafeteria to fuel up before the afternoon practice. It's also a time when many of the players do media interviews, some surrounded by a group of reporters while others do one-on-one interviews. And the attire is always casual, shorts, t-shirts and tennis shoes except for one guy. If it's Sunday, you can always expect to see nose tackle Chris Hoke in a dress shirt, slacks and tie on his way back from church.
The crowds arrived early again and when campus opened, they came flying from all directions to secure the best sports for watching practice and hopefully getting an autograph or two. One funny sight was Ryan Clark walking right along with them – but most fans didn't even notice and ran right past him trying to get to their spot. Those who arrived early were rewarded by a handful of guys who were able to stop before practice and sign autographs, including Jeff Reed and Clark.
One thing the players love to do is have some during the rigors of training camp, pulling practical jokes on each other and even the unsuspecting fans. And one of the funniest happened on Sunday. When the door to the locker room opened at one point before practice on Sunday, to many fans it appeared that Troy Polamalu had just walked out. And why wouldn't they when a player wearing No. 43 with his hair coming out of the back of the helmet emerged. Just one thing – it wasn't Polamalu but rather running back Frank Summers. A few seconds later Polamalu, Hines Ward and several others came out laughing as the reaction to the "fake Polamalu" was just what they had hoped for – lots of cheering and screaming.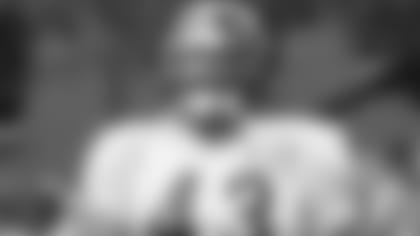 One of the highlights of the practice on Sunday was the backs-on-backer drill when the linebackers and running backs go against each other. It's a drill that always gets the crowd pumped up and drew plenty of cheers from the Steelers faithful.
After practice players dotted the hillside coming off the field signing autographs, while Ben Roethlisberger went to the bleachers on the opposite side of the field to sign for fans there. While many players were returning from dinner, Clark was still out there signing for just about every fan who hung around that long.
We're used to seeing fans tailgate at Heinz Field hours before a game, but at training camp more than five hours before practice starts? That was the case on Saturday when fans were lined up bright and early waiting just to get in the parking lot at St. Vincent College. Among those waiting were some fans from New Mexico (photo 1) and Ohio (photo 2).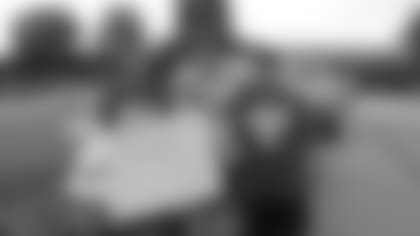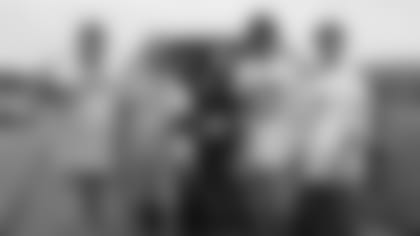 The Steelers hit the field for the first practice of training camp on Saturday morning with a full roster in attendance. First-round draft pick Maurkice Pouncey arrived in time for the practice, making it to St. Vincent College late night on Friday after signing. Pouncey said he has the playbook pretty much down pat and is just looking forward to playing football.
Linebacker LaMarr Woodley talked after the morning practice, with many of the question surrounding him entering the final year of his contract in 2010. Woodley said he never had any intention of holding out and is just looking forward to playing football. He also said he is bothered by the lack of respect the Steelers are getting in the national media.
"We are under the radar and that's good," said Woodley." Usually a team under the radar can sneak up on people and that's good."
As the day wore on, more and more fans began to descend upon St. Vincent College and when campus officially opened at 1:30, the usual sprint for the best spots for autographs and watching practice was underway.
Player after player was cheered as they exited the locker room to head to the field, but nobody got a better or louder reception than Ben Roethlisberger and Hines Ward who came out together.
"The fans were warm and loving as I hoped they would be," said Roethlisberger, who admitted to being nervous about what the reaction would be. "I was nervous, scared and anxious, a lot of emotions. I was getting ready to walk out and Hines was there and he said come on, let's walk together."
After talking to the media Roethlisberger went over to the fans in the bleacher area and signed autographs for about 20 minutes for an excited crowd. He also took off his shoes, signed them and gave them to two very excited fans.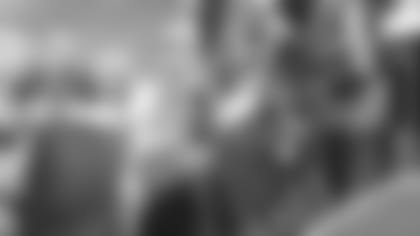 Driving up Route 30 toward Latrobe it's no secret – the Steelers are back in training camp. Business after business is decorated in black and gold, with welcome back Steelers signs visible almost the entire stretch from the Turnpike to the St. Vincent entrance.
Pulling in to campus you realize what a great location it is for camp. It's calm, quiet and peaceful. Okay, so it's only 10 a.m. Friday morning and most of the players haven't checked in yet and the fans don't arrive until Saturday.
If you come to camp you are going to notice a few subtle changes, including the fencing around the practice fields which highlight Xfinity as the training camp sponsor. Glad to have them on board this year.
After getting checked in to the dorm, and being able to get online thanks to Scott and Jon, it was time to head over to where the players will be checking in.
The first one to check in was Casey Hampton, who was looks in good shape after working out since the end of OTAs. The offensive line and Ben Roethlisberger were next to pull in, and the media quickly surrounded Roethlisberger as he unloaded his car.
"Willie (Colon) and I were pulling in and it felt like we were just here. It's good to be back. It's all about football," said Roethlisberger as he unpacked the comforts of home and headed off to check in to his dorm room.
Colon, who had a boot on his foot after having season-ending surgery, said he wants to be at camp to be around his teammates and show them his support.
Guard Trai Essex said the loss of Colon hit him hard, but he knows they have to step it up on the line in his absence.
"It hurt, it hurt," said Essex. "He is a big part of our offensive line, our leader. It hurt me deep down inside."
Chris Kemoeatu came to camp sporting a new look with his hair, a look that is big back home in Hawaii.
"I knew it was going to be hot," said Kemoeatu. "Back in the Islands it's a warrior's haircut. I am ready to go to war, a warrior's haircut."
As the day progressed the team confirmed the signing of rookies Jason Worilds and Maurkice Pouncey, as well as veteran tackle Flozell Adams.  And with that addition of Adams, Max Starks will remain at left tackle. Starks said he talked with offensive line coach Sean Kugler who assured him he wouldn't be moved to keep the chemistry on the line.
On a lighter note, Starks talked about being back at camp.
"It's hot. It's fun. It's like going to sleep away camp with your buddies," laughed Starks. "It's a great place. I enjoy St. Vincent. I remember my first camp here. I still get the same butterflies I got as a rookie, where this is a beginning, it all starts here. "
The special teams' crew of Jeff Reed, Dan Sepulveda and Greg Warren checked in around the same time, no one happier to be back than Warren who underwent the second ACL surgery of his career last year.
"My leg is really good. I am going to run the run test and show them I haven't lost a step," said Warren.
Not long after that things got busy as player after player arrived, checking in before the conditioning test at 4 p.m.
We got some great interviews for the website, so be sure to check out the Video section for the recent videos from camp. Thanks to Brian, Forest, Scott and Jared for sweating it all afternoon with the cameras.
Tomorrow, the team takes the field for their first practice and the fans will arrive. Hines Ward told me he loves it when the fans are there watching – that it gets him pumped up.