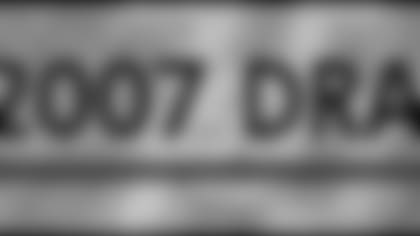 SEVENTH-ROUND SELECTIONDALLAS BAKERWIDE RECEIVER FLORIDA
University of Florida Gators
Northfield Mt. Hermon School
New Smyrna Beach High School
7th Round – 227th Overall
Dallas Baker was a first-team All-SEC recipient in 2006 after being a second-team Preseason All-SEC pick by the league's coaches' and media…He was selected to the Watch List for the Biletnikoff Award, presented to the nation's most outstanding receiver…Baker was named 2005 second-team Preseason All-SEC by the coaches…He played in 51 games with 26 starts…He completed his Florida career with 151 catches for 2,236 yards and 21 touchdowns, ninth on the school's career list.
Member of the Leadership Committee…Participated in the Senior Bowl held in Mobile, Ala…Named a first-team All-SEC honoree by the league's coaches…Played in all 14 games, with 12 starts…Led the Gators with 920 yards receiving on a career-high 60 receptions (15.3 avg.) and had a team-best 10 touchdowns…The 10 receiving scores were a single-season career high for Baker and tied for ninth on the school's all-time list…Closed his Gator tenure ninth on the career list with 21 TD receptions…Ranked among the SEC leaders in the following categories: tied for fifth in touchdown catches (10), seventh in catches (60), 11th in receiving yards per game (65.7), and was 20th in all-purpose yards (897)…Baker's 10 receiving TDs last season were as many or more than 24 entire Division I-A teams had during the season…In the championship-clinching rout of Ohio State, Baker made four receptions for 23 yards…Put the Gators on the scoreboard by snagging a 14-yard touchdown pass from Chris Leak with 10:31 left in the first quarter…Returned to the lineup at Florida State with five catches for 84 yards, none bigger than a 25-yard TD reception from Leak that snapped a 14-14 tie with 10:22 remaining in the fourth quarter… His 20th career TD reception moved him to ninth on the Gators' all-time list…Made one catch for six yards versus Western Carolina before departing with a strained medial collateral ligament…Exceeded the century mark in receiving yards for the third time in 2006 and sixth time in his career with seven catches for 135 yards at Vanderbilt…Scored his seventh receiving TD of the year with a 14-yard pass from Leak with 12:04 left in the second quarter…Over a stretch of five games, Baker caught 34 passes for 553 yards and six touchdowns…His 34 catches over the span ranked third nationally and his six touchdowns tied him for third…Set a career high with 148 yards receiving on seven catches against Kentucky, with a long grab of 32 yards.
Participated in all 12 games with 11 starts…Ranked second on the Gators with 52 catches for 697 yards and averaged 13.4 yards per reception, which was 17th in the SEC…Baker's five TD receptions were second on the Gators…His 63.0 receiving yards per game against top-25 opponents ranked as the third-highest total in the nation…His 58.1 yards per game average ranked seventh on the SEC charts…Was named the Most Valuable Player at the Outback Bowl after setting career highs in receptions (10) and yardage (147)…Matched career-best performance with two touchdown catches (of 24 and 38 yards) in the 31-24 triumph over the Hawkeyes…Was a bright spot for Florida at Alabama, with six receptions and 119 yards receiving…Had a catch of 42 yards that set up Florida's only score, a field goal in the second quarter...The reception matched the longest of his career…Snared his first touchdown catch of the campaign with a 16-yard pass from Leak in the second quarter at Kentucky.
A prominent member of the WR rotation who played in all 12 games with three starts (Mississippi State, Georgia and Florida State)…Also a regular on kickoff coverage team…560 plays ranked fourth among WR….Five touchdown catches ranked as the second-most on the squad…Had at least two catches in nine of the 12 games…Finished fifth on the team with 26 catches…Had eight catches of 20-plus yards….Had two TD catches in final four games of the season.
A true sophomore who played in all 13 games for 292 plays…Had 13 receptions for 209 yards (16.1 avg.) and a touchdown…His 209 receiving yards ranked fifth on the team…Averaged 16.1 yards per catch, the second-highest average among receivers…Saw significant time on offense, seeing 225 of his 283 plays at receiver, including a season-high 50 plays in the final game (Iowa)…Eight of his 13 catches were for first downs…Scored his first career touchdown with a 25-yard reception in the Outback Bowl against Iowa…Hauled in a game-long 42-yard catch on the final drive of the third quarter that set up a Gator FG in the win over No. 4 Georgia.
Worked with the scout team at wide receiver.
Originally signed with Florida in February 2001, but did not enroll and attended Northfield Mt. Hermon School in Massachusetts in 2001...Totaled 32 catches for 916 yards (28.6 avg.) and 13 touchdowns at Northfield Mt. Hermon in 2001.
Considered one of the state of Florida's premier prep receivers at New Smyrna Beach High School in 2000…A SuperPrep All-America selection and that publication ranked him among the nation's top-30 wide receivers…A Prep Football Report All-America choice and ranked among the country's top 25 receivers…Named Central Florida's Player of the Year in 2000 after catching 68 passes for 1,140 yards (16.8 avg.) with 16 touchdowns…First-team All-State (4A) in 2000.
Majored in recreation programming…born 11/10/82 in New Smyrna Beach, Fla.…son of Herbert and Lolita McGraw…resides in New Smyrna Beach, Fla.