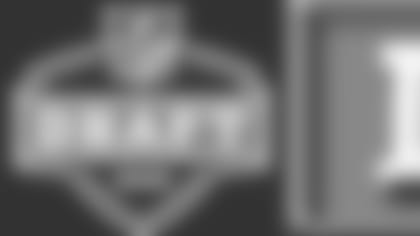 RASHARD MENDENHALLFIRST ROUND-SELECTION
23rd OVERALL**
RASHARD MENDENHALL – RB
HEIGHT – 5-10
WEIGHT – 224
COLLEGE – Illinois
BIRTHDATE – June 19, 1987
BIRTHPLACE –Skokie, Illinois
HOW ACQUIRED –D1-'08 (23rd)
PRO: Drafted by the Steelers in the first round (23rd overall) of the 2008 NFL Draft out of Illinois…became the first running back taken by Pittsburgh in the first round of the NFL Draft since the team selected Tim Worley in 1989 (7th overall).

COLLEGE: Gained 2,539 yards rushing, ranking seventh in school history…his 1,681 yards on the ground in 2007 broke the old Illini season-record of 1,330 yards by Antoineo Harris in 2002…his 214 yards vs. Indiana in 2007 rank sixth and his 203 yards vs. Minnesota in 2007 rank 11th on the school's game-record rushing chart…his  22 touchdowns rushing tied Antoineo Harris (1999- 2002) for ninth on the Illini career-record list…his 17 rushing touchdowns in 2007 topped the previous school season-record of 15 by Howard Griffith in 1990…his three scoring runs in 2007 vs. Syracuse placed him fourth on the school game-record chart behind Griffith (8 vs. Southern Illinois in 1990), Red Grange (4 vs. Michigan in 1924) and Antoineo Harris (4 vs. Indiana in 2002)…ran for over 100 yards nine times during his career (team compiled a 7-2 record in those contests), tying him for third in school history…his eight 100-yard rushing games in 2007 established an Illinois season-record…his 1,999 all-purpose yards in 2007 broke the old school season-record of 1,818 yards by Keith Jones in 1988. 2007: All-American third-team selection by The NFL Draft Report, and Rivals.com…unanimous All-Big Ten Conference first-team choice and named Big Ten Offensive Player of the Year by the league's coaches and media…recipient of the Chicago Tribune Silver Football…Doak Walker Award and Maxwell Award semi-finalist…ranked eighth in the nation and second in the Big Ten in rushing (129.31 ypg.) and finished third in the league in all-purpose yardage (153.77 ypg.), helping the team lead the conference and rank fifth in the nation with an average of 256.77 yards per game on the ground…started all 13 games, carrying 262 times, as he set school season-records with 1,681 yards (6.4 avg.) and 17 touchdowns…finished second on the squad with 34 receptions for 318 yards (9.4 avg.) and two touchdowns, as he scored 114 points and recorded two solo tackles…set another Illini season record by amassing 1,999 all-purpose yards…ran for over 100 yards eight times, as the team compiled a 7-1 record in those contests. 2006: Earned CoSIDA/ESPN Academic All-District and Academic All-Big Ten Conference honors…finished the season ranking 10th in the league in rushing yards per game and had a league-best 8.2 yards per carry for the season...finished second on the team with 78 attempts for 640 yards and five touchdowns…caught 12 passes for 164 yards (13.7 avg.) and a score…totaled 36 points and gained 804 all-purpose yards…ran for over 100 yards vs. Penn State. 2005: Appeared in 10 games as a true freshman, gaining 218 yards on 48 carries (4.5 avg.)…had 13 receptions for 82 yards (6.3 avg.) and two scores…registered his first career touchdown on a 5-yard toss from QB Tim Brasic, adding 21 yards on six runs vs. Michigan State…rushed nine times for 34 yards and caught four passes for 30 yards, including a 2-yard score vs. Penn State…ran for a season-high 64 yards on 11 rushes and made two catches for 16 yards vs. San Jose State…added 49 yards on nine attempts in the Purdue clash…majored in sport management…older brother, Walter, was a member of the Illini backfield alongside Rashard.

PERSONAL: Attended Niles West (Skokie, Ill.) High School, playing football for head coach Mark Egofske…rated the premier recruit in the state of Illinois by Scout.com, earning a five-star prospect from that recruiting service, which rated him the 24th-best prep player in the country…named to Rival.com's Top-100 team and rated 17th among national recruits by the Atlanta Journal-Constitution…Selected the top recruit in the state of Illinois by the Chicago Sun-Times and named to Super Prep's Elite 50 list and All-American squad, ranking as the nation's fourth-best running back by the same publication…participated in the Fifth Annual U.S. Army All-American Bowl…a three-year All-Central Suburban Conference selection for football and two-time pick for track…named to All-State teams as a junior in both football and track, in addition to earning All-Area honors for both sports as a sophomore and during his junior year for football…averaged 9.1 yards per carry as a senior, rushing for 1,453 yards on 160 tries and 14 touchdowns…as a junior, he gained 1,832 yards and 19 touchdowns, averaging 11.6 yards per carry and recorded 1,300 yards and 21 scores as a sophomore…had over 1,000 career yards receiving and 13 touchdown catches…son of Sibyl and Walter Mendenhall…Full Name: Rashard Jamal Mendenall.