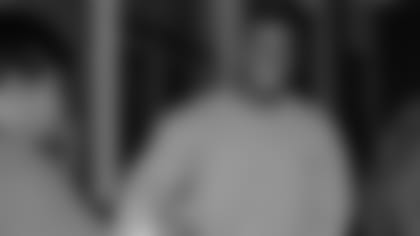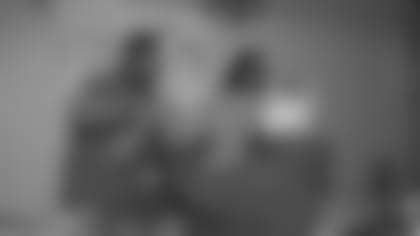 The spirit of giving back is alive and well among Steelers players, who reached out to those in the community less fortunate this Thanksgiving.
Linebacker LaMarr Woodley and tackle Max Starks both hosted turkey giveaways with all of the trimmings, while cornerback William Gay also hosted a dinner for a local women's shelter and for the homeless.
Woodley provided turkeys, along with all of the fixings, for 200 Hazelwood residents, ranging from families to single parents to senior citizens.
"It's always important to give back," said Woodley. "If you can help somebody keep a few dollars in their pocket at the holiday, why not help out. That has always been my thing."
The recipients were selected by the Greater Pittsburgh Community Food Bank, who is seeing an increased need for help this year. The food bank serves 11 counties in the Western Pennsylvania area and their numbers increase monthly, with around 2,500 new households added monthly.  
"There are no signs of it slowing down," said Anne Hawkins, chief development officer for the Greater Pittsburgh Community Food Bank. "It's tough times for people. It's not just the chronically poor. It's people who have never been in the situation. For them to be able to have Thanksgiving and still pay their bills and not worry about it makes us all smile."
Woodley got a hand passing out the food from teammates Antonio Brown, Ryan Mundy, Stevenson Sylvester, Lawrence Timmons and Jason Worilds.  
"What is amazing to me and what I love the most about this is it makes the families feel special," said Hawkins. "I don't think they get a lot of opportunities to be special when they are struggling. To have the Steelers hand them their Thanksgiving dinner, that is what they are going to be talking about. This is going to stay with them and make the celebration even more."
In addition to his efforts in Pittsburgh, Woodley reached out to his hometown of Saginaw, Michigan. Woodley provided household items such as napkins, plates, cups, foil, soap, toothpaste and more to 500 families.
"It's always important coming back and giving back," said Woodley of returning home. "Things that are important -- you make time for."
Starks continues his commitment to the Greater Pittsburgh Community Food Bank, as he and his wife Tiffany hosted the annual Max Starks & His Home Team Thanksgiving Celebration which provided 200 needy families with the makings for Thanksgiving dinner. Each family received a turkey and all of the fixings, with Giant Eagle teaming with Starks to provide the items.
Starks, who underwent disc surgery on his neck, brought a bunch of his teammates along to hand out the food, including Charlie Batch, Dorian Brooks, Dennis Dixon, Trai Essex, Ramon Foster, Kyle Jolly, Chris Kemoeatu, Maurkice Pouncey, Jonathan Scott, Dan Sepulveda, Shaun Suisham, Frank Summers and Greg Warren.
"There is always a need," said Starks. "Funds are now lower and prices go up. To have the opportunity to know you offset some of that and the families are thankful means a lot. It's great to see everyone happy. We thrive on the energy of this community and to have the opportunity to do this is a small token of our appreciation.
"My teammates come back every year and help with it. They always want to know what they can do to help. To have them here helping makes it even better."
And if there is anyone who understands what getting a helping hand means, it is Starks. When he was a kid it was Starks who was benefitting from Thanksgiving food distributions held by the Orlando Magic. 
"I was that kid at one point in my life," said Starks. "Growing up my family was on welfare. We didn't have much. The holidays were always that question mark time. My mother always found a way to make sure we had something. I can identify with the kids who walk through the line. I was one who went through the line and now I am giving out food. It's come full circle. To see their smiles, I remember when I was a kid and I had that smile."
Gay, who has done turkey distributions in the past, went a different route this year hosting a Thanksgiving dinner for those who could use their spirits lifted both in Pittsburgh and his hometown of Tallahassee.
Gay and teammate Bryant McFadden served dinner and mingled with the residents at a local women's shelter in Pittsburgh. The shelter is for those who are victims of some of the worst cases of domestic violence, making it personal to Gay. His mother, Carolyn Hall, was herself a victim of domestic violence, but she wasn't able to survive it. Hall was shot and killed by her husband when Gay was only eight-years old.
"It really touches me being here," Gay told the women and children. "I lost my mother to domestic violence. I want to tell you to keep your spirits up, just keep moving forward in whatever you do. I commend you for making the effort to avoid the situation you are in. My mother went through domestic violence and lost her life, so keep up what you are doing."
 His willingness to open up and share his story with those attending the dinner went a long way. 
"To have Will share his personal story and put himself on the same playing ground and to acknowledge the courage it took for them to walk away is really meaningful," said Barbara Nicholas, the Development Director for the shelter. "It's always so validating. You have to imagine how difficult it is to not only leave your family and loved ones, but to do it when you are about to embark on the holiday season, a time when most families are coming together to be separated."
Gay also hosted a dinner for the HOPE Community that works with temporarily homeless families, aiding them in making the transition back to a more stable home life. Many of those HOPE serves are women and children, which is the target audience Gay wants to help.
"As a man developing in this NFL world, in order to jump from a boy to a man you must find things that are meaningful to you, things you want to share with others," said Gay. "I am in that position. I am able to give back and let people see the other side of me and see the human being that you are. That is what I am trying to do. I want to show them that I care. I have been through situations they have been through"